Discover the Beauty and History of Malaysia: A Guide to Kuala Lumpur, Penang, and Langkawi.
Malaysia is a nation rich in history, culture, and scenic beauty. There is something for everyone in this diverse and intriguing country, from the busy city of Kuala Lumpur to the tranquil islands of Langkawi. Here is a guide to Kuala Lumpur, Penang, and Langkawi, three of Malaysia's most popular tourist sites.
Kuala Lumpur: Experience the Modern and Traditional
Malaysia's central city, Kuala Lumpur, is a bustling, fascinating, and contrast-rich location. The modern and traditional coexist here, with soaring skyscrapers close to antique markets and historic structures. The Petronas Twin Towers, the tallest twin structures in the world, are one of Kuala Lumpur's main attractions. To get breathtaking views of the city skyline, you can journey to the top of the skyscrapers.
Visit the Central Market for a flavour of the local way of life. It's a vibrant and active market with many handicrafts, souvenirs, and regional food. The Batu Caves, limestone caves home to a Hindu shrine, are another must-see site in Kuala Lumpur. Although there are 272 steps to climb to the caves, the breathtaking sights and spiritual experience are well worth it.
Penang: Explore the History and Cuisine
A UNESCO World Heritage Site, Penang is an island off the northwest coast of Malaysia renowned for its delectable cuisine and rich history. Georgetown, the nation's capital, is an excellent destination to explore, which features old-world architecture, vibrant street art, and local markets. The Cheong Fatt Tze Mansion, a gorgeously preserved historical palace that is now a museum, is one of Georgetown's finest attractions.
Penang Hill, which provides breathtaking views of the island and the city, is another must-see sight. The local food, a fusion of Malay, Chinese, and Indian influences, must, be sampled during any trip to Penang. Try meals like nasi kandar, laksa, and char kway teow, which are among the best.
Langkawi: Relax on the Beautiful Islands
Langkawi is a group of 99 islands off the west coast of Malaysia, and it's a beautiful and tranquil destination perfect for relaxation and nature lovers. The main island of Langkawi is home to various stunning beaches, such as Pantai Cenang and Tanjung Rhu, where you can soak up the sun and enjoy the clear waters of the Andaman Sea.
For a unique experience, take a cable car ride to the top of Mount Mat Cincang, the highest peak on the island, and enjoy stunning views of the surrounding islands and rainforests. Another popular attraction in Langkawi is the Kilim Karst Geoforest Park, a UNESCO World Heritage Site home to diverse mangrove forests, limestone cliffs, and wildlife.
Malacca: Step Back in Time
Malacca, a historic city on Malaysia's west coast, is well-known for its extensive cultural history and stunning architecture. Various colonial powers, including the Portuguese, Dutch, and British, have dominated the city throughout its long and colourful history, which dates back to the 15th century.
Malacca now boasts a variety of historical structures, museums, and cultural attractions and is a UNESCO World Heritage Site. One of Southeast Asia's oldest remaining European structures is the 16th-century Portuguese fortress known as the A Famosa Fort. Another prominent sight in Malacca is the Stadthuys, a stunning Dutch colonial structure now a museum.
Cameron Highlands: Escape to the Cool Highlands
Northern Malaysia's Cameron Highlands is a magnificent hill region famed for its cool weather, breathtaking scenery, and tea plantations. The highlands are a well-liked holiday spot for travellers looking to escape the heat and humidity of the lowlands because they are situated at an elevation of about 1,500 metres above sea level.
The region is also well-known for its stunning hiking paths, such as the Mossy Forest Trail, a gorgeous route that passes numerous waterfalls, streams, and moss-covered rocks as it winds through dense rainforests. The Boh Tea Plantation, a stunning tea plantation located against undulating hills and foggy mountains, is another must-see sight in Cameron Highlands.
Kota Kinabalu: Discover the Beauty of Borneo
Kota Kinabalu, the state capital of Sabah in Borneo, is a stunning and energetic location well-known for its scenic surroundings and cultural attractions. Mount Kinabalu, the highest mountain in Southeast Asia and a well-liked destination for hikers and climbers, is one of Kota Kinabalu's significant attractions.
The Tunku Abdul Rahman Marine Park, a collection of five islands that provide some of the best snorkelling and diving opportunities in the area, is another must-see site in Kota Kinabalu. Visit the Sabah State Museum, a museum devoted to the Sabah people's history, culture, and traditions, for a sample of the native way of life.
Taman Negara National Park: Explore the Jungle
One of Malaysia's oldest and biggest national parks, Taman Negara National Park is a stunning and unspoiled location well-known for its dense rainforest, rivers, and wildlife. The park has an area of over 4,300 square kilometres and is in the heart of Peninsular Malaysia.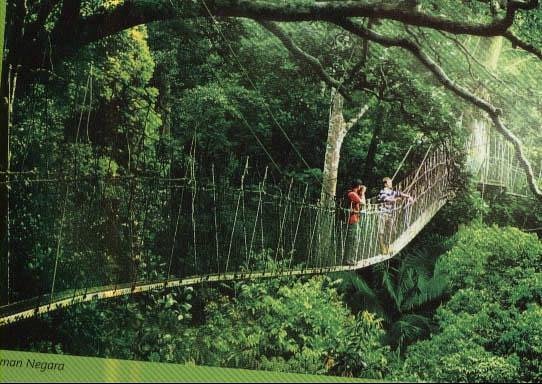 The best things to do in Taman Negara National Park are river cruises, jungle treks, and wildlife gazing. Also, for a unique experience, consider staying in one of the park's eco-lodges or campsites, which allow you to appreciate the majesty and tranquilly of the jungle.
Malaysia offers visitors a glimpse of the beauty and history that the nation has to offer. Malaysia is a country guaranteed to leave a lasting impression, whether you're interested in discovering the modern and traditional sides of Kuala Lumpur, indulging in the delectable cuisine and learning about the history of Penang, or unwinding on the idyllic islands of Langkawi. Connect with us and book your next trip to Malaysia.