Join Triplou on a journey to discover the nature and wildlife of Malaysia. Explore Bako National Park and Sepilok Orangutan Sanctuary.
Some of the world's most distinctive and diversified animals can be found in Malaysia. Unsurprisingly, Malaysia is a favourite travel destination for those who enjoy the outdoors, given its lush jungles, immaculate beaches, and abundant wildlife. Bako National Park and Sepilok Orangutan Sanctuary should be on your list if you want to explore Malaysia's natural splendour. You can use the following advice to plan your vacation with Triplou:
Bako National Park
A sanctuary for hikers, environment lovers, and animal enthusiasts alike is Bako National Park. It has 27 square km in size and is situated in the Malaysian state of Sarawak. The park is a well-liked location for wildlife safaris since it is home to various animals, such as proboscis monkeys, bearded pigs, and monitor lizards. The park's lush jungle, gorgeous beaches, and majestic cliffs, which provide breathtaking views of the South China Sea, are also open to exploration by visitors.
Hiking is one of the most well-liked activities in Bako National Park. A network of clearly delineated paths with varying degrees of difficulty may be found in the park. The Telok Pandan Kecil Trail, which leads hikers through the bush to a remote beach, is the most well-known of the trails. The Telok Limau Trail is another well-travelled path that ends at a waterfall, ideal for a cool dip. It is advised that visitors hike with a guide because the park is home to poisonous snakes.
Visitors can take boat cruises to see the local islands and shoreline in addition to trekking. Along with beautiful beaches, the park is also home to Pasir Pandak, Telok Paku, and Tanjung Sapi. These beaches are ideal for relaxation, swimming, and sunbathing. Additionally, visitors have access to various water sports like kayaking and snorkelling. The park has multiple lodging options, such as chalets and campsites, making it simple to stay and explore for a few days.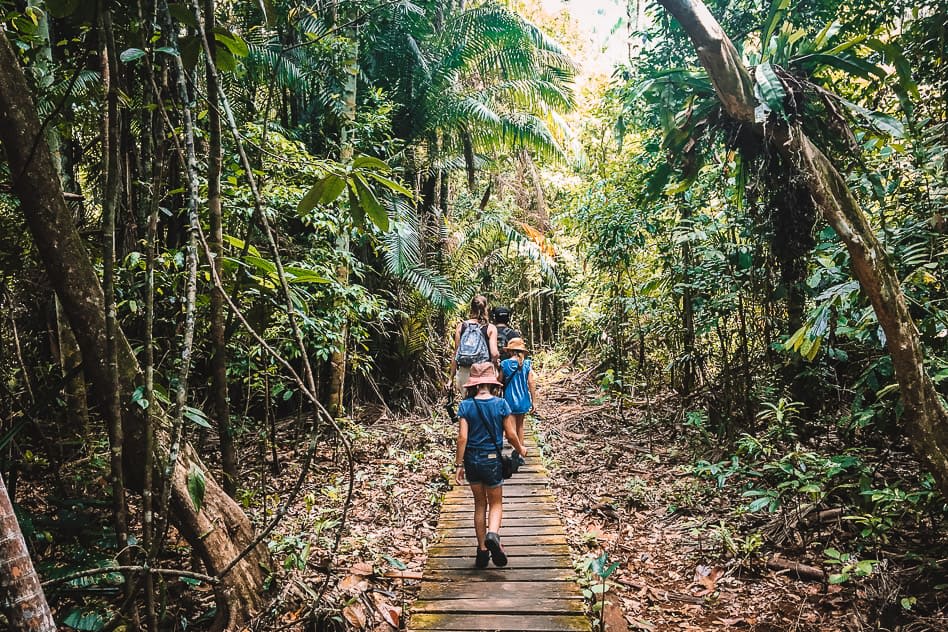 Observing wildlife is another well-liked activity in Bako National Park. The park is home to numerous unusual species, including the Bornean primate known as the probosci's monkey. Long-tailed macaques, silvered leaf monkeys, and monitor lizards are also found in the park. Visitors can join a professional guide on a wildlife safari to see these creatures in their native settings. When travelling to Malaysia, make sure to visit Bako National Park, which is a genuinely exceptional and magical location.
Sepilok Orangutan Sanctuary
For those who love animals and are passionate about conservation, the Sepilok Orangutan Sanctuary should be on your travel itinerary. The 43-square-kilometre sanctuary, founded in 1964, is dedicated to treating and preserving orphaned and injured orangutans. Visitors may get up close and personal with these fantastic primates as they move around freely in their natural habitat, swinging from trees and interacting with one another.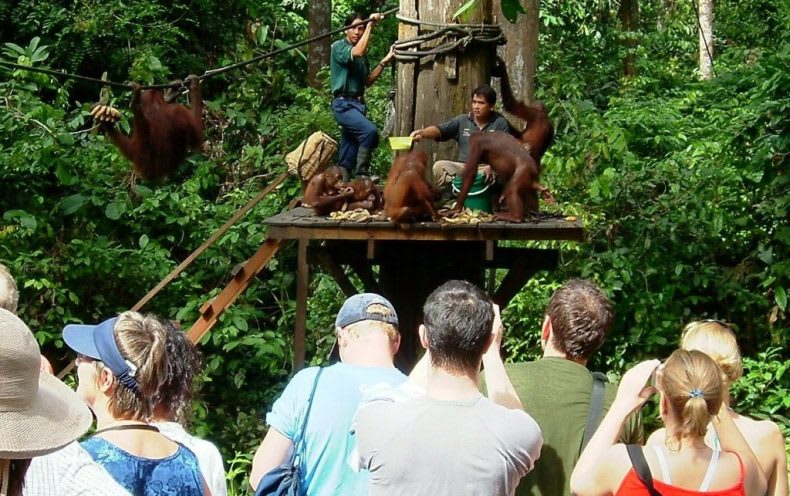 Orphaned and injured orangutans are trained at the sanctuary's rehabilitation facility to live in the wild. Visitors may observe these clever animals as they master tree-climbing, nest-building, and food-foraging skills. The Borneo Sun Bear, gibbons, and other tiny animals are among the other endangered species that call the refuge home.
The feeding platform, where visitors may see the rangers feed the orangutans, is among the attractions of a trip to Sepilok Orangutan Sanctuary. This is a fantastic chance to get up and personal with these animals and take some breathtaking pictures. There are two feedings daily, in the morning and the afternoon, so it's best to be there early to have a good viewing point.
Sepilok is home to the orangutan refuge and the Rainforest Discovery Center, where guests can discover Borneo's rainforests' astonishing richness. Various instructional activities are available at the centre, such as night safaris, guided jungle walks, and canopy walks. The Sepilok Forest Reserve, which features a variety of hiking paths and possibilities for birdwatching, is another attraction open to visitors. Anyone interested in nature or wildlife conservation should not miss a trip to the Sepilok Orangutan Sanctuary.
Travelling to Malaysia to witness its natural beauty and wildlife promises a life-changing journey filled with novel encounters and discoveries. You may explore the splendour of Bako National Park and Sepilok Orangutan Sanctuary with Triplou and come close to some of the rarest and most endangered creatures in the world. Take advantage of the chance to discover Malaysia's natural beauties!