Discover the enchantment of Finland in December as it changes into a winter paradise right out of a storybook. Discover magical occasions and activities, such as merry Christmas markets, trips to Santa Claus Village, thrilling winter sports, husky safaris, and the mesmerising Northern Lights show. Travellers looking to experience the charm and attraction of the Arctic cold in December will have a magical and unique experience in Finland.
Finland embraces the joyous mood of the holidays as December approaches, transforming into a mystical winter wonderland full of fascinating events and activities. This Nordic wonderland welcomes guests to embrace the magic of the Arctic with its snow-covered landscapes and a touch of holiday cheer. Finland in December offers wonderful memories and experiences for everyone, from Christmas markets packed with handcrafted goods and seasonal sweets to thrilling snow sports and the chance to meet Santa Claus himself. Let's investigate the fascinating activities and events that are waiting for us in this lovely winter paradise.
1. Helsinki Christmas Market:
The Helsinki Christmas Market, which takes place in the centre of Helsinki, the capital of Finland, is a magical occasion that personifies the joyous atmosphere of the holiday season. A symphony of dazzling lights fills the market as December dawns, transforming it into a magical setting that draws tourists from near and far. The market is lined with traditional wooden huts that are festooned with holiday decorations and offer a lovely selection of homemade presents, ornaments, and Finnish mementoes.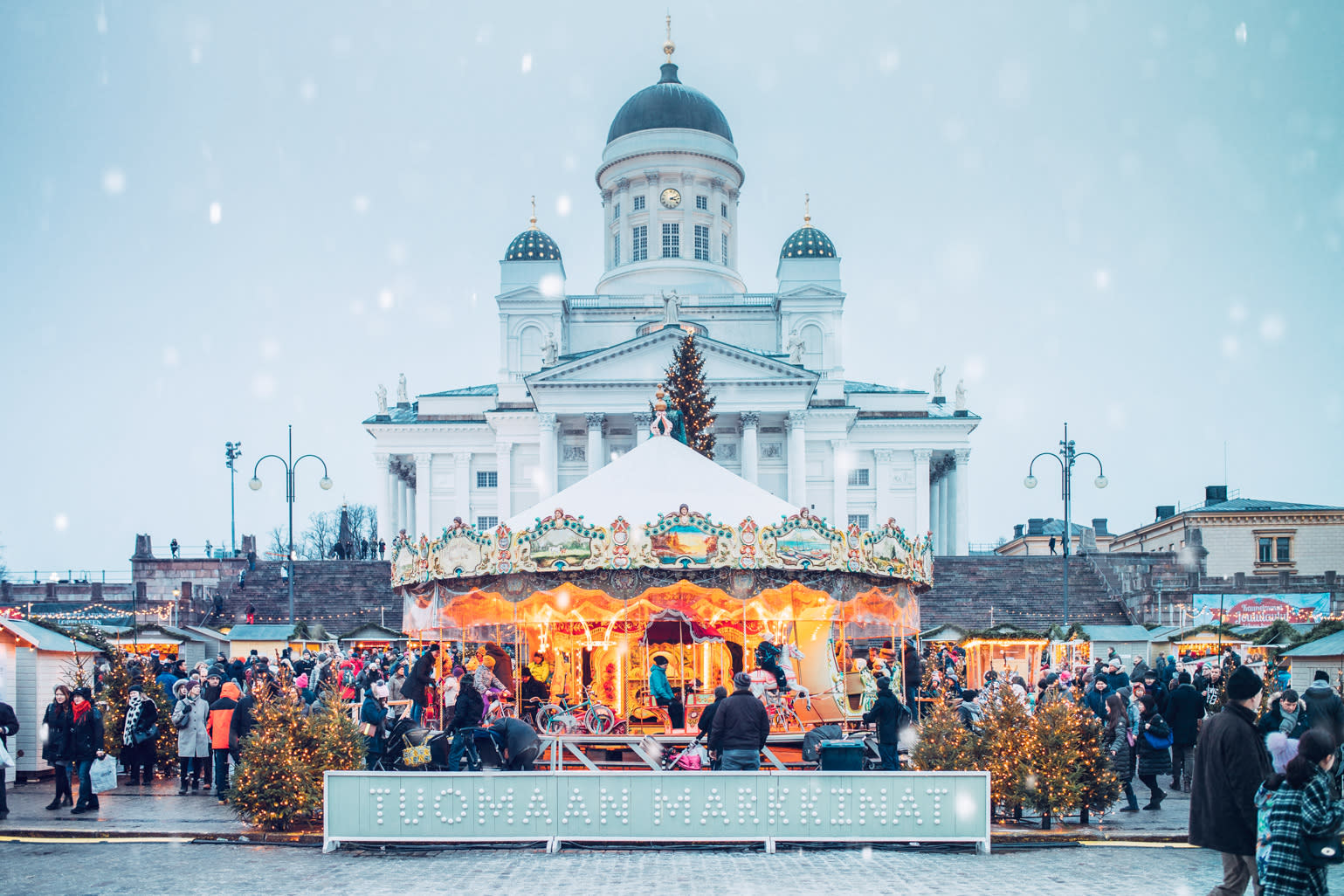 The air is filled with the aroma of warm cinnamon-spiced pastries and mulled wine, luring guests to try these traditional holiday treats. The market's gastronomic pleasures highlight the rich flavours of Finnish Christmas traditions, from sweet gingerbread sweets to roasted almonds. The Helsinki Christmas Market is a cultural event as well as a place to go shopping.
2. Santa Claus Village:
Santa Claus Village in Rovaniemi, located in the Arctic Circle, is a year-round winter wonderland, but December is when its beauty comes to life. Visitors are delighted by an enchanting world where the spirit of Christmas lives continuously as soon as they pass the enchanted Arctic Circle line. The opportunity to encounter Santa Claus in person is the village's main attraction. Both kids and adults can express their sincere holiday greetings to the cheery man in red and immortalise the unforgettable occasion in a priceless photograph.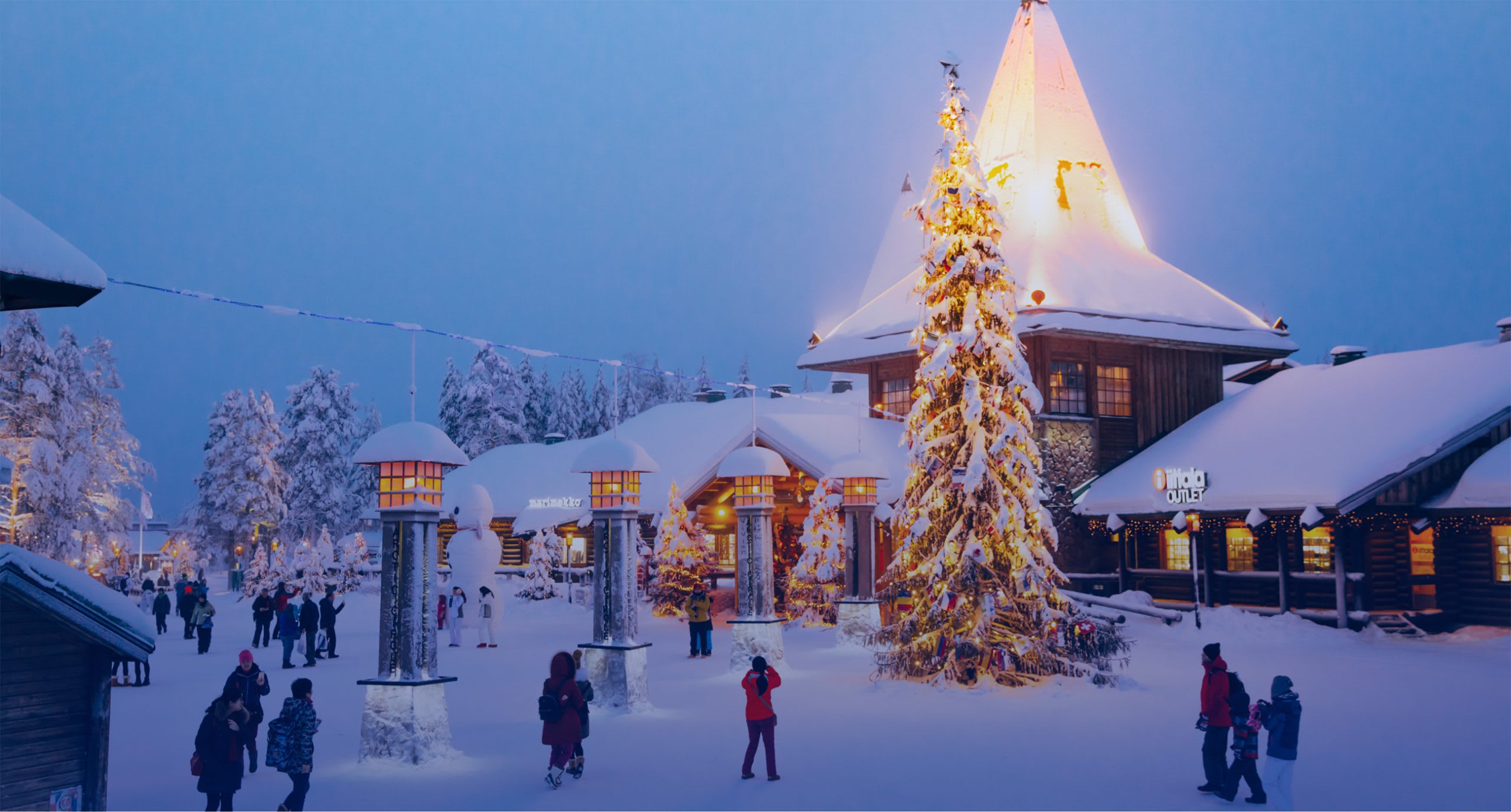 A popular attraction that goes beyond seeing Santa Claus is the Arctic Circle Husky Park, where guests may experience thrilling husky safaris through the snow-covered countryside. Visitors are taken on an exciting experience by the amiable and active huskies as they pull sledges across frozen lakes and through scenic woodlands. The Arctic Circle Post Office, which allows visitors to mail postcards and letters with a unique Arctic Circle postmark to give an extra touch of seasonal magic to their writing, is another joy in Santa Claus Village. For anyone looking to experience the excitement and enchantment of the Christmas season in the Arctic, Santa Claus Village is a must-visit location.
3. Ruka Ski Resort Opening:
Ruka Ski Resort in Finnish Lapland opens for the ski season in December, providing a winter paradise for fans of snow sports. Ruka Ski Resort offers a gorgeous backdrop for skiing and snowboarding excursions since it is tucked away among snow-capped mountains and peaceful forests.
Ruka has a vast network of cross-country skiing paths that snake through the snowy landscape for avid skiers. Another wonderful approach to seeing the stunning vistas at a slower pace and immersing oneself in the serenity of the Arctic environment is snowshoeing. Excursions on snowmobiles provide a heart-pounding experience, bringing guests on adrenaline-filled rides through the snow-covered woodlands. Ruka Ski Resort offers the ideal blend of exciting action and Arctic beauty as the Northern Lights illuminate the night sky.
4. Husky Safaris in Finland in December:
In Finland, going on a husky safari is an adventure that perfectly captures the spirit of Arctic exploration and the connection between people and animals. Visitors can go on husky safaris into the snow-covered tundra in December, led by packs of energetic and kind huskies. Travellers can experience a sense of oneness with nature thanks to the energising mood created by the rhythmic sound of paws on snow and the brisk Arctic air.
The husky safaris accommodate a range of interests, from shorter outings to longer expeditions that include overnight accommodations in comfortable forest huts. Visitors can experience the special affinity shared by the huskies and their mushers while also admiring the pure beauty of Finland's landscapes throughout the safaris.
5. Northern Lights Tours:
In Finland, December marks the peak of the Northern Lights season, and the distant locations of Rovaniemi and Ivalo provide the best opportunities to see this heavenly dance. The best opportunity to see the Aurora Borealis is on a guided trip that takes guests to optimal viewing locations away from light pollution.
Travellers witness a spectacular display that surpasses description as the lights dance across the night sky. Green, purple, and red combine to provide a stunning show that makes people gasp at the magnificence of nature. Astonishment at witnessing one of the most spectacular natural phenomena in the world is increased by the Arctic chill, which heightens the sense of adventure. Visitors can choose a Northern Lights tour for a truly magical experience.
Finland is a magical place in December when the beauty of the Arctic winter comes to life through fascinating events and activities. Travellers are welcome to embrace the Arctic wonderland, which offers festive magic at Helsinki Christmas Market, a magical Santa Claus Village, exhilarating winter sports activities, husky safaris, and the mesmerising dance of the Northern Lights. Favourite customs come to life in this delightful winter resort, resulting in priceless memories that will fill hearts for years to come. Discover Finland's enchantment in December and discover the Arctic's allure for yourself if you're looking for a unique winter getaway.