Discover the captivating attraction of Finland in May when the nation blossoms with the vivid hues of spring. Take part in a variety of activities, such as interacting with wildlife, exploring national parks, attending cultural events, enjoying the local cuisine, and going on exhilarating outdoor adventures. For tourists looking to experience the charm of the Arctic spring, Finland in May provides a riveting and varied experience.
Welcome to Finland in May, when the arctic landscapes come to life with the entrance of spring and are a cause for renewal and joy. Finland evolves into a paradise for nature lovers and adventure seekers alike as the days lengthen and the temperatures rise. May offers a symphony of events that will spark your senses and leave you with priceless memories, from the emergence of Arctic flora to encounters with rare species, cultural celebrations, wonderful regional cuisine, and exhilarating outdoor activities. Join us as we set out on a voyage of exploration to learn more about the fascinating activities Finland has to offer you in this enchanted season.
Encounters with Arctic Wildlife
In May, Finland's Arctic wildness transforms into a haven for rare wildlife sightings. Take a trip into the wild to see the unique mating behaviours of the elusive and critically endangered Saimaa ringed seal. Visit Lake Saimaa's crystal-clear waters to see these unusual seals rise from the water and lounge on rocks, offering a touching glimpse of nature's wonders. Being able to see these amazing animals in their natural habitat is a conservation success story that will make you deeply appreciate the work done to safeguard Finland's priceless wildlife.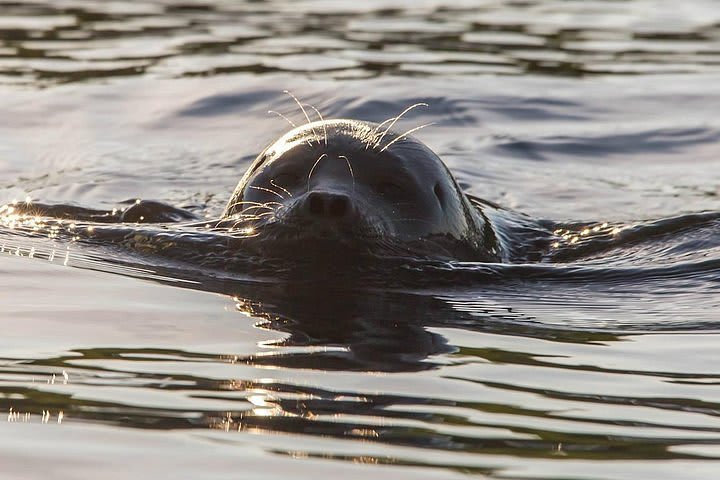 Consider taking a tour to observe birds in the extensive marshes around Oulu or Raahe for a truly spectacular experience. The air is alive with the melodic sounds and bright colours of migratory birds as they return to their breeding areas. Witness the mesmerising display that exquisite swans, uncommon cranes, and alluring waterfowl produce against the backdrop of the Arctic terrain. Birdwatching in Finland in May is a genuinely enlightening and breathtaking hobby, regardless of whether you are an avid birder or simply fascinated by the beauties of wildlife.
Exploring National Parks
Finland's national parks blossom with flowering flowers and lush vegetation in May, transforming them into enchanted wonderlands. Discover the mesmerising scenery of Helsinki's Nuuksio National Park, where tranquil lakes mirror the surrounding woodlands. Take in the crisp scents of nature as you stroll the trails while taking in the calming sounds of the birds. Find hidden gems like the Högbacka Hill, which provides breathtaking panoramic views of the park's serene surroundings.
For a more thrilling experience, visit Lapland's Oulanka National Park. This charming park is well-known for its rough gorges and gushing waterfalls. Take a walk along the well-known Karhunkierros (Bear's Trail), which passes through stunning terrain and crosses suspension bridges over raging rivers. The thrilling adventure gives you the chance to fully experience Finland's untamed environment, leaving you in amazement and adoration of the nation's natural splendour.
Savoring Finnish Cuisine
The best seasonal produce is on display in local markets and restaurants throughout Finland in May, making for a delicious meal. Visit the Helsinki Market Square to experience the flavours of spring and indulge in a variety of sweet delicacies. Try the delicious munkki, a classic Finnish donut covered in sugar, or sample the seasonal treat of fresh strawberries. The market provides a chance to interact with local sellers and become immersed in Finnish culinary tradition.
Join a traditional Finnish cooking class to learn how to make meals using regional products and time-honoured techniques for a genuinely authentic gourmet experience. You'll work with a talented chef to prepare delicacies like salmon soup and Karjalanpiirakka (a Karelian pasty), learning about Finland's rich culinary history. In addition to tantalising your taste sensations, the hands-on experience will also leave you with priceless memories so you can replicate Finnish flavours at home.
Festive Cultural Celebrations
In Finland, May brings a variety of cultural events. One of the most important is Vappu, the boisterous May Day carnival. Join the community as people congregate in parks for celebrations and picnics while wearing white graduation caps to signify the start of spring and the impending advent of warmer weather. Vappu is a festive celebration of life and rebirth, with a lively atmosphere filled with music, dance, and the happy sound of laughter.
Attend the Kaustinen Folk Music Festival, which honours traditional folk music and dance, for a cultural experience based on Finland's history. This lively festival, which takes place every year in Kaustinen, comprises performances by gifted musicians, dancers, and storytellers from all around Finland and abroad. Experience the pride and passion that the people of Finland feel for their cultural heritage as you become lost in the rhythms and melodies of Finnish folk music.
Thrilling Outdoor Adventures in Finland in May
Adventure seekers have a variety of exhilarating outdoor activities to choose from in May. Explore the hidden coves and distinctive scenery of each island while sailing or rowing across the pristine seas of the Finnish Archipelago. The calm waves and cooling sea wind provide the ideal setting for a dreamy marine trip.
Try your hand at rock climbing in one of Finland's beautiful climbing locations, including Olhava or Haukkakallio, for an exhilarating experience. You'll climb natural rock formations while surrounded by gorgeous scenery, and you'll be rewarded with breathtaking vistas once you reach the top. The rock climbing areas in Finland provide a variety of challenges for climbers of all experience levels.
May in Finland is a month of colourful awakening as new life and colourful blooms appear in the arctic landscapes. This magical month provides a variety of activities to amaze and inspire every traveller, from uncommon wildlife encounters to touring national parks, enjoying Finnish cuisine, rejoicing in cultural events, and indulging in adventurous outdoor experiences. You'll make priceless memories as you immerse yourself in Finland's beauty and magic in May, celebrating the essence of this alluring nation in the midst of the Arctic spring.