Discover the magic of Iceland in July, when the Arctic summer reveals a spectacular display of nature and vivacious festivities. Explore Highland trails, take in the splendour of cultural festivals, and see flowing waterfalls. A remarkable voyage into a place of never-ending daylight and mesmerising beauties is promised in Iceland in July.
The beauty of nature is at its height in Iceland in July, and a variety of exciting activities take place there. Iceland transforms into a playground for adventure and joy as the Arctic summer bathes the region in limitless daylight. July offers a wide variety of outdoor activities, from taking in cascading waterfalls in all their splendour to trekking along the renowned Highland paths. The journey is made more interesting and charming by the nation's distinctive cultural festivals, like the Reykjavik Arts Festival and the Viking Festival. Immerse yourself in the warmth of the Icelandic spirit and explore Iceland's beauty in July, when the Land of Fire and Ice comes alive with wonder and vitality.
1. Chasing Waterfalls – Iceland in July:
Iceland's waterfalls put on a magnificent show in July, with cascades pouring vigorously. One of the most magnificent waterfalls is Gullfoss, sometimes known as the "Golden Falls." This two-tiered marvel plunges into a rough canyon, creating an amazing spectacle and the impression of being in the presence of nature's power. Visitors can stand on viewing platforms close to the falls to take magnificent pictures while feeling the mist on their faces.
Seljalandsfoss, renowned for its distinctive feature that lets visitors wander behind the flowing water curtain, is another interesting waterfall to explore. The experience is magnificent, especially in July with its prolonged daylight hours when the sun illuminates the falls and produces brilliant rainbows. Nature lovers can also visit Hraunfossar, a collection of waterfalls that appear to emerge from the lava fields and give the surroundings a magical feel.
2. Highland Adventure – Exploring the Untamed Wilderness:
The Icelandic Highlands become accessible in July, revealing an adventurer's paradise. A well-known hiking path, the Laugavegur Trail, provides a multi-day excursion through a variety of environments, including volcanic landscapes, geothermal sites, and glacial valleys. Trekkers can view the enormous expanses of ice and snow in Thorsmork as well as the colourful rhyolite mountains of Landmannalaugar.
Explore the Askja Caldera, a secluded volcanic region renowned for its breathtaking vistas and geothermal hot springs, for a more off-the-beaten-path trip. Travellers experience a weird feeling of entering another planet as they pass through lunar-like scenery on the voyage. The pleasant trekking conditions and opportunity to experience Iceland's untamed landscape are made possible by July's warm weather.
3. Reykjavik Arts Festival – A Celebration of Creativity:
The Reykjavik Arts Festival, which takes place in July every two years, honours creativity in all of its forms. The festival brings together creatives from diverse fields and features performances in the visual, performing, and literary arts. The cultural spaces of Reykjavik are transformed into thriving centres of artistic expression, with galleries hosting exhibitions, theatres putting on thought-provoking plays, and concert halls vibrating with compelling music.
The festival's extensive schedule serves both domestic and foreign audiences, promoting a vibrant exchange of thoughts and innovation. Visitors can go to artist talks, workshops, and multidisciplinary activities that straddle various artistic disciplines. The Reykjavik Arts Festival is a singular chance to explore Iceland's thriving artistic landscape while absorbing the dynamic cultural environment of the city.
4. The Viking Festival – Reliving Iceland's Heritage:
Visitors can travel back in time and experience Iceland's rich Viking past at the annual Viking Festival in Hafnarfjörur, which takes place in July. The celebration includes historical reenactments, where participants dress as Vikings and show off traditional fighting manoeuvres. Sword clashes and action-packed battles replicate the fighting spirit of the Norsemen, providing an engaging and instructive experience.
Visitors can learn about classic Viking techniques like blacksmithing and woodcarving in addition to viewing exhibitions of Viking warriors, and they can also enjoy genuine Viking food. Through engaging and interactive events, the Viking Festival brings history to life and enables visitors to engage with Iceland's past.
5. Whale Watching – Encounters with Gentle Giants:
Due to the abundance of marine life in Iceland's coastal waters, July is a great month to go whale watching. Visitors can take boat tours to see majestic animals like humpback whales, minke whales, and even the rare blue whales in Husavik, which is known as the whale-watching capital.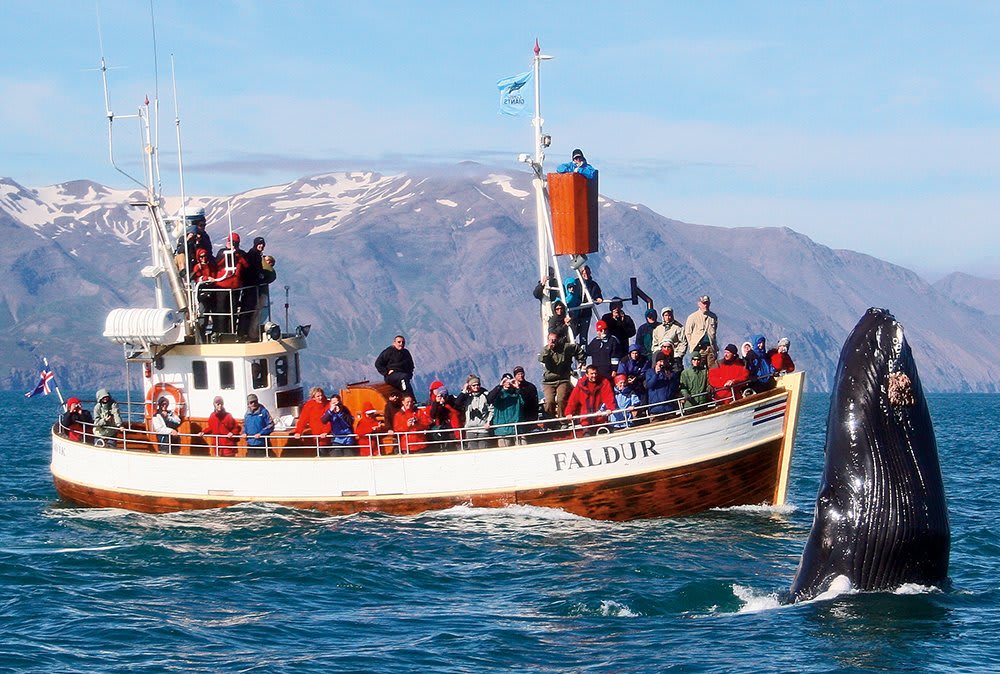 The longer days of July make it easier to see these gentle giants as they gently surface and dive. The trip is both instructive and awe-inspiring thanks to the knowledgeable guides onboard who share insights into the whales' behaviour and conservation initiatives. A sobering reminder of the vast marine biodiversity and the value of maintaining these wonderful animals and their natural habitats may be found while whale watching in Iceland.
A compelling playground where the magnificence of nature, vibrant celebrations, and exhilarating activities come together is Iceland in July. Explore the wild Highlands, take in the inventiveness of the Reykjavik Arts Festival, and take in the splendour of flowing waterfalls. At the Viking Festival, relive Iceland's rich history, and go whale watching to get up close and personal with these gentle giants. Travellers can have an unforgettably memorable voyage into a country of natural splendour and cultural appeal in July in Iceland, a country of unending daylight and unbounded wonder.