Immerse yourself in the beauty of Norway in June, when the country's unending sunshine reveals a summer wonderland of gorgeous vistas and exciting activities. Explore lush national parks, take part in vibrant midsummer events, experience the mesmerising midnight sun, and go on exhilarating Arctic excursions. In June, experience the magic of Norway and make priceless lifetime experiences.
Norway's summer season reaches its height in June, converting the country's landscapes into a bewitching wonderland of vivid hues and beautiful beauty. During this period, Norway, which is known as the "Land of the Midnight Sun," enjoys the phenomena of the midnight sun, where the sun never sets and blankets the nation in an incredible and ethereal radiance. Norway in June entices visitors with a promise of extraordinary encounters amidst the magnificence of nature, from breathtaking natural displays to cultural celebrations that honour the essence of Norwegian living.
The Midnight Sun – A Celestial Phenomenon
The midnight sun, a rare and amazing celestial occurrence, is available in Norway in June. In areas located north of the Arctic Circle, the sun is visible above the horizon for nearly 24 hours as the nation approaches the height of its summer season. Through the course of the night, the skies are painted in shades of pink, orange, and gold, creating a strange mood.
A meaningful contact with the magnificence of nature can be had when the midnight sun appears. Visitors can enjoy a variety of outdoor pursuits during the longer daylight hours, including as hiking, fishing, and leisurely fjord strolls. Norway in June is a magical time of year due to the sun's gentle shine against the breathtaking surroundings.
Midsummer Celebrations – A Festive Nordic Tradition
Norway's June is known for its exuberant midsummer celebrations that honour long-standing Nordic traditions. On the evening of June 23, Midsummer, also known as "Sankthansaften" or St. John's Eve, welcomes the summer solstice with bonfires, music, and dancing. To commemorate the longest day of the year, people and visitors celebrate with "Sankthansbl" bonfires in various parts of Norway. The bonfires light up the nighttime skies and give the celebrations a cosy glow while the midnight sun serves as a captivating backdrop.
The celebrations feature performances of traditional folk dances like "runddans" and "kveding," which infuse the occasion with a sense of cultural heritage. During the midsummer feasts, friends and family enjoy traditional dishes like freshly caught fish and strawberries while singing and telling stories. A genuine and endearing approach to immerse oneself in Norwegian culture and be a part of a joyful gathering of locals and visitors alike is to take part in midsummer activities.
Exploring Majestic National Parks in Norway in June
Nature lovers should visit Norway's magnificent national parks in June, when they are at their most vibrant and beautiful. Norway's national parks provide a wide variety of outdoor adventures, from the magnificent fjords to the lush woods and spectacular mountain scenery. A hiker's dream, Jotunheimen National Park, also known as the "Home of the Giants," has a variety of paths leading to glaciers, stunning peaks, and clear lakes. The well-known Besseggen Ridge walk offers breathtaking vistas of Gjende Lake and Bessvatnet Lake as well as an exhilarating challenge.
The tranquil landscapes of Norway's first national park, Rondane National Park, feature rounded hills and verdant valleys. Rondane's hiking routes are accessible to hikers of all experience levels, making it a popular location for families and casual hikers looking for a peaceful natural retreat. Walking across the enormous wildness in the Hardangervidda National Park, Europe's largest alpine plateau, is an unforgettable experience. The park is a refuge for wildlife, so visitors may see wild reindeer, arctic foxes, and a variety of bird species. In addition to hiking, Norway's national parks offer chances for wildlife photography, cycling, and fishing, giving visitors an opportunity to get in touch with nature and be in awe of the raw beauty of the Norwegian wilderness.
Arctic Adventures in Svalbard in Norway in June
Svalbard, an archipelago between mainland Norway and the North Pole, offers fantastic chances for Arctic experiences in June. Svalbard is easily accessible and offers uncommon experiences for intrepid travellers despite its isolated position. The possibility of seeing polar bears and other Arctic wildlife is one of the delights of a trip to Svalbard in June. While following stringent criteria to guarantee the safety of the bears, guests can watch these majestic animals in their natural habitat while being accompanied by qualified professionals on polar bear safaris.
Expeditions by kayak give a close interaction with the arctic waters, giving participants the chance to navigate ice-filled fjords and spot seals, seagulls, and other marine species. Snowmobile safaris and dog sledding excursions are available for thrill-seekers, giving them the chance to explore the snow- and ice-covered plains of Svalbard. A bizarre and amazing experience with the Arctic skies can be had on Svalbard via stargazing and viewing celestial phenomena, such as the aurora borealis.
Norwegian Coastal Retreats
Norway's nice weather in June makes it the ideal time for vacationers to unwind along the nation's stunning coastlines. seaside towns and fishing communities provide attractive lodgings where guests can experience the friendliness of Norwegian hospitality while taking in the serene seaside atmosphere. The Lofoten Islands are the ideal location for a coastal getaway because of its breathtaking scenery and lively fishing settlements. Wander through tiny towns like Reine and Henningsvaer, which are renowned for their picturesque landscapes and attractive wooden buildings.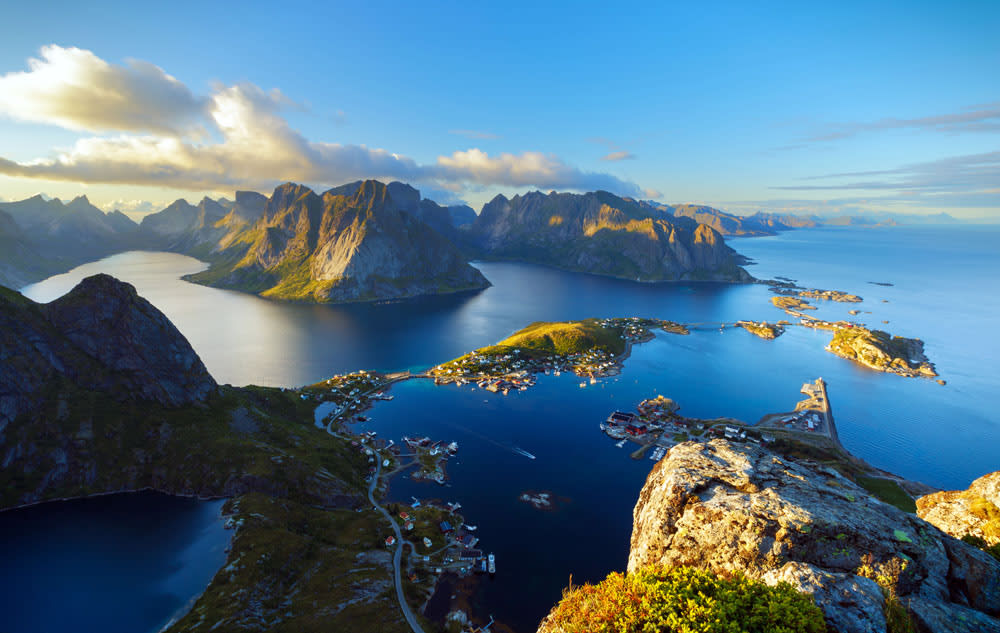 Senja's beaches and other remote beaches in northern Norway provide chances for strolls, beachcombing, and maybe even a refreshing dip in the clean water. Visitors can take advantage of the relaxing hot springs available in Norway's diverse coastal districts for a tranquil and restorative experience. The geothermal springs offer a peaceful haven and an opportunity to relax amidst the beauty of nature because they are surrounded by picturesque scenery.
Norway in June provides a mesmerising fusion of outdoor adventures, cultural events, and natural wonders. Norway's summer wonderland is made all the more enchanting by the captivating midnight sun, the vibrant midsummer celebrations, the exploration of spectacular national parks, the opportunity to go on arctic adventures in Svalbard, and the indulgence of beach getaways. Take advantage of the never-ending daylight and acquaint yourself with Norway's splendour in June, when every minute is transformed into a treasured memory in the Land of the Midnight Sun.