Looking for the ultimate luxury vacation in Maldives? Check out our list of the best Maldives resorts for a truly unforgettable experience.
The spectacular beauty and serenity of the Maldives are unmatched when it comes to spending a lavish holiday. The pristine islands that make up this archipelago in the Indian Ocean are known for their clear waters, snow-white sands, and abundant marine life. We have put together a list of the top resorts that provide unrivalled luxury, exquisite service, and priceless memories to take your trip to the Maldives to new heights. These Maldives resorts will capture your attention whether you're looking for romance, adventure, or relaxation.
Mercure Hotels Maldives:
A haven of luxury and relaxation, Mercure Hotels Maldives is tucked away on the lovely island of Kooddoo. Every visitor will have an unforgettable vacation thanks to the resort's exquisite combination of contemporary conveniences and authentic Maldivian charm. The expansive and tastefully decorated villas at Mercure Hotels Maldives offer a haven of peace.
With a private pool in each villa, visitors can cool off while taking in the breath-blowing views of the azure ocean. Additionally, the villas have immediate beach access, enabling visitors to walk on the fine, white beaches and dip their toes in the inviting Indian Ocean. The resort's world-class spa offers a variety of rejuvenating treatments and therapies for those seeking the utmost in relaxation. Visitors can enjoy in a pampering treatment that will leave them feeling revitalized and rejuvenated, choosing from relaxing massages to energizing facials.
Adaaran Club Rannalhi:
Adaaran Club Rannalhi, a tropical oasis that offers the ideal balance of luxury and natural beauty, is located in the enthralling South Male Atoll. This all-inclusive resort is well known for its breathtaking settings, welcoming atmosphere, and variety of activities that satisfy the interests of every visitor.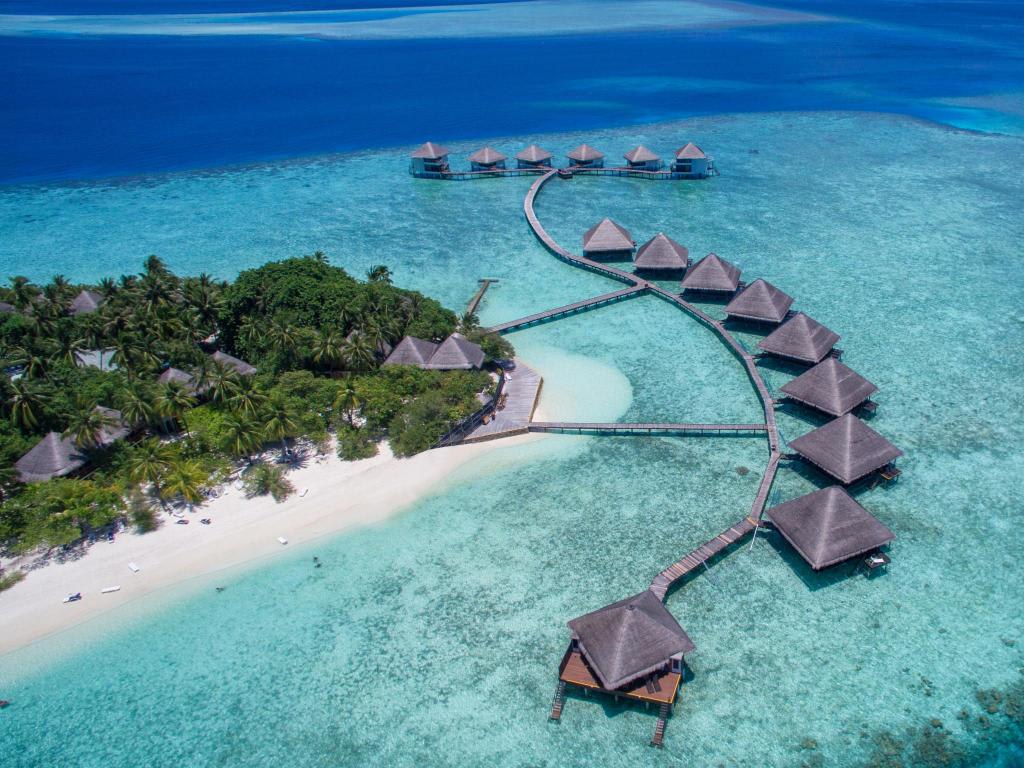 Adaaran Club Rannalhi offers a variety of accommodations, from roomy beach villas to over-water bungalows, all of which are tastefully and comfortably furnished. Awakening to the sound of lapping waves and the sight of vibrant marine life swimming beneath their feet is possible from the villas' spectacular views of the beautiful waters.
The spa at Adaaran Club Rannalhi provides a variety of treatments for individuals looking to unwind that incorporate both conventional methods and contemporary health routines. Visitors can enjoy in a wonderful spa experience that revitalises the body and mind, with services ranging from relaxing massages to energising body cleanses.
Pullman Resort Maldives:
Pullman Resort Maldives offers a magnificent and immersive experience in one of the most beautiful tropical locations on earth, tucked away in the pristine Gaafu Alifu Atoll. This five-star resort creates a harmonious atmosphere for an enjoyable trip by fusing modern design with the natural beauty of the Maldives.
The Pullman Resort Maldives' expansive and artistically built villas provide visitors the highest comfort and seclusion. Both beachfront and over-water villas, which both offer stunning views of the turquoise ocean, are available to guests. Some villas even have underwater beds so that visitors can fall asleep while being surrounded by the fascinating marine life.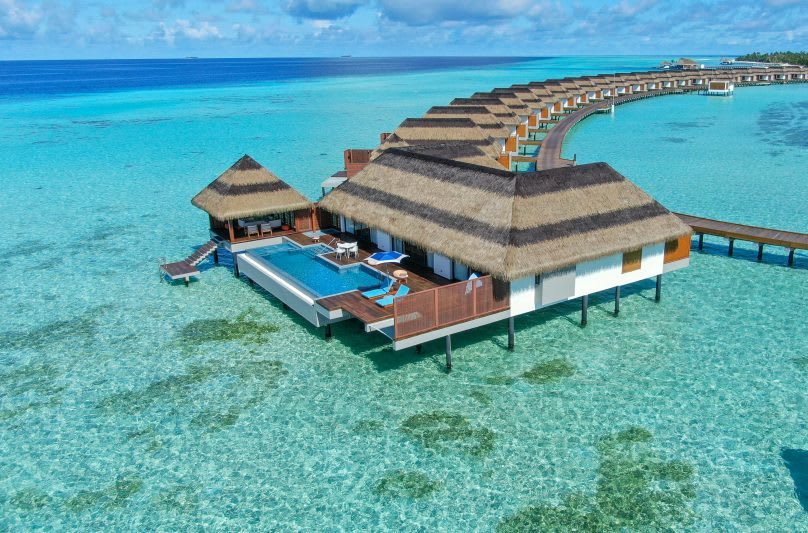 The resort offers a variety of services and events to meet the demands of each visitor. The serene spa offers a range of health services, such as body cleanses, facials, and massages, and serves as a haven for rest and renewal. Yoga courses, outdoor sports activities, and modern gym facilities are available to fitness aficionados at the resort.
Ayada Maldives:
Ayada is a haven of luxury and unmatched natural beauty. It is located in the charming Gaafu Dhaalu Atoll. This luxurious resort is well-known for its opulent villas, immaculate beaches, and top-notch amenities, guaranteeing a luxurious getaway for discriminating visitors.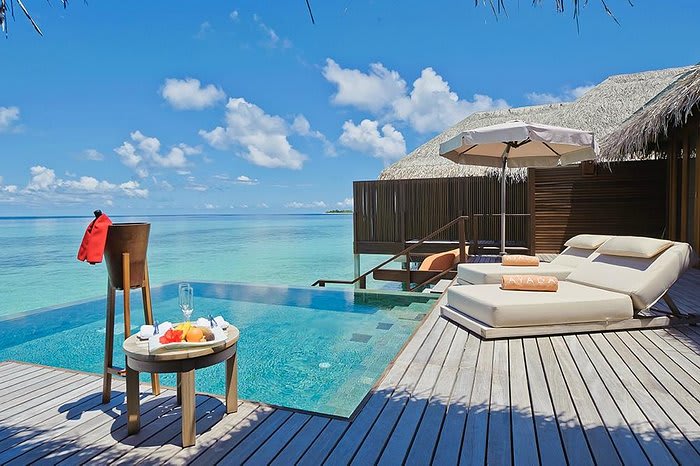 The villas at Ayada are exquisitely built, fusing luxurious modernism with traditional Maldivian architecture. With a private pool, outdoor shower, and a sizable sun terrace, each villa offers its visitors a tranquil haven where they can unwind and take in the mesmerising ocean views. Some villas even provide direct access to the lagoon's sparkling waters, enabling visitors to plunge into the tempting waves from their front door.
Banyan Tree Vabbinfaru:
Banyan Tree Vabbinfaru offers an amazing vacation that combines unmatched natural beauty, elegance, and first-rate service. It is located on the alluring North Male Atoll. This upscale resort is well known for its secluded location, first-rate amenities, and breathtaking marine life.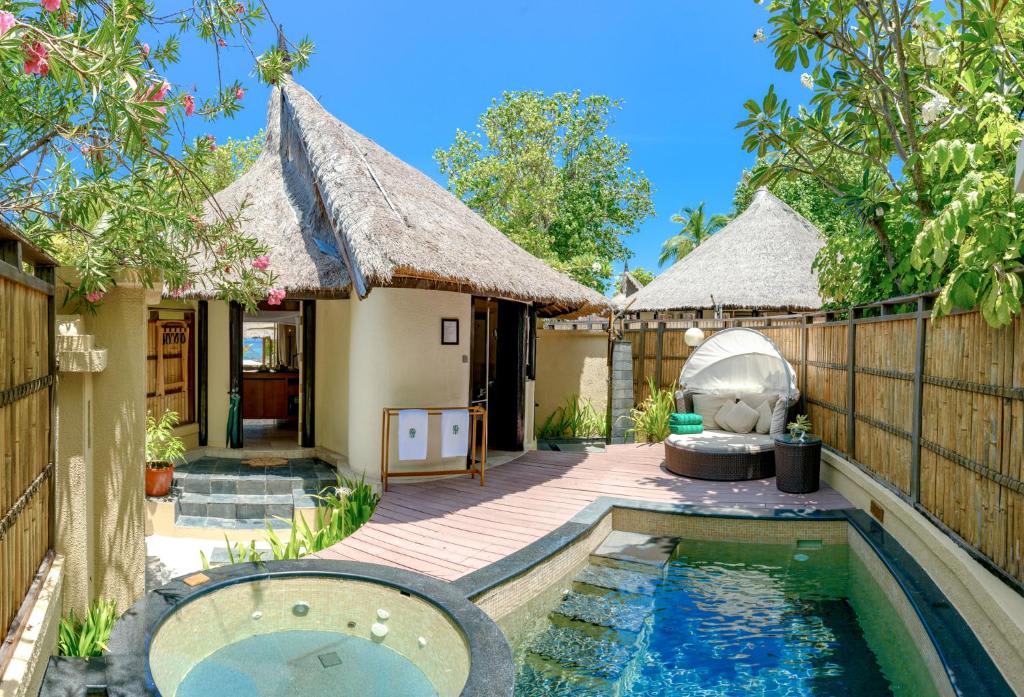 With traditional Maldivian architecture and contemporary conveniences, the villas at Banyan Tree Vabbinfaru radiate beauty and sophistication. The perfect sands are only a few steps away from the beachfront villas, while the over-water villas offer direct access to the colourful coral reefs and turquoise lagoon. Each villa has an own outdoor pool and sundeck that beckons visitors to unwind in seclusion and take in the mesmerizing views of the Indian Ocean.
Heritance Aarah:
Heritance Aarah is a tropical oasis that embodies elegance, refinement, and unsurpassed natural beauty. It is situated in the gorgeous Raa Atoll. This all-inclusive resort is a fusion of modern architecture with Maldivian hospitality, guaranteeing a memorable getaway.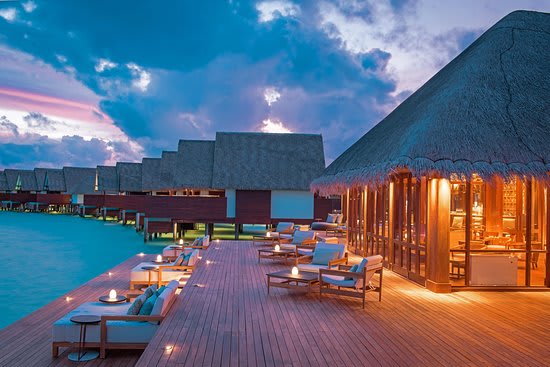 The stylishly furnished villas at Heritance Aarah strike the ideal blend between comfort and style. Both beach villas and over-water villas are available to guests, providing direct access to the lagoon's beautiful waters and powdery white sands. Each villa offers a private pool, a sizable terrace, and sweeping views of the azure ocean, making it the perfect place to unwind.
The Maldives, a well-known resort location, offers a range of luxurious resorts that redefine extravagance and the beauty of the natural world. These resorts offer a haven of peace and stunning views, whether it is in the private villas with pristine beaches or the over-water bungalows with direct access to vibrant coral reefs. Enjoy culinary delicacies, rejuvenating spa treatments, and exhilarating excursions like diving and snorkelling.