Join Triplou on a journey to discover the best ports of call with Cordelia Cruises. Book your dream cruise today!
Are you trying to find a unique and memorable cruise? You may see some of the most stunning and thrilling points of call when you book a cruise with Cordelia. Cordelia Cruises offers a wide selection of locations to meet any traveller's interests and preferences, from ancient cities to tropical paradises.
A cruise is one of the best ways to see the world and get a taste of local culture. With Cordelia Cruises, you may visit some of the world's most stunning and fascinating ports of call, like Goa, Lakshadweep, Mumbai, Sri Lanka, and Chennai. These places provide a unique combination of history, culture, beauty from nature, and adventure, making them the best choice for travellers looking for a break from the routine.
Goa: The Jewel of India
On India's western coast, in the tropical paradise of Goa. Goa is ideal for relaxation and rejuvenation because of its immaculate beaches, vibrant culture, and rich history. Enjoy the sunshine on the beach, discover ancient forts and temples, or sample the regional cuisine. Don't miss the opportunity to taste the renowned Goan seafood and appreciate this coastal state's delicacies. Book your next vacation!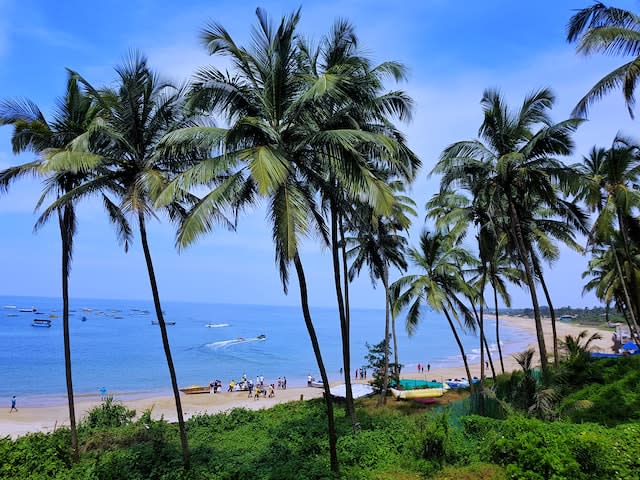 To help you get the most out of your time in Goa, Cordelia Cruises provides a variety of shore excursions. There is something for everyone, from discovering the historic Fort Aguada and Basilica of Bom Jesus to savouring the mouthwatering regional cuisine and seeing neighbourhood markets. Of course, no trip to Goa would be complete without stopping by one of the state's well-known beaches. Take it easy on the beach, swimming in the ocean, or taking in the view.
Mumbai: The Heart of India
Mumbai, India's financial hub, is a thriving metropolis. Mumbai is a must-visit location for anybody interested in discovering honest India. It is known for its rich history, diversified culture, and exciting nightlife. There are many attractions to explore in this dynamic city, from the well-known Gateway of India to the ancient Elephanta Caves. Enjoy the sea breeze while strolling down Marine Drive, or visit Crawford Market to buy authentic Indian items.
The vibrant financial centre of India, Mumbai, never fails to enthral its tourists. There is always something fresh and fascinating to explore in Mumbai, from its bustling street life to its rich history and culture. And Cordelia Cruises is the best way to visit this vibrant city.
Lakshadweep: An Island Oasis
In the Arabian Sea, a group of islands is known as Lakshadweep. These beautiful islands are renowned for their gorgeous beaches, crystal-clear waters, and diverse marine life. Visit the nearby coral reefs, snorkelling or scuba dive, or laze on the beach and enjoy the sunshine. Visit a nearby fishing village to learn more about the distinctive way of life of the islanders. The native culture and customs of the islands are particularly worthwhile to experience.
For those seeking to unwind in a tropical paradise and get away from the worries of daily life, Lakshadweep is the ideal location. Attend a yoga class, indulge in a spa service, or relax on the beach with a nice book. Whatever you decide to do, Lakshadweep will leave you feeling renewed and energised.
Sri Lanka: A Cultural Paradise
Sri Lanka is a little island country in the Indian Ocean renowned for its vibrant culture, stunning scenery, and varied topography. Visit the Sigiriya Rock Fortress, see the historical remnants of Anuradhapura, or unwind on one of the many beaches.
Don't pass up the chance to sample the regional cuisine, which includes mouthwatering curries and decadent desserts. You will have the opportunity to discover more about the rich history and distinctive way of life of the people of Sri Lanka, who are friendly and inviting.
Chennai: A Fusion of Traditions
On the Bay of Bengal, there is a thriving metropolis called Chennai. Chennai is a must-visit location for anybody wishing to discover India's true spirit. It is renowned for its rich culture, delectable cuisine, and vibrant art scene.
Visit one of the city's most well-known attractions, the Kapaleeswarar Temple, or go around the Fort St. George Museum to discover more about the area's fascinating history. Don't miss the opportunity to try the renowned filter coffee, whether you have a traditional South Indian meal or indulge in the local street food.
With spacious accommodations, superb food, and various recreational and entertainment opportunities, Cordelia Cruises delivers a pleasant and relaxing cruise experience. Why then wait? To experience Chennai's charm in elegance, make your reservation with Cordelia Cruises immediately.
With Cordelia Cruises, you may enjoy a one-of-a-kind and spectacular cruise experience while seeing some of the most breathtaking and exotic locations on earth. Cordelia Cruises has something to offer everyone, whether you want to unwind on the beach, discover the local culture, or try something new. Get ready to set sail on a memorable experience by booking your upcoming cruise right away.