Andaman has the best beaches, most virgin natural trails, mesmerizing sunsets, and its history. Pristine beaches, clear blue waters and exquisite marine life – when you think of all these the place that comes to the mind is Andaman.
The Andaman and Nicobar Islands comprises of 572 islands lies at the juncture of the Bay of Bengal and the Andaman Sea. Out of these 572 islands, only about 38 are inhabited. The Andaman group is separated from the Nicobar group by a 150 km wide channel known as the Ten Degree Channel. The Andaman group has 325 islands while the Nicobar group has only 24 islands.
The best time to visit Andaman & Nicobar Islands is between October and May as the weather stays bright and quite pleasant. Monsoons (July to September) are not always recommended as the waves could be unpredictable and specific regions also receive heavy downpours.
DESTINATIONS-
The islands are quite unexplored mainly due to the distance and accessibility from the mainland. And that is where the beauty of the place lies. Thus gives lots of destinations to explore-
ACCOMMODATION-
Since all islands are not inhabited, travelers find accommodation options in Port Blair and the more popular Havelock Island, most convenient to operate from. Here are a few suggestions for both luxury seekers and budget travelers.
TRADITIONAL CUISINE-
The Andaman & Nicobar being a fusion of all Indian cultures is home to a wide variety of cuisine including South Indian, Bengali, and Andhra varieties.
Andaman cuisine is heavily influenced by all the cultures that came into contact with the region.  You must experience the deep impact on the truly tasty and spicy Food of Andaman. Food in Andaman & Nicobar Islands has roots in the history, geography, and also culture of the land.
THINGS TO DO-
the place is a delight for both the conventional tourists and the backpackers alike. The list is quite a long one, but the places are all worth your time. So here's a handpicked list of the things to do in the Andaman Islands.
1.Witness Bioluminescence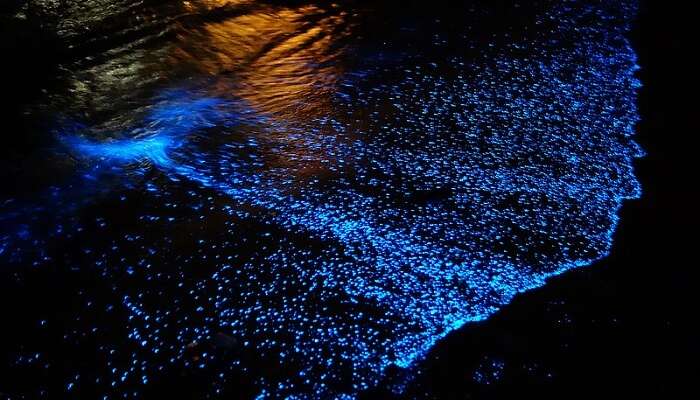 Picture this – tiny lighted stars and galaxies floating under your feet instead of the blue sky above. Total bliss! Watch this happen on the beach at Havelock Island, where water glows as you row your boat through them. This happens due to the presence of phytoplankton in the sea waters. Bioluminescence can be witnessed only on no moon nights. Kayak tours are arranged by experts, which are anyway few in Havelock.
2. Glass Bottom Boat Ride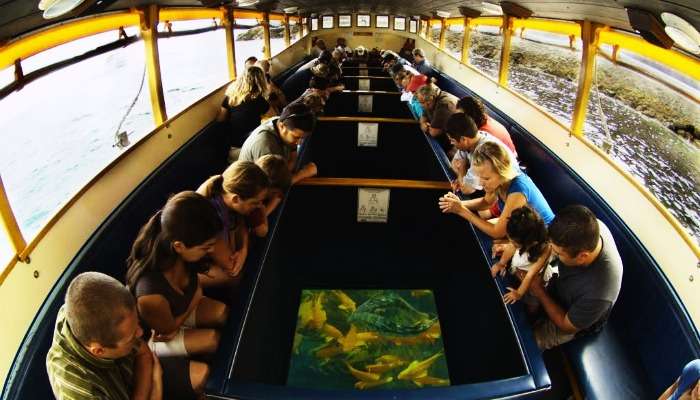 This one is for those who are afraid of water. This one is an easy ride and gives you a good view of the corals beneath With proper safety gear, this one is good for kids as well. If we may say so, glass-bottom boating is among the unique things to do in Andaman and Nicobar Islands.
3. Parasailing
To satiate your adrenaline rush, try parasailing. This activity is a blend of water & airborne adventure. Tied behind a motorboat while harnessed in a parachute, you get to fly like a kite behind the boat as it speeds off into the sea, and you'll surely find it to be one of the most thrilling activity.
4.  Swim with Elephants
Andaman offers you a chance to swim with Rajan – the star elephant. The 60+ elephant loves the company of people and is very friendly. However, you need to book your swim with Rajan in advance. Make sure you indulge in this exciting yet unique experience before leaving Andaman!
5. Sightseeing Tour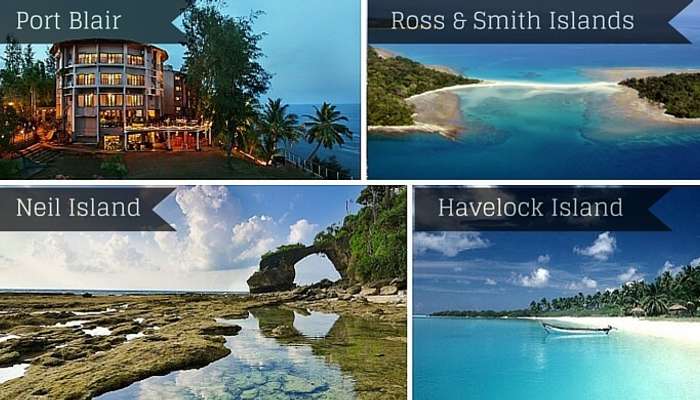 A paradise for travelers, Andaman is an idyllic island for a peaceful getaway. With a myriad of beaches and tourist attractions spread across the various islands, there is a lot to see here. Andaman attractions include individual island tours which can be taken on the major islands, viz. Havelock Island, Neil Island, Port Blair, and Ross & Smith Island. Cellular Jail National Memorial, Samudrika Marine Museum, and Rajiv Gandhi Water Sports Complex in Port Blair; Radhanagar Beach on Havelock Island; Mahatma Gandhi Marine National Park; mud volcanoes of Baratang, an active volcano at Barren Island; and Chidiya Tapu are just some of the many places to visit in Andaman.
6. Semi Submarine Ride
Dreaming of going on a submarine ride in the depths of Andaman. Well, if not for the actual one, the Coral Safari Semi Submarine ride in Port Blair offers a very similar experience to travelers that thrills them out! Make sure you indulge in this fascinating experience during your visit and witness the underwater marine life up close while sitting in the comforts of a semi-submarine that will take you on a joy-ride above the multicolored corals and amid a plethora of unique fish.
7.  Mangrove Kayaking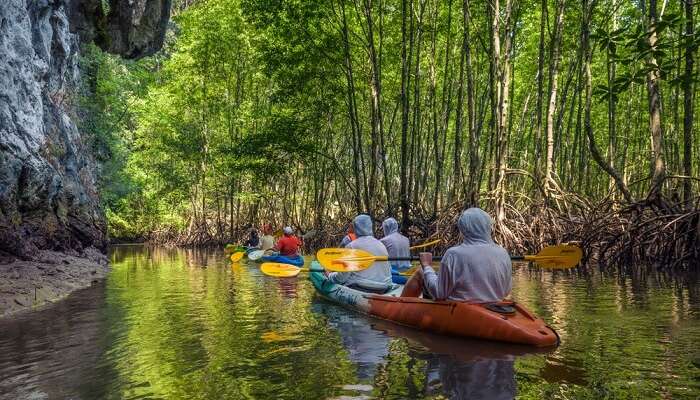 Don't miss out on kayaking at Mayabunder as this thrilling excursion makes you glance the lush green mangrove creek of the Andaman. As this spot comprises 1/5th of India's total mangrove, kayaking in Andaman is the best way to witness its stunning beauty. The complete kayaking tour will be for 2.5 hours, making the best escapade amidst lushes.
8.  Volcano Tour
The famous Mud volcano can be visited by waterways as well as roadways. While going to Baratang Island, you will reach Jarawa Creek. The volcano is around 250 to 300 meters which can be either covered by walking down or by boarding a jetty. This peaceful place makes you gather the unique experience of exploring a real volcano.
9. Coral Reef Expedition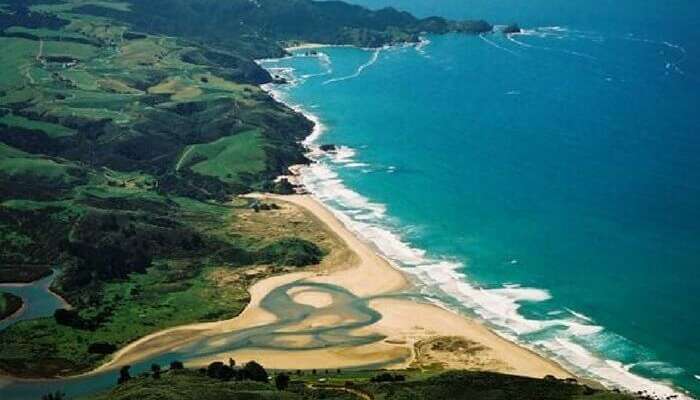 The gorgeous North Bay Island is merely an hour away from Port Blair and houses an enormous quantity of coral reefs along with electrifying water sports activities in Andaman. The island is gaining popularity these days and lure visitors throughout the year. You can also taste a few delicacies especially, a fish or lobster, cooked by locals in their unique way.
10.  Visit Cellular Jail
Also known as Kala Pani, Cellular Jail is one of the unmissable tourist attractions located at Port Blair in Andaman. The three-storied building has 698 cells that are connected in the shape of a starfish. The place is famous for offering a fantastic sound and light show in the evening offering a delightful insight into the historical struggle for independence.
Encompassed by the ever sunny skies and turquoise beaches, the tourist places in Andaman and Nicobar would surely make your holidays unforgettable. This archipelago of 572 islands has something or the other for everyone. Andaman is a true example of what you call 'Tropical Paradise'. Thus, from lively beaches bustling with fun-loving people to beaches teeming with the tranquillity of nature, Andaman and Nicobar have a variety which makes it an ideal destination for all. From kids to adults, from vacationers to explorers – they all return from Andaman elated and rejuvenated. In nutshell, Andaman is a treasure trove of experiences and delights in the form of varied activities, breathtaking sceneries, and of course, delectable seafood.
Just plan a trip to Andaman and Nicobar island and add vibrant shades to your palette.
For a Photo Tour visit Andaman on Instagram profile Triplou.