Join Triplou on a journey to discover Singapore's best food and nightlife. Explore Clarke Quay and Marina Bay Sands.
Singapore is the place to be if you're a foodie searching for a culinary adventure! Some of the world's most delectable and diverse cuisines can be found in this thriving metropolis, and its nightlife scene is astonishing. After dark, there are many things to do, from lively night markets to rooftop bars with breathtaking city views. In this guide, we'll walk you through Clarke Quay and Marina Bay Sands, two of Singapore's top districts, to experience the city's cuisine and nightlife.
Clarke Quay
In Singapore, Clarke Quay is a bustling neighbourhood that provides some of the best dining and entertainment options. The region has been renovated into a trendy destination with various entertainment alternatives. It is named after Sir Andrew Clarke, a former governor of the Straits Settlements. There are five distinct blocks in Clarke Quay, each of which offers a different experience.
Foodies will adore the variety of restaurants around Clarke Quay. The region offers various cuisines to suit every appetite, from hawker centres to upscale dining establishments. The hawker centres are incredibly well-liked because they provide inexpensive, delectable meals in a relaxed atmosphere.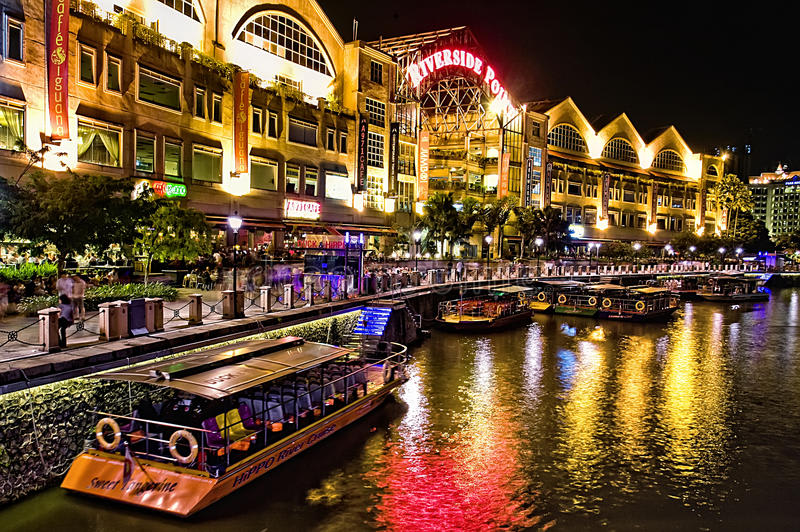 Visitors can eat foreign cuisines like Italian pizza and Japanese ramen or sample regional specialities like Hainanese chicken rice, laksa, and chilli crab. A beautiful view of the Singapore River is available while dining outdoors at several Clarke Quay eateries.
Clarke Quay comes alive at night with its plethora of bars and clubs. Nightlife choices in the neighbourhood vary, including everything from nightclubs with resident DJs to live music venues. Visitors can relax with a drink at one of the numerous bars or have a good time dancing at a club. In Clarke Quay, popular establishments include Crazy Elephant, Attica, and Zouk.
Marina Bay Sands
The renowned integrated resort Marina Bay Sands provides various eating and nightlife options. The resort is well-known for its iconic architecture and breathtaking views of the city skyline and is right in the centre of Singapore's business and entertainment sector.
Marina Bay Sands has a lot to offer foodies. The resort is home to several restaurants run by famous chefs, like Gordon Ramsay's Bread Street Kitchen and Wolfgang Puck's CUT. Guests may also experience regional specialities like Singaporean chilli crab and Hainanese chicken rice at the resort's many restaurants and hawker centres. With over 80 dining selections, Marina Bay Sands has something to suit every preference and price range.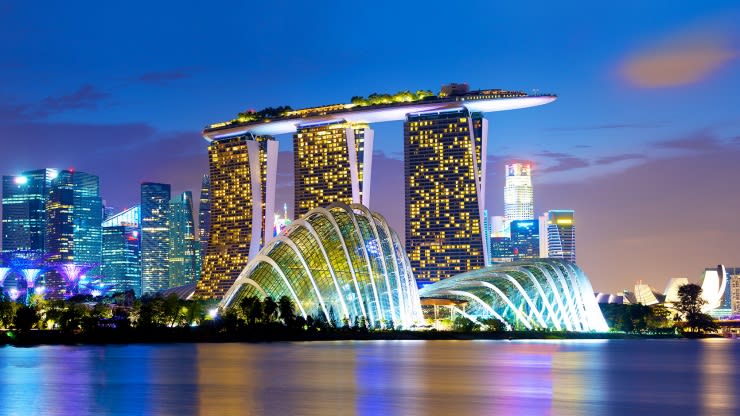 There are numerous pubs and nightclubs at Marina Bay Sands to select from for those looking to go out. Visitors and residents visit Ce La Vi, a famous rooftop pub with beautiful city views. Other well-liked places include LAVO, a rooftop bar and nightclub with a Vegas-style feel, and KOMA, a sleek and modern Japanese restaurant and bar. There are many options in Marina Bay Sands, whether you want to unwind with a quiet drink or dance the night away.
A Sight for the Senses: Night Markets
Consider joining a guided tour to get the most out of your dining and nightlife experience in Singapore. The top hawker centres, restaurants, and bars in the city are visited on one of the many culinary excursions tour operators offer. These tours offer you the chance to taste various foods while learning about the background and traditions of Singapore's culinary scene.
Nightlife tours are also available, a fantastic way to explore the city's exciting nightlife. These excursions take you to some of Singapore's top pubs and clubs as the expert guides explain the city's nightlife scene. A guided tour is a fantastic way to explore the finest of Singapore's dining and nightlife scene, whether you're a foodie or a party animal.
Desserts and Sweet Treats
End your evening with something sweet after discovering Singapore's cuisine and nightlife. Visit one of the city's many dessert cafes, such as The Cold Pantry or The Dark Gallery, to indulge in delectable sweets. Alternatively, visit the renowned Swee Choon Dim Sum, which serves sweets around the clock, and sample some of their standout treats, such as custard buns or egg tarts.
Singapore is a culinary lover's dream, and the city's nightlife is as remarkable. There is something for everyone in this dynamic city, whether you prefer fancy dining or street food, rooftop bars or night markets. So gather your loved ones, head to Clarke Quay and Marina Bay Sands in Singapore, and prepare for an incredible culinary journey.