With beautiful weather and a wide range of activities, experience the best of Dubai in March. Visit the Al Fahidi District, have a desert safari, tour the Dubai Miracle Garden, and engage in exhilarating watersports at Jumeirah Beach. Discover this bustling city's charm as winter gives way to spring.
With its unique blend of technology, luxury, and cultural treasures, Dubai, the glittering metropolis in the centre of the Emirates, never fails to enthral visitors. March is ideal for visiting Dubai's captivating sights and enjoying the beautiful weather as winter gives way to spring. The most extraordinary activities, experiences, and weather for a genuinely memorable trip to Dubai in March are detailed in this article.
Enjoy the Ideal Weather:
A lovely changeover from the chilly winter months to the start of spring occurs in Dubai in March. Between 20°C (68°F) to 27°C (81°F), on average, are pleasant and warm weather conditions. It's the ideal time to enjoy outdoor pursuits and discover the city's breathtaking surroundings without the oppressive summer heat.
Discover the Dubai Parks and Resorts:
The Dubai Parks and Resorts complex is a must-visit place for thrill-seekers and families. This entertainment complex, consisting of three theme parks and a water park, provides excitement and adventure.
Visit Motiongate Dubai, Bollywood Parks, and LEGOLAND Dubai to immerse yourself in their enchanted worlds, or visit the thrilling Legoland Water Park to cool off. March is a great month to visit these attractions because the weather is ideal for outside rides and performances.
Wander through the Dubai Miracle Garden:
The Dubai Miracle Garden is a floral haven where you may escape into the splendour of nature. Before the garden closes for the summer, March is your final chance to see the stunning displays of more than 50 million flowers.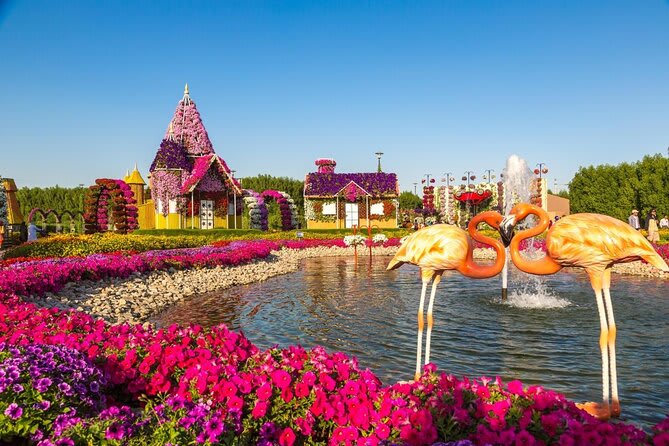 Wander along imaginative walkways with magnificent sculptures, brilliant blossoms, and charming floral displays. The Dubai Miracle Garden delivers a unique sensory experience with heart-shaped arches and life-sized creations.
Explore the Historic Al Fahidi District:
Delve into Dubai's rich heritage by visiting the Al Fahidi Historic District, also known as Bastakiya. This charming neighbourhood is a maze of narrow lanes, traditional courtyard houses, and wind towers that hark back to a bygone era.
Immerse yourself in the captivating atmosphere of the past as you wander through art galleries, visit museums, and explore cultural exhibits. Don't forget to savour traditional Arabian cuisine at the district's quaint cafes and restaurants.
Wander through Global Village:
Travel to Global Village, a spectacular display of cultures, foods, and entertainment. This outdoor market features pavilions from more than 90 nations, each presenting a distinctive shopping and cultural experience.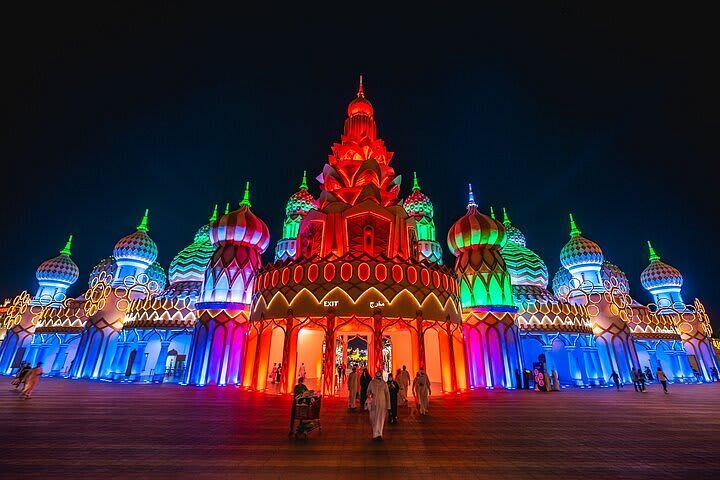 Global Village puts the world at your fingertips with everything from handmade goods to mouthwatering street food. Enjoy live shows, exhilarating rides, and a vibrant, funfair atmosphere that will captivate you.
March is a perfect season to visit Dubai because of its excellent combination of pleasant weather, cultural exploration, and exhilarating activities. Dubai in March has something for everyone, whether you want to explore the historic neighbourhoods, participate in adrenaline activities, or stroll along the lovely beaches.
The beautiful weather, fascinating activities, and cultural exploration in March in Dubai are magical. This dynamic city offers an exceptional experience for every visitor, whether wandering through enchanted gardens or immersing yourself in exhilarating experiences. Take in Dubai's springtime splendour and make treasured memories that will last a lifetime.