Discover the captivating beauty of Dubai in February with its pleasant weather, exciting events, and abundant outdoor activities. Discover the renowned Dubai Marina, take in Al Fahidi's vibrant culture, and savour the gastronomic treats of the Dubai Food Festival. Shop until you drop at opulent malls and conventional souks while relaxing in first-rate lodging. This February, go on an unforgettable winter getaway to Dubai and make memories that will last a lifetime.
A place that never fails to enthral and astound travellers is Dubai, the glittering city of dreams in the United Arab Emirates. Dubai is a year-round vacation spot, but February has a distinct appeal for people looking for a winter trip. Dubai in February is a wonderfully captivating experience, with good weather, exciting festivals, and various activities. Therefore, prepare to embark on an exciting experience in this magical city by packing your baggage.
Weather:
February brings pleasant weather and cosy temperatures as Dubai's winter ends. The ideal time to visit outdoor sites and engage in a variety of activities is when the temperature is between 17°C (63°F) and 25°C (77°F), on average. The weather is perfect for exploration and adventure, with warm days, clear blue skies, and a light breeze.
Outdoor Activities:
February is a great time to take advantage of Dubai's world-famous outdoor attractions and bask in their splendour. Visit the Dubai Marina to begin your tour; it is a magnificent waterfront location noted for its spectacular skyscrapers and opulent yachts. Visit a waterfront restaurant, take a leisurely stroll along the promenade, or get on an exciting boat ride to see the city's famous sites from the sea.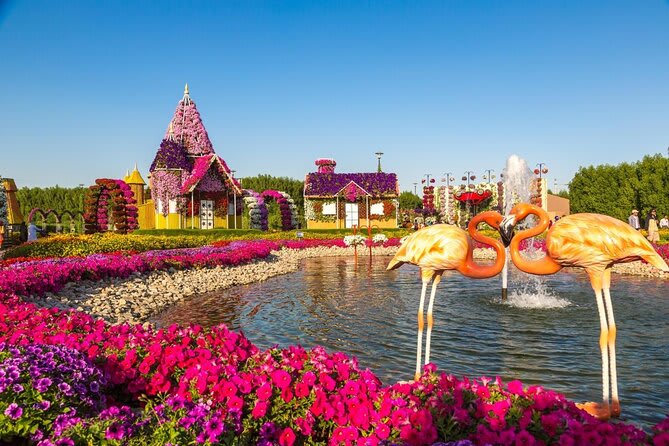 A trip to the Dubai Miracle Garden is essential for those who enjoy the outdoors. Millions of vibrant blooms are displayed in this stunning floral paradise, decorated with elaborate patterns. Spend time getting lost in the colourful displays and take some breathtaking pictures.
Culture & Heritage:
Dubai skillfully combines history and modernity, and February presents an opportunity to learn more about its extensive culture and heritage. Discover the Dubai Museum's neighbourhood, Al Fahidi, which has a rich history. This museum, housed in the Al Fahidi Fort, provides a fascinating look into the city's past by displaying artefacts and exhibits that describe Dubai's development from a small fishing community to a major international city.
To immerse yourself further in Emirati culture, head to the Heritage Village. Located in the Shindagha area, this open-air museum brings traditional Bedouin life to life with its recreated dwellings, craftsmen demonstrating traditional skills, and cultural performances. Gain insights into Emirati traditions, arts, and crafts, and savour the flavours of traditional Emirati cuisine.
Luxurious Accommodations:
February is the perfect time to enjoy the height of luxury in Dubai, known for its first-rate hotels and resorts. Dubai offers a wide range of indulgences, from renowned hotels like the Burj Al Arab, with its opulent design and unmatched service, to beachfront resorts with private access to pristine shorelines.
Enjoy breathtaking views of the city's skyline while dining at restaurants that have won awards, and unwind in opulent spa facilities. Create lifelong memories while receiving the most luxurious treatment possible in Dubai.
Dubai in February is a captivating destination that offers a perfect blend of outdoor adventures, cultural immersion, vibrant festivals, and luxurious experiences. Dubai has it all, whether you're seeking relaxation, exploration, or a feast for the senses. So, embrace the magic of this winter wonderland and prepare for an extraordinary journey in the heart of the Arabian desert.