With good weather and various fascinating activities, experience the allure of Dubai in May. Visit the colourful markets, indulge in thrilling water sports, explore the architectural wonders, relax on the gorgeous beaches, and indulge in mouthwatering cuisine. Learn about the top attractions and activities that will make your May visit to Dubai unforgettable.
Dubai, the city of wonders, never ceases to enthral visitors with the splendour of its architecture, opulent resorts, and exhilarating activities. Dubai is a great place to come in May when the weather is pleasant, and there are a variety of activities to discover. This post will highlight the best events and adventures that make Dubai in May a memorable travel destination.
Explore Architectural Marvels:
May is the ideal time of year to visit Dubai's world-famous architectural treasures because of the mild weather. Visit the Burj Khalifa, the tallest structure in the world, to start your adventure, then make your way up to the observation deck on the 148th level for mesmerising 360-degree views of the city.
Next, take in the futuristic allure of the Palm Jumeirah, a man-made island shaped like a palm tree. You can find opulent resorts, beautiful homes, and lively beach clubs along the shoreline. With its magnificent architecture and exciting water park, the Atlantis, The Palm offers the perfect backdrop for Instagram-worthy images.
Indulge in Exhilarating Water Sports:
In May, Dubai's mild weather and beautiful waters make it the perfect playground for fans of water sports. As you experience an adrenaline rush, participate in thrilling activities like flyboarding, parasailing, or jet skiing. Explore the vivid coral reefs and interesting aquatic life by snorkelling or scuba diving expeditions beneath the surface.
Take a leisurely boat sail around the coast for a more tranquil experience, taking in the breathtaking scenery and relaxing sound of the waves. Dubai's waterways provide a variety of experiences to fit your preferences, whether you're looking for adventure or tranquilly.
Visit Vibrant Markets:
Explore Dubai's busy marketplaces to experience the city's rich culture fully. Start your adventure with the historic Gold Souk, where you may awe at the finely crafted gold and priceless jewellery. Explore the Spice Souk, where the air is filled with the enticing fragrances of exotic spices, and look around the stalls selling a range of herbs, spices, and traditional medicines.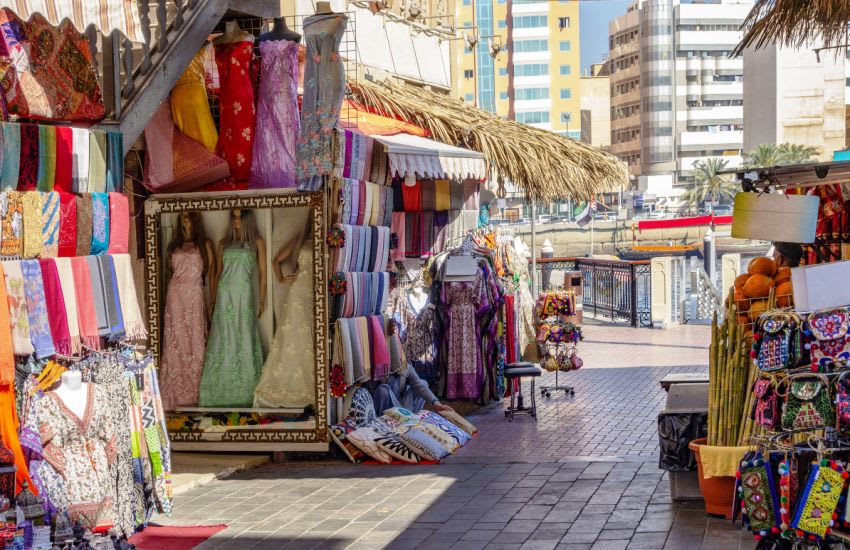 Spend some time shopping at the energetic Textile Souk, where you can find a variety of textiles, apparel, and traditional handicrafts. Take advantage of the vibrant atmosphere, bargain for the greatest deals, and purchase one-of-a-kind mementoes that perfectly depict Dubai's rich history.
Unwind on Pristine Beaches:
May is an excellent month for relaxing and soaking up the sun on Dubai's famed beaches. Go to Jumeirah Beach, a length of beautiful dunes bordered by sparkling waters, where you may relax with a book, go swimming, or both. Take a leisurely stroll along the Dubai waterfront promenade, surrounded by eateries, coffee shops, and breathtaking waterfront views.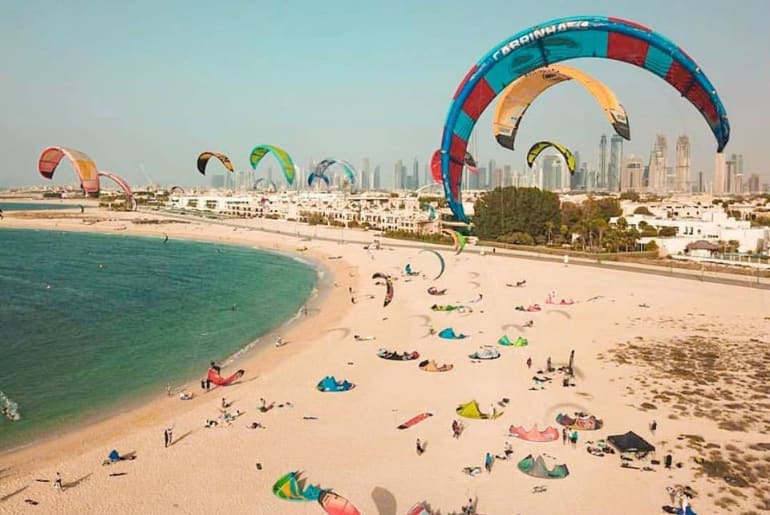 Visit Kite Beach, renowned for its peace and superb kite surfing conditions, for a more private experience. Try your hand at beach volleyball or take a refreshing dip in the clear seas. Dubai's beaches offer a tranquil retreat from the busy metropolis, allowing you to relax and re-energize.
Savour Delectable Cuisine:
Dubai is a culinary haven, offering various foods to titillate your palate. Try traditional Emirati cuisine, including camel meat, grilled seafood, and savoury rice dishes, to indulge in a culinary adventure. At Dubai's thriving food markets, where you can sample foreign cuisines and street food delights, immerse yourself in the global ambience.
Visit the city's well-known eateries and celebrity chef spots to sample a blend of flavours from around the globe. The food scene in Dubai is sure to please any pallet, whether you enjoy elegant dining or informal street fare.
Dubai in May offers a magical fusion of stunning architectural wonders, thrilling water sports, lively marketplaces, immaculate beaches, and mouthwatering cuisine. Discover the famous sites, experience the exhilaration of water sports, get lost in the colourful markets, relax on the sun-kissed beaches, and indulge in gastronomic delights. Dubai in May promises a special experience that will enthral you and make you want to return.