When the summer sun shines in Dubai in June, it illuminates a world of captivating activities. Experience the colourful charm of Dubai. Discover the busy souks, partake in exhilarating indoor activities, relax at opulent resorts, experience water parks, and indulge in delectable cuisine. Learn about the top June activities that make Dubai a memorable travel destination.
Dubai, the city of endless possibilities, never ceases to captivate tourists with its vibrant energy and top-notch attractions. The summer sun shines brightly in Dubai in June, luring visitors to partake in various exciting activities. This post will highlight the main activities and sights that make Dubai in June a memorable travel destination.
Explore the Bustling Souks:
The souks, or traditional markets, in Dubai, provide a fascinating look into the city's rich history and dynamic culture. Start your investigation at the Gold Souk, filled with gold, silver, and priceless gemstones. Admire the beautiful craftsmanship and haggle for one-of-a-kind pieces of jewellery to bring home as treasured souvenirs.
Continue your journey to the Spice Souk, where you will find a sensory deluge of unique scents. Wander around the stalls packed with fragrant spices, dried fruits, nuts, and traditional herbs and enjoy the lively ambience. Talk to local vendors, discover the many ingredients used in Emirati cooking, and possibly buy some fragrant spices to give your culinary explorations a hint of Dubai.
Indulge in Thrilling Indoor Adventures:
Dubai's summer is unbearably hot, so indoor activities are a welcome relief. Take in the excitement of indoor skiing at Ski Dubai in the Mall of the Emirates. In this one-of-a-kind winter wonderland in the middle of the desert, you may sledge down snowy slopes, make snowmen or have a fun snowball fight.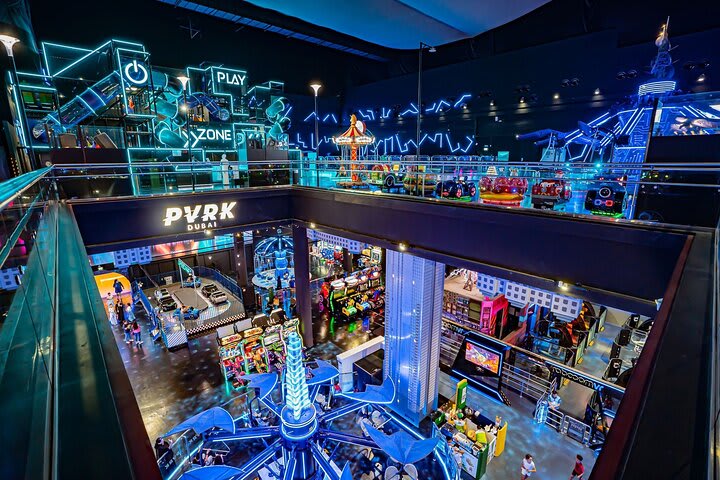 Thrill seekers must visit VR Park Dubai. Experience virtual reality firsthand by immersing yourself in everything from exhilarating roller coaster rides to interactive games that take you to new realms. Engage in a breathtaking virtual journey or challenge your friends to a race.
Unwind at Luxury Resorts:
June is the ideal opportunity to enjoy the top-notch amenities offered by Dubai's opulent resorts. At a beachfront hotel on Jumeirah Beach, unwind by the pool, sip cool beverages, and soak up the warm sunshine. Enjoy luxurious spa services that calm your body and revive your senses.
Consider booking a stay at one of the opulent resorts on Palm Jumeirah for an unforgettable experience. Private beaches, opulent rooms, and breathtaking views of the Dubai skyline are all features of these exquisite estates. During the summer heat, Dubai's luxury resorts offer an oasis of peace whether you want to unwind or indulge.
Enjoy Water Parks:
Numerous water parks in Dubai provide thrilling thrills and cool relief from the summer heat. Popular attractions include the exhilarating water slides, lazy rivers, and vivid aquarium at Atlantis, The Palm. Relax in the wave pools and fake river rapids or race down the Leap of Faith slide across a lagoon full of sharks.
Wild Wadi Waterpark is another well-liked water park close to the famous Burj Al Arab. Various water slides, surfing opportunities, and splash areas are available for guests of all ages. Unwind at these thrilling water parks and make enduring memories with loved ones.
Savour Delicious Cuisine:
The culinary scene in Dubai is vibrant and diversified, offering a wide range of international flavours. Try traditional Emirati meals, including camel meat, mezze platters, and fragrant rice preparations, to indulge in a gourmet adventure. Discover the city's diverse dining scene, featuring restaurants serving food from many countries.
Visit the crowded Dubai Mall to enjoy a wide selection of fine dining establishments and international food courts. There is something for every palate in Dubai's gastronomic environment, from elegant restaurants to hip street food places.
When you visit Dubai in June, you are invited to immerse yourself in a world of vivid souks, exhilarating indoor activities, opulent resorts, cool water parks, and delectable food. Discover the vibrant markets, enjoy thrilling indoor adventures, relax at opulent resorts, cool yourself in water parks, and indulge in the varied gastronomic options. June in Dubai guarantees a summertime adventure you won't forget, leaving you with priceless memories of this alluring city.