Experience the charm of Dubai in October when the city enjoys pleasant temperatures and a wide range of engaging activities. Explore exciting cultural festivals, immerse yourself in the fascinating grandeur of Dubai's landmarks, and bask in the energetic atmosphere of this magnificent city. Learn about the best events and attractions that make Dubai unique in October.
1. Soak Up the Sun at Stunning Beaches
Dubai is known for its immaculate beaches, and October offers the ideal weather to take advantage of the golden sands and clear waters. Visit Jumeirah Beach for a leisurely day of sunbathing, swimming in the cooling Arabian Gulf, or just lounging with a book under a palm tree. Several expensive restaurants that line the coast provide excellent cuisine and breathtaking skyline views, so treat yourself to some seaside eating there.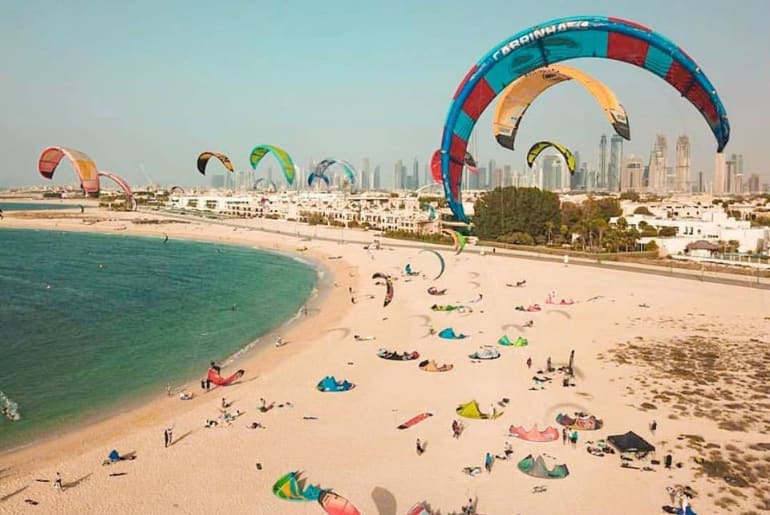 Visit Kite Beach, a renowned destination for fans of water sports, for a distinctive beach experience. Try your hand at sports like beach volleyball and paddleboarding while admiring the vibrant kites that are soaring in the sky.
2. Unforgettable Desert Adventures
October is a great time to explore Dubai's enormous desert scenery and experience its exhilarating activities. Set out on an adventurous desert safari and revel in the excitement of 4×4 dune bashing. Hold tight as your experienced driver crafts an adrenaline-filled journey through the massive dunes.
After that, spend time in a traditional desert camp, experiencing Bedouin culture. Enjoy camel rides, watch falconry demonstrations, and be adorned with artistic henna patterns as you indulge in Arabian hospitality. Enjoy a delicious BBQ dinner while watching live cultural performances that feature traditional music and dance as the sun sets under a starry sky.
3. Cultural Exploration in Old Dubai
Escape Dubai's contemporary splendour and travel back to Old Dubai, where you will find classic architecture and rich history. Start your adventure in the historical Al Fahidi neighbourhood, where the Dubai Museum is located. Gain insight into the city's evolution from a modest fishing town to a cosmopolitan metropolis by exploring the winding lanes decorated with wind towers and charming courtyards.
Take a traditional wooden boat called an abra across Dubai Creek to reach Deira's bustling souks. Enjoy the flavours and hues of the Spice Souk, where merchants sell a variety of exotic spices, plants, and vintage perfumes. Discover the lively ambience of the Gold Souk and browse the gorgeous jewellery made with elaborate designs.
4. Dubai's Spectacular Landmarks
Dubai is known for its recognisable sites; you may visit them in beautiful weather in October. Start your tour at the Burj Khalifa, the world's tallest structure. Once you reach there, the 148th-floor observation deck's exceptional panoramic views of the city skyline will mesmerise you.
Admire the Palm Jumeirah, an artificial island fashioned like a palm tree, for its stunning architecture. Enjoy world-class cuisine, indulge in luxury at one of the luxurious resorts, or unwind on the lovely beaches.
5. Festivals and Events
Dubai in October is jam-packed with fascinating festivals and events. At the Dubai Food Festival, you can sample delicious meals from diverse cuisines, see renowned chefs do cooking demonstrations, and take in live entertainment as you celebrate the world's flavours.
You may taste Emirati culture at the Dubai International Arabian Horse Championship, where exquisite Arabian horses compete in various divisions. The Indian community in Dubai celebrates Diwali, the festival of lights, and displays its rich cultural history through song, dancing, and fireworks.
In October, a mesmerising combination of stunning beaches, thrilling excursions, cultural exploration, and exciting events can be found in Dubai. This sparkling city has something for everyone looking for relaxation, adventure, or cultural immersion. In October, take a trip to Dubai that you'll never forget and make some lifelong memories. Dubai will charm you with its enchantment, from coastal joys to desert excursions, architectural wonders, to cultural events.