Discover the amazing splendour of Iceland in January as you travel through a winter wonderland filled with captivating ice caves, the Northern Lights, exhilarating festivals, and more. During the coldest month of the year, explore this Nordic island's charm and make unique memories amidst the beauty of nature's icy splendour.
Iceland in January is a stunning location that guarantees a unique and amazing winter experience. This Nordic landscape comes alive with a variety of activities and events that will grab your senses and leave you in awe, despite the frigid conditions. You will see breathtaking scenery, fascinating ice formations, and the elusive dance of the Northern Lights as you travel through the region of fire and ice. Explore the special activities and attractions that this wonderful island has to offer as you embrace the chance to immerse yourself in the depths of winter.
1: Reykjavik Winter Lights Festival
In the midst of Iceland's bitterly cold winter, there is a beautiful festival called the Reykjavik Winter Lights Festival. This yearly festival, which takes place in January, enlivens Reykjavik, the nation's capital, with a variety of eye-catching light displays, art installations, and cultural activities. The city centre is a popular destination for both locals and visitors since it has a beautiful atmosphere thanks to the streets and landmarks being decorated with colourful lights.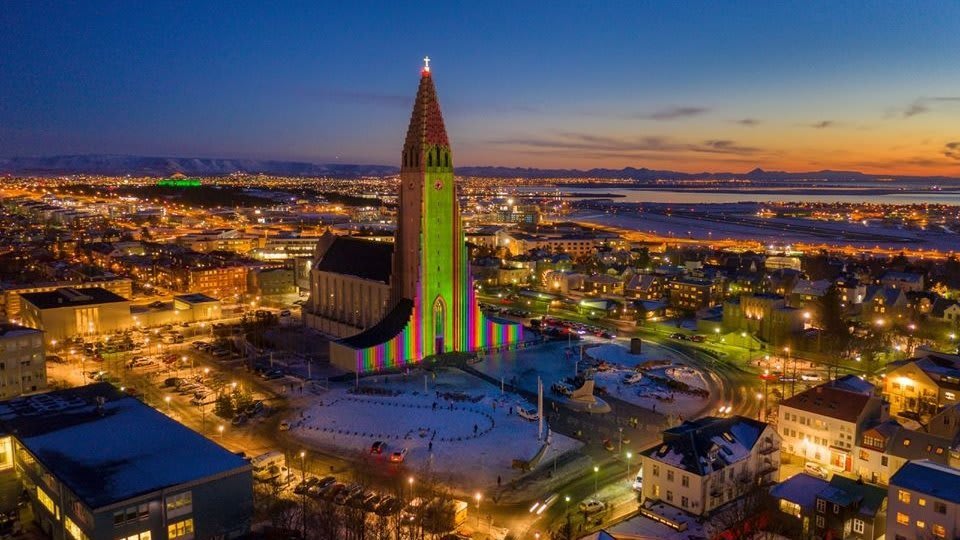 Through mesmerising light installations that turn ordinary areas into astonishing works of art, artists from around the world display their talents. Explore interactive light exhibits, illuminated sculptures, and projections that transform the city into an outdoor gallery for visitors. The festival's schedule also features prominent theatre productions, dance performances, and musical productions.
2: Thorrablot- Iceland in January
The end of winter is commemorated by the traditional Icelandic festival known as Thorrablot, which has roots in old Viking customs. Thorrablot, which takes place in January, is a special culinary event that might not be suitable for those with weak stomachs. During this celebration, locals congregate in community centres and dining establishments to enjoy a feast of traditional Icelandic cuisine, some of which may be difficult for visitors' palates to handle.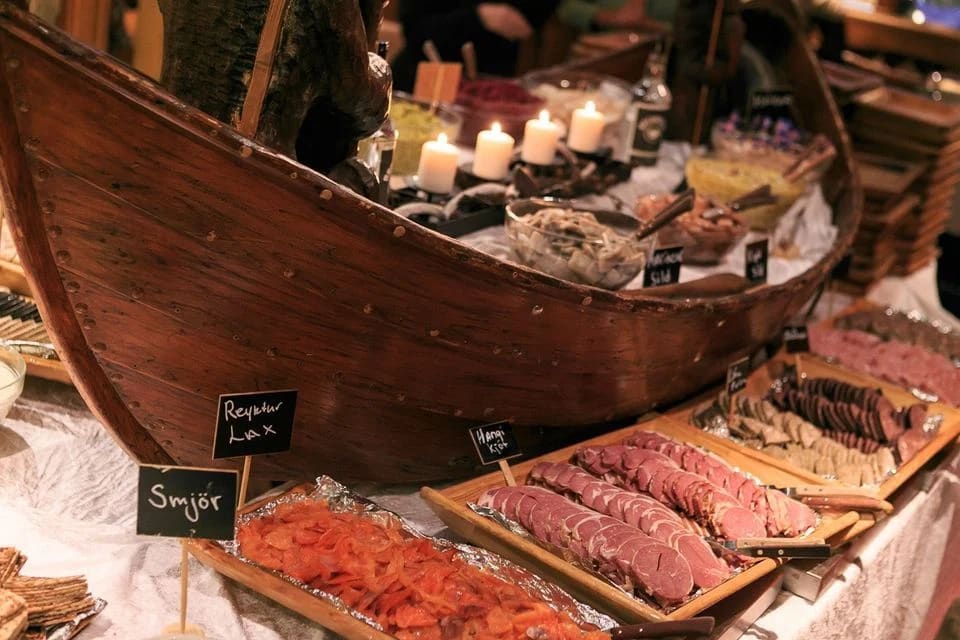 "Hakarl," or fermented shark meat, is one of the odd delicacies served during Thorrablot. To make this national delicacy, shark meat is buried underground for a number of months to allow it to ferment and take on a distinctive flavour. "Svid," a sheep's head that is boiled and occasionally singed before being served, is another daring dish on the menu.
3: Reykjavik International Games
Athletes from all over the world travel to Iceland each January to compete in the top sporting event known as the Reykjavik International Games. Against the breathtaking backdrop of Iceland's winter scenery, this multi-sport event honours physical prowess and good sportsmanship.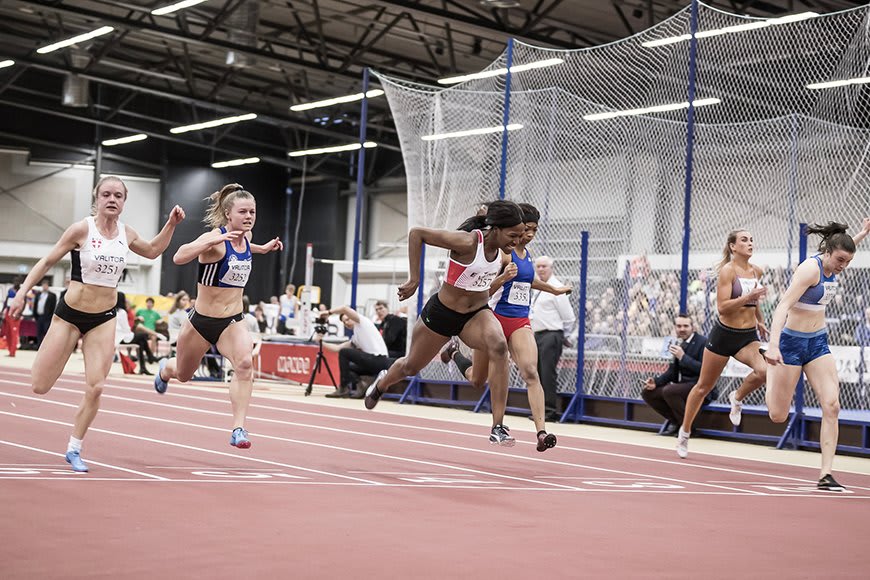 Sports fans can watch fascinating competitions in karate, swimming, weightlifting, gymnastics, and other sports. The games feature a wide variety of competitions, providing a welcoming environment for athletes of all ages and skill levels. Participants get the chance to push their personal boundaries and display their talents on a global scale.
At several locations around Reykjavik, spectators may applaud the athletes and take in the electric atmosphere. Icelanders are known for being kind and hospitable, which enhances the whole experience and makes the event one that not only celebrates sports but also promotes unity and friendship among players and spectators.
4: Fireworks on New Year's Eve
Reykjavik's New Year's Eve festivities are proof that Icelanders know how to bring in the new year in style. When the clock strikes twelve, a spectacular fireworks show fills the city's night sky. Tourists and locals alike assemble in open areas, on roofs, and from vantage points to observe the spectacle and welcome the new year.
The lengthy winter nights benefit this spectacular display by providing a gorgeous backdrop for the vibrant explosions that illuminate the night. The celebration is given an extra magical touch by the colourful lights that reflect off the snow and ice. As everyone arrives, the atmosphere is brimming with anticipation, happiness, and a sense of community.
5: Rettir – The Annual Sheep Roundup
The yearly "Rettir" sheep gathering, known as "Rettir," occurs in Iceland's isolated countryside in late fall and early winter, with some districts finishing the operation in January. This age-old custom has its origins in the days when sheep were let to graze freely in the highlands throughout the summer, and it is firmly ingrained in Icelandic society.
It takes a village to round up the sheep, and farmers, along with their friends and family, come together to transport the sheep from the mountains back to the farms. Sheep are herded throughout the celebration along historic roads and through valleys, creating a spectacle of hard labour and tradition. The sheep are divided and sorted according to the markings on them that denote ownership. It's a time for getting together with neighbours and other farmers and socialising.
Following the completion of the task, there is a sense of success and camaraderie in the air. Celebrations frequently follow, during which time the participants enjoy customary food and drink. Witnessing the Rettir offers tourists to Iceland a rare opportunity to learn about rural cultures and observe the close relationship Icelanders have with their homeland. The occasion offers a window into the tight-knit communities that survive in Iceland's isolated countryside and sheds light on the nation's agricultural legacy.
For winter sports fans and adventurers looking for a really unique experience, Iceland in January is a dream come true. The island provides a variety of unique activities, such as discovering fascinating ice caves, searching for the Northern Lights, taking part in exciting festivals, and relaxing in peaceful geothermal baths. Accept the allure of Iceland's winter wonderland in January, and let the natural splendour of this Nordic treasure charm you as it leaves you with memories that will warm your heart for years to come.