As you immerse yourself in a world of Arctic beauties, experience the magnetic attraction of Iceland in February. Visit ice caves, take in the mesmerising Fire and Ice Festival, unwind at peaceful geothermal spas, and be in awe of the breathtaking grandeur of frozen waterfalls. Take advantage of this Nordic island's wintertime beauty to make lifelong memories among the allure of the Arctic.
In February, Iceland greets daring visitors with its otherworldly splendour, transforming the surroundings into a captivating snow paradise. February brings about a range of distinctive experiences that highlight the very best of Iceland's allure, despite the fact that the island is securely ensconced in the Arctic. This is a season when the country of fire and ice lives up to its reputation in all its Arctic splendour, with shimmering ice caves, enthralling festivals, and breathtaking frozen waterfalls. Enter the depths of winter and let Iceland's arctic charms in February weave a tale of exploration and magic.
1: Winter Lights Festival in Reykjavik
During the gloomy winter days of February, Reykjavik is magically illuminated by the Winter Lights Festival. This yearly celebration cheers up both residents and visitors by bringing warmth and light to the streets. Reykjavik is transformed into a sparkling wonderland throughout the festival as various monuments, buildings, and public areas are decked with mesmerising light shows and art works.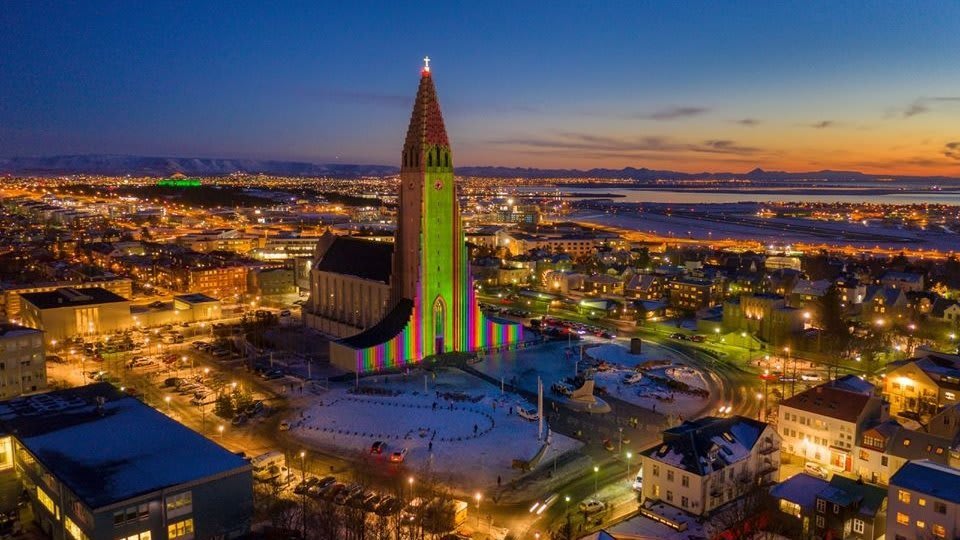 The festival's schedule features a variety of events, such as guided city tours, cultural performances, and exhibitions. By visiting the museums and art galleries, which frequently provide free admission and unique displays during the event, visitors can learn more about the city's cultural past. Live music concerts, dance performances, and theatre productions bring Reykjavik's dynamic cultural scene to life and highlight the city's originality.
2: Dark Music Days Festival
In Reykjavik in February, there is a singular and engaging event called the Dark Music Days Festival. Contemporary and experimental music are the main focus of this cutting-edge music festival, which encourages artistic discovery and pushes the limits of conventional genres. The festival draws artists, composers, and music lovers from all over the world, fostering an environment that is innovative and creative.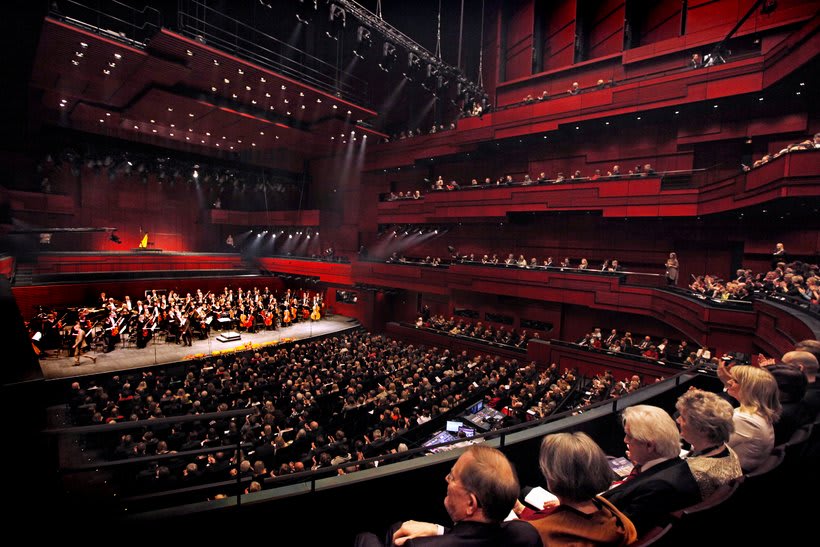 Attendees have the choice of a wide selection of concerts, seminars, and talks during the festival. Concerts offer a unique aural experience with anything from ambient soundscapes to electronic and orchestral music. The distinction between music, the visual arts, and technology are frequently blurred by musicians' collaborations with artists from other fields.
3: Thorrablót Celebrations
Icelandics celebrate Thorrablót, a traditional mid-winter festival, far into February. Locals congregate to feast on traditional Icelandic foods and mark the end of winter during Thorrablót, a historic Viking festival that is a testimony to the nation's cultural history.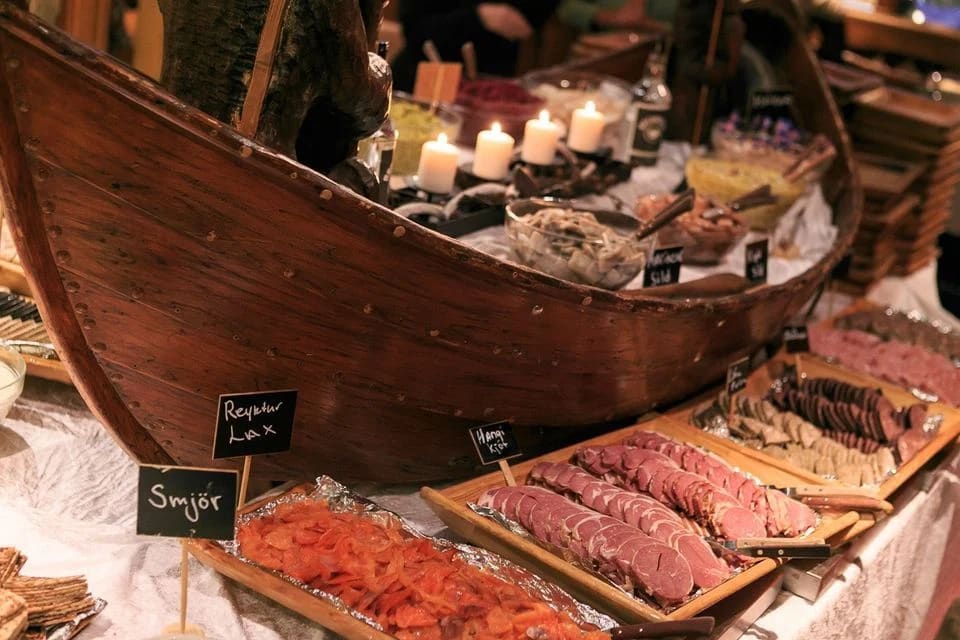 The festival's menu frequently features unusual treats that can surprise newcomers. Foodies with a sense of adventure can try "hakarl," a fermented shark meat dish with a strong scent and complex flavour. Sheep's head, known as "svid," is another unusual meal that is cooked and occasionally singed before being served. In addition, among the customary offerings for Thorrablót are "hrutspungar," or sour ram's testicles.
4: Reykjavik International Games
Top athletes from all over the world come together for the spectacular Reykjavik International Games to compete in a variety of sports. This multi-sport event, which takes place in February, ups the excitement level of Iceland's winter season. A wide variety of sports, including gymnastics, weightlifting, karate, swimming, and more, are available for both participants and spectators to enjoy. The events draw athletes of all ages and skill levels, fostering a welcoming and jovial atmosphere.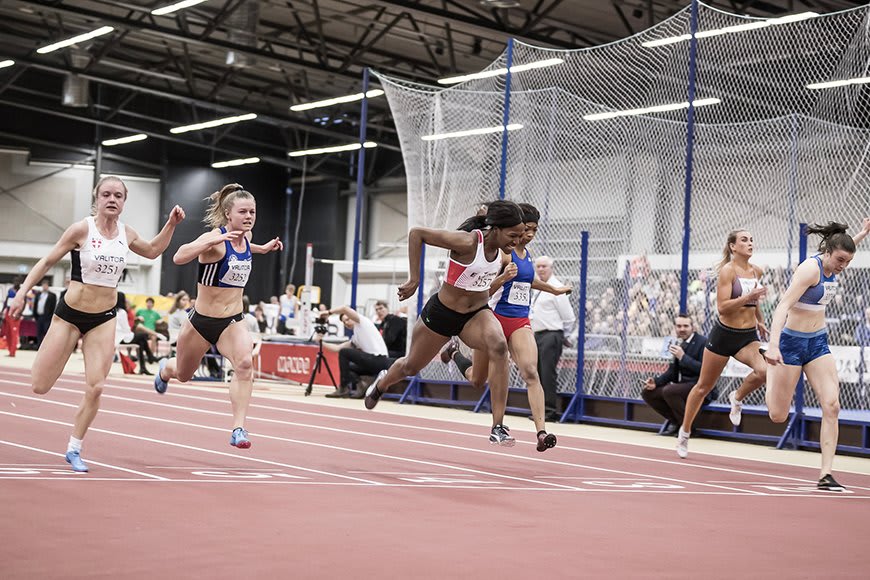 The Reykjavik International Games provide a chance to see elite athletic achievements against the breathtaking backdrop of Iceland's winter landscapes, whether you're a sports aficionado or just a casual observer. Athletes and fans unite to celebrate their shared love of sports during the event, which also develops a feeling of global togetherness. The warm and friendly spirit of the Icelandic people enhances the overall experience, making it a celebration of athleticism that also fosters friendship and camaraderie.
5: Northern Lights Tours- Iceland in February
A fantastic opportunity to see Iceland's captivating Northern Lights is available in February. The long winter evenings and clear winter skies make for ideal viewing conditions for this beautiful natural phenomena. Tour companies provide escorted excursions to excellent viewing areas where tourists have the highest opportunity of seeing the Aurora Borealis dance. The chances of spotting the elusive lights increase when one travels outside of urban areas and into more rural and undeveloped places.
Popular locations for Northern Lights tours include the Thingvellir National Park, the Jokulsarlon Glacier Lagoon, and the Snaefellsnes Peninsula, which provide spectacular settings for this celestial display. In order to enrich the experience with educational and cultural components, Northern Lights excursions generally offer insights into the science and culture underlying this natural phenomenon. Visitors to Iceland in February are in awe of the arctic attractions of the country after standing under the brilliant hues of the Aurora Borealis amid the country's icy surroundings.
A thrilling voyage into the world of Arctic charms takes place in Iceland in February. This Nordic island welcomes guests with a winter experience unlike any other, including visiting enchanted ice tunnels, taking part in the Fire and Ice Festival celebrations, relaxing in geothermal spas, and viewing frozen waterfalls. As you go off on an exciting trip amidst nature's icy splendour in February, allow yourself to be enchanted by Iceland's Arctic charm.