Want to know the tips and tricks for your luxury travel experience in Maldives? Check out our insider tips for a smooth and luxurious trip.
The Maldives is a paradise for tourists looking for a memorable luxury vacation because of its clean beaches, clear oceans, and opulent resorts. The Maldives offers a truly luxurious vacation with its abundance of natural beauty and top-notch amenities. Listed below are some advice and pointers to assist you get the most out of your trip if you're organizing a luxurious getaway to the Maldives.
Best Time to Visit Maldives:
The Maldives is a place that can be visited all year round, but the ideal time to go will depend on your interests and the activities you have planned. The best time to visit the Maldives is typically thought to be during the dry season, which lasts from November to April. The weather is typically sunny and clear throughout this time, which is ideal for outdoor activities like swimming and sunbathing.
Additionally, the sea is quiet, making it the perfect place for water sports like diving and snorkelling. If you prefer a quieter and less crowded experience, think about travelling in November or April as these months are less popular with tourists than December to February. Though there may be a few rains here and there, the weather is still lovely even during the wet season (May to October). Additionally, the wet season is ideal for travellers on a tight budget because it frequently means lower prices and fewer visitors.
Maldives Weather:
The Maldives experience a tropical climate all year long that is marked by high humidity and warm temperatures. 77°F to 86°F is the normal temperature range, providing a comfortable and tropical atmosphere. The dry season and the wet season are the two primary seasons. You may anticipate little rain and lots of sunshine throughout the dry season (November to April). May to October is the wet season, which brings higher humidity and sporadic showers but also offers lush vegetation and active marine life.
With an average of eight hours of sunshine every day, the Maldives are renowned for their abundance of sunshine. It's crucial to remember that weather patterns can change, and you might even get long stretches of sunshine even during the rainy season. To enhance your comfort during your stay, it's a good idea to check the weather forecast while making travel plans and bring suitable attire.
Luxury Accommodations:
The Maldives is well known for its opulent lodgings that provide a blend of extravagance, privacy, and breathtaking natural surroundings. The Maldives offers a variety of options for discerning luxury travelers, from private villas tucked on immaculate white-sand beaches to over-water bungalows perched above turquoise lagoons. These lodgings provide top-notch amenities, individualized care, and spectacular vistas to make your stay unforgettable. In order to provide their guests with the utmost solitude and leisure, many of the Maldives' opulent resorts have private pools, outdoor bathrooms, and direct access to the beach or lagoon.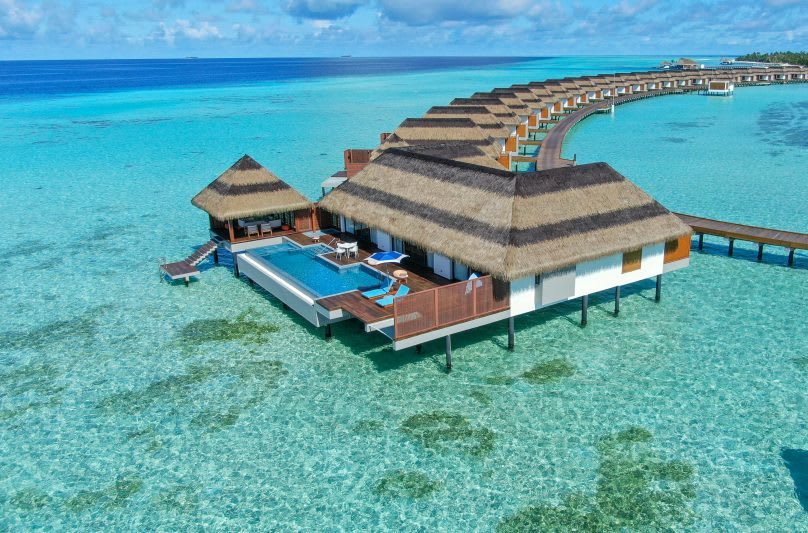 The resorts also provide upscale dining alternatives, including the chance to eat in magnificent over-water pavilions or enjoy romantic beachside dinners. These world cuisines are created by famous chefs. Luxury lodgings in the Maldives redefine extravagance with meticulous attention to detail and a focus on providing extraordinary experiences, making for an unforgettably memorable backdrop for a dream trip.
Indulge in Exquisite Dining:
The Maldives offers a gastronomic experience that is nothing short of amazing when it comes to dining. With a variety of superb dining options available at the top resorts, a world of flavours and sensations are available to luxury travellers. The Maldives has something for everyone, from elegant restaurants run by acclaimed chefs to charming beachside restaurants and exclusive over-water pavilions. The menu features a combination of many ethnic cuisines, showcasing the best ingredients and tastes from all over the world.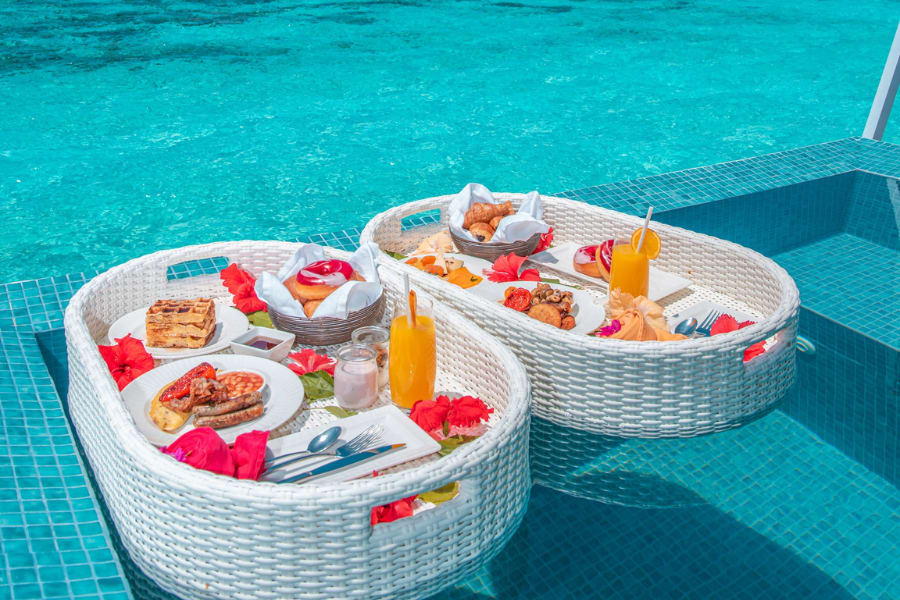 Due to the abundance of marine life, fresh seafood specialties such delicious lobster and prawns are a must-try. Additionally, the resorts frequently include regional flavors and traditional cuisine from the Maldives on their menus, offering a distinctive dining experience. Dining in the Maldives is a sensory experience that will tantalize your taste buds and leave you wanting more, whether you're enjoying a romantic candlelit dinner on the beach or savoring a scrumptious meal with panoramic ocean views.
Explore the Underwater World:
The colorful underwater environment is one of its most alluring features. The archipelago's wealth of coral reefs, which are teaming with a wide variety of marine life, make it a haven for snorkeling and scuba diving lovers. Luxury visitors have the chance to engage in a variety of experiences and activities that allow them to explore this captivating underwater world.
Private diving excursions and escorted snorkeling trips, conducted by knowledgeable experts who will take you to the best dive sites and snorkeling areas, are frequently offered by resorts. Imagine being able to swim alongside graceful manta rays, come in contact with bright tropical fish, and even see magnificent whale sharks, the gentle giants of the ocean.
The Maldives provides an unrivalled combination of richness, unspoiled beauty, and attentive service for those seeking luxury holidays. The Maldives offers a variety of options for a genuinely opulent vacation, from the ideal time to go to the greatest islands to explore. Enjoy opulent dining, luxuriate in your lodgings, and embrace the breathtaking undersea world. The Maldives offer a hideaway where luxury meets paradise, ensuring an extraordinary experience that will leave you with treasured memories for a lifetime, whether you're looking for adventure or relaxation. So book your upcoming trip to Maldives with us.