Ready to explore the best resorts in Maldives? Check out our comprehensive guide to help you choose the perfect resort for your next Maldives vacation.
The Maldives, with its picture-perfect islands and immaculate beaches, is the epitome of luxury and peace. The archipelago is home to some of the most luxurious resorts in the world, each of which provides a special experience for discerning visitors. Mercure Hotels, Adaaran Club Rannalhi, Pullman Resort, Ayada, Banyan Tree Vabbinfaru, Heritance Aarah, and Adaraan Select Meedhupparu are just a few of the top resorts in Maldives that we will visit in this thorough guide to assist you in selecting the ideal retreat for your ideal getaway.
Mercure Hotels
In the Gaafu Alifu Atoll, on a private island, the Mercure Hotels Maldives offers a quiet and romantic retreat. The resort offers large villas with private pools, easy access to the beach, and stunning ocean views.
A variety of activities are available for guests to enjoy, from relaxing spa treatments to snorkelling in colourful coral reefs. Couples and honeymooners alike are guaranteed an amazing vacation at Mercure Hotels Maldives because to its warm hospitality, breathtaking natural surroundings, and top-notch amenities.
Adaaran Club
Adaaran Club Rannalhi, a tropical paradise offering the ideal balance of luxury and excitement, is located in the South Malé Atoll. The resort offers exquisite beachfront villas and over-water bungalows where visitors may wake up to breathtaking ocean views.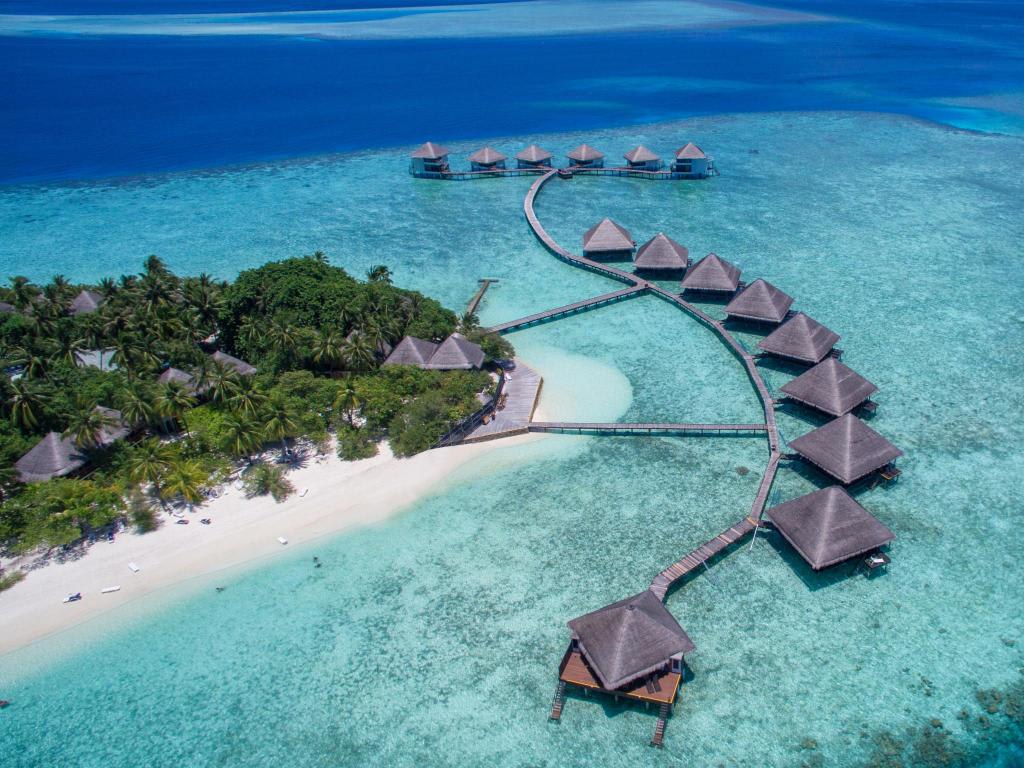 The resort's proximity to diverse marine life and colourful coral reefs will excite snorkelling and diving aficionados. Travellers seeking both relaxation and action will have an amazing getaway at Adaaran Club Rannalhi thanks to its laid-back ambience, first-rate culinary options, and thrilling water sports activities.
Pullman Resort
Pullman Resort Maldives, which is situated in the lovely Noonu Atoll, is a haven of modern luxury. The resort offers gorgeous villas with private pools and easy access to the beach, making it the ideal location for a romantic break.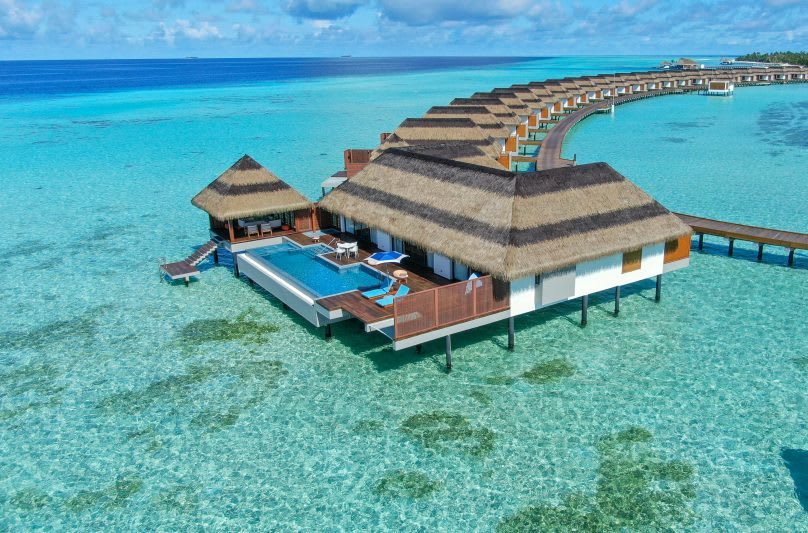 Gourmet meals, spa treatments, and exciting excursions like dolphin watching and sunset cruises are all available to guests. Pullman Resort Maldives provides a refuge of serenity and sophistication with its first-rate service, elegant design, and breathtaking surroundings.
Ayada
Ayada Maldives is a luxury resort that enchants with its pristine Gaafu Dhaalu Atoll location and understated elegance. The resort's roomy villas convey an air of understated grandeur, featuring beachfront villas and over-water bungalows.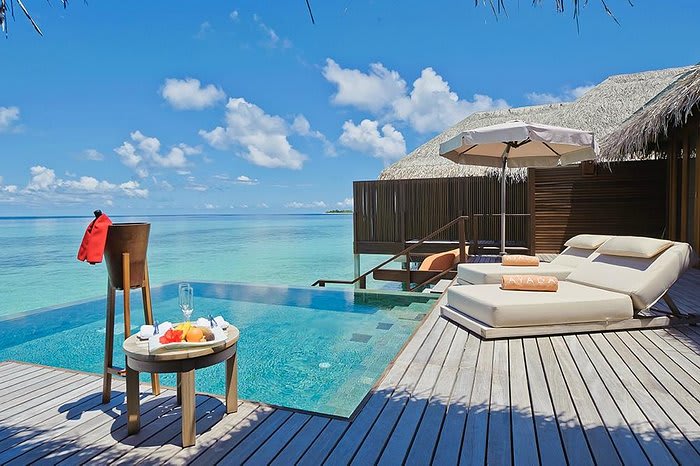 Visitors can indulge at top-notch culinary selections, unwind at the AySpa, or engage in exhilarating water sports. The resort also provides exclusive activities like a private picnic on a sandbank or a sunset sail aboard a traditional Maldivian dhoni. Ayada Maldives is the definition of luxury in the Maldives thanks to its focus on the little things and dedication to providing guests with extraordinary experiences.
Banyan Tree Vabbinfaru
Banyan Tree Vabbinfaru is a refuge of tranquilly and natural beauty that is situated in the North Malé Atoll. Elegant villas at the resort provide isolation and privacy as they are tucked away in beautiful tropical gardens or perched above the blue lagoon.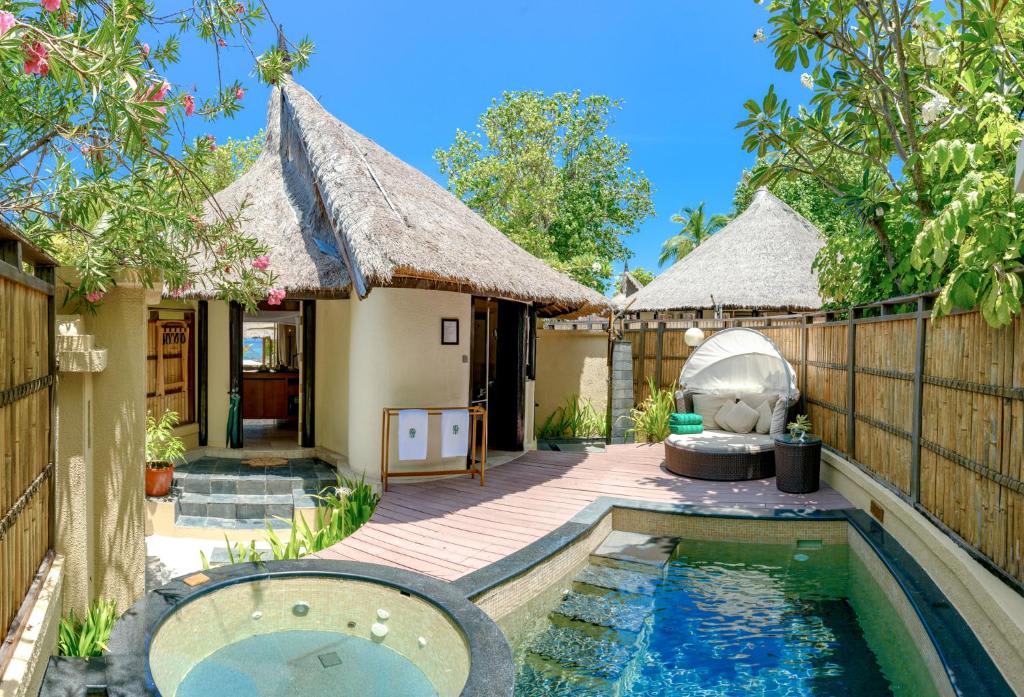 Visitors can unwind with restorative spa services, embark on snorkelling excursions, or just relax on the beautiful beach. Couples can enjoy a private candlelit meal on a remote sandbank as part of the resort's distinctive dining experience, the Sandbank meal, and make priceless memories of their Maldivian getaway.
Heritance Aarah
Heritance Aarah Maldives, located in the Raa Atoll, offers luxury and peace. This all-inclusive resort has roomy villas and suites, each with a private pool and easy access to the beach. A variety of dining options are available to visitors, including Maldivian delicacies, foreign cuisine, and private beachfront dining.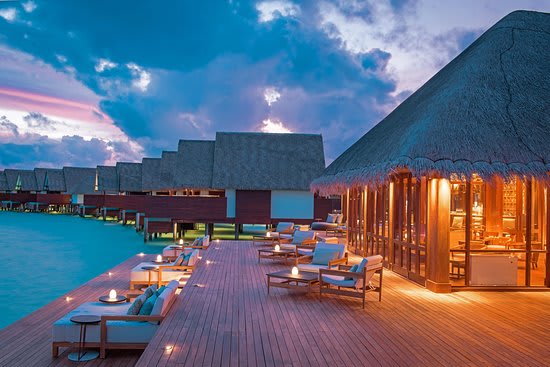 While the serene spa offers a haven for rest and renewal, the resort's spectacular house reef welcomes snorkelers and divers to explore the colourful underwater world. Couples and honeymooners can expect a memorable luxury holiday in one of the best resorts in Maldives thanks to its dedication to sustainability and friendly Maldivian hospitality.
The Maldives is a fantasy location for affluent tourists looking for the ideal fusion of unspoiled beauty, tranquilly, and pleasure. The resorts in Maldives provide unmatched experiences and amenities that suit the preferences of every visitor. The Maldives is certain to surpass your expectations whether you're seeking for a relaxing retreat, an exhilarating adventure, or a romantic getaway. Therefore, pack your bags, escape to the peace of the Maldives, and make lifelong memories.