Discover the alluring appeal of Norway in December while uncovering winter wonderlands, taking part in distinctive cultural festivals, enjoying the traditional holiday treats at festive markets, and embracing the merry Christmas atmosphere. Norway in December offers a magical winter retreat into a landscape reminiscent of a fairy tale.
December reveals a fanciful paradise that enchants visitors as winter blankets Norway in a perfect layer of snow. Norway is a place of joyous celebrations, sparkling lights, and the entrancing atmosphere of Christmas in December. December in Norway promises an extraordinary voyage into the heart of Scandinavian charm and winter enchantment, from the mystical Northern Lights dazzling the Arctic skies to traditional holiday markets radiating warmth and cosiness.
Christmas Markets – Embracing the Holiday Spirit in Norway in December
Norway's lovely Christmas markets in December turn it into a mystical wonderland. The festive lights, decorations, and mouthwatering fragrances of mulled wine and seasonal goodies bring life to the country's cities and villages. The city's central Christmas market in Oslo is a must-see attraction. Various handicrafts, traditional Norwegian goods, and delectable holiday goodies like "julekake" (Christmas bread) and "kransekake" (almond ring cake) are sold at the market's many vendors.
Another charming location is Bergen's Christmas market, which is held at the old Fish Market. Wooden stalls at the market display regional handicrafts and foods, and carolers sing Christmas carols to create a festive and joyous environment. The Christmas market in the picturesque wooden homes that line the cobblestone lanes of Trondheim's ancient Bakklandet neighbourhood offers handcrafted items and regional goods for sale, making it a one-of-a-kind event. Visitors can savour the warmth of the season and relive special memories of a Scandinavian Christmas by perusing Norway's Christmas markets.
Norwegian Traditions – Celebrating St. Lucia's Day
On December 13th, Norway celebrates St. Lucia's Day, often referred to as "Luciadagen," which officially kicks off the holiday season. This day celebrates St. Lucia, which served as a sign of hope and light throughout the gloomiest season of the year. Young ladies wear in white robes with a crimson sash and a crown of candles on their heads to represent St. Lucia in various towns and cities. They organise processions while singing traditional melodies and passing out gingerbread cookies and saffron buns to loved ones.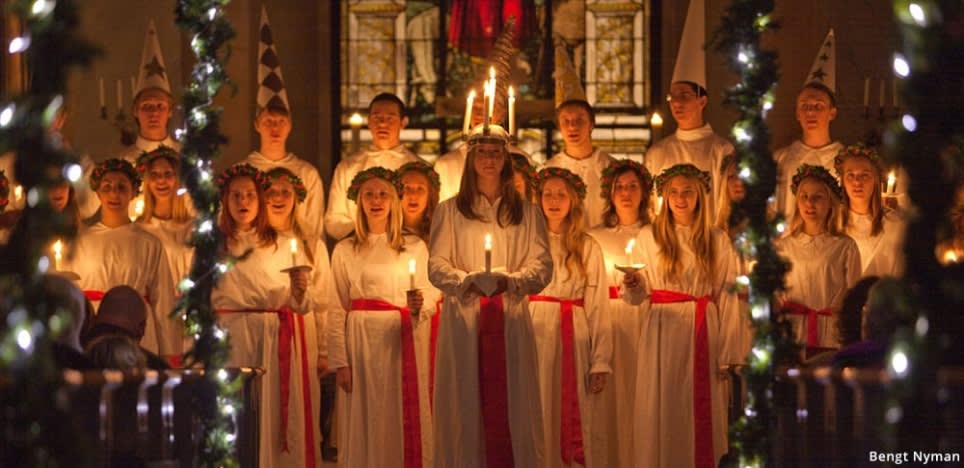 Winter nights are made a little bit cosier and magical by the festivities, which also lend a touch of magic thanks to the candlelight processions. Travellers can gain a special understanding of Norway's cultural past as well as the value of light and hope during the winter by celebrating St. Lucia's Day there.
Arctic Dog Sledding – A Thrilling Winter Adventure
Dog sledding through snow-covered landscapes is an exhilarating activity available in December in Norway's Arctic areas. These husky-led sledding excursions provide guests with the chance to explore the pristine nature in the company of eager and amiable huskies.
An immersive experience with the natural beauty of the area is provided by sledding through snow-covered forests, across frozen lakes, and along gorgeous pathways. This provides a look into the traditional manner of travelling in the Arctic. Dog sledging in Norway is a once-in-a-lifetime experience that blends adventure, tranquillity, and a profound connection with nature, whether it's a quick day trip or a lengthy expedition.
Winter Sports – Embrace the Arctic Thrills
Norway in December offers ideal conditions for fans of winter sports to partake in their preferred pastimes. All around the nation, ski areas open their slopes and provide possibilities for snowboarding and downhill skiing. For those who enjoy cross-country skiing, Norway has a vast network of well-kept trails, including the course of the renowned Birkebeiner ski race, where visitors may experience stunning winter landscapes.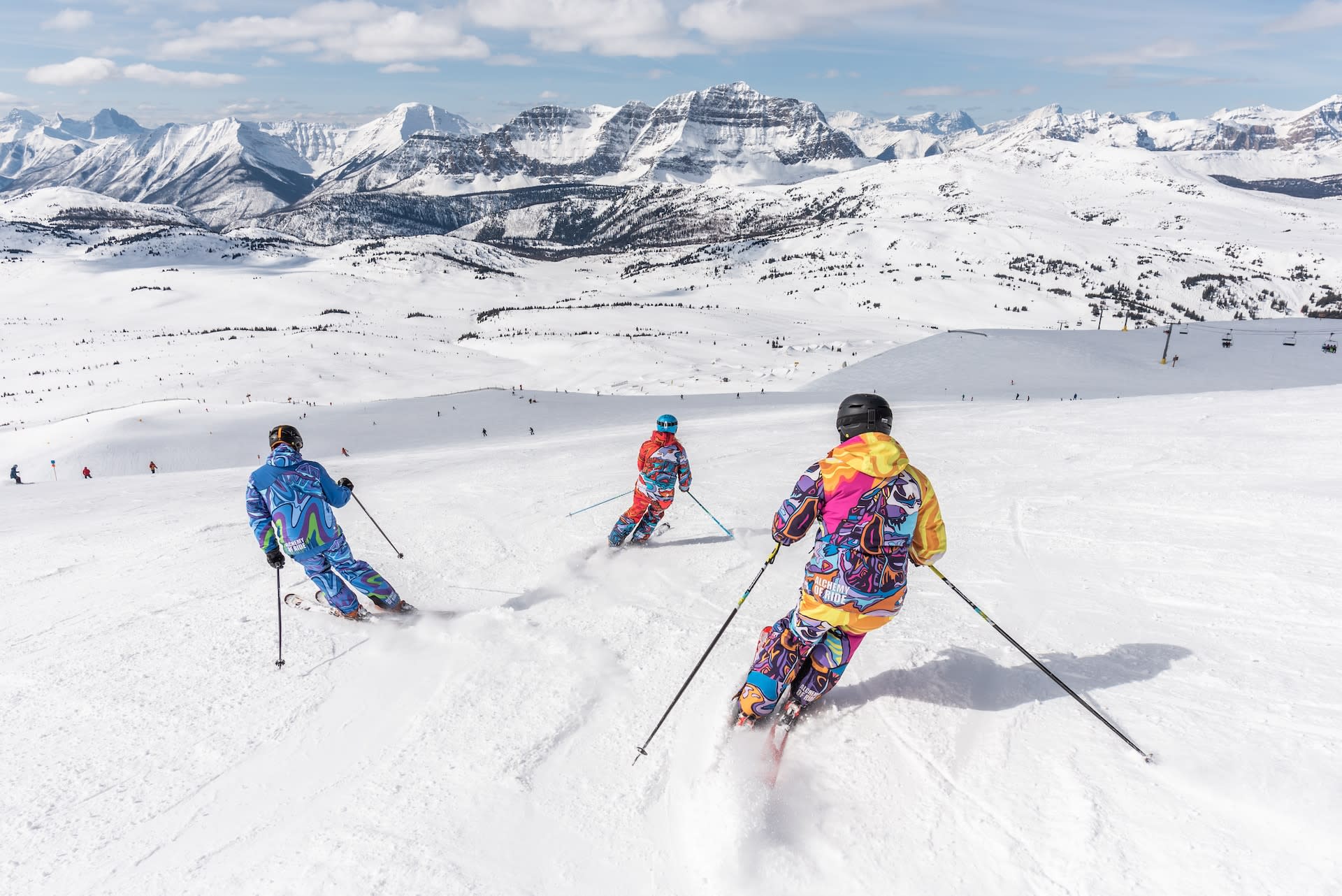 Another well-liked winter sport is snowshoeing, which enables tourists to get off the main route and explore the unspoiled beauty of Norway's forests and mountains. Locals and visitors alike enjoy ice skating on frozen lakes and outdoor rinks. During the winter, many cities and towns construct transient ice-skating rinks, fostering a pleasant and festive atmosphere. Norway in December offers a wide range of winter sports activities for adventurers of all levels, from heart-pounding ski descents to tranquil snowshoe excursions.
Christmas in the Arctic Circle – Santa's Official Home
A trip to Santa Claus' official residence in Rovaniemi, Finland—just across the border from Norway's Arctic regions—is a memorable one for families and the young at heart. Visitors are always welcome at Santa Claus Village, but December is particularly charming because it is then that Santa and his helpers are busiest. Visitors to the village can see Santa, write letters from the Arctic Circle, and even cross the enchanted Arctic Circle line. The village is decorated for Christmas.
Furthermore, Rovaniemi provides visitors with the opportunity to see the mesmerising Northern Lights, which adds a degree of enchantment to the holiday spirit. A wonderful approach to enjoying the spirit of Christmas and making priceless memories with loved ones is to visit Santa Claus Village.
December in Norway welcomes visitors to a winter paradise full of magical encounters and joyous occasions. Discover the enchanted Christmas markets, take part in many cultural customs, and see the captivating Northern Lights lighting up the Arctic skies. Make plans to travel to Norway in December to take advantage of the country's mystique and charm.