With Costa Cruise, travel to Kochi, an alluring port city in India, and embark on a cultural trip. Discover Kochi's rich legacy, vibrant traditions, and intriguing events to see why this city is a must-see. As we embark on this memorable journey and discover Kochi's cultural attractions, we invite you to join us.
Welcome to the Costa Cruise as we go off to discover Kochi, a city rich in culture. Kochi, commonly known as Cochin, is a city that skillfully combines history with modernity. It is located on the southwest coast of India, nestled along the Arabian Sea. Your attention will be captured by its fascinating history, varied culture, and energetic festivals. Prepare to immerse yourself in a variety of experiences that will make your Costa Cruise vacation unique as we dock at this alluring port.
Historical Marvels of Fort Kochi
You'll feel as though you've travelled back in time as soon as you exit the Costa Cruise and enter Fort Kochi. With influences from the Portuguese, Dutch, and British seen in its architectural and cultural legacy, this ancient neighbourhood is a living testimony to the city's colonial past.
Take a stroll along the cobblestone alleys that are surrounded by lovely buildings from the colonial era and beautiful vegetation. The famous Chinese Fishing Nets are a fascinating sight that has been around for generations. Don't miss them. Discover the St. Francis Church, the oldest European church in India and the final resting place of Vasco da Gama, a renowned Portuguese explorer.
Fort Kochi is a paradise for lovers of the arts, with a wide variety of galleries and boutique shops displaying goods made locally, including textiles, paintings, and handicrafts. As you converse with regional artists and craftspeople, discover the tales behind each work of art. Attend a Kathakali dance performance; this traditional Indian dance style is renowned for its ornate makeup, eye-catching attire, and emotive storytelling.
Cultural Extravaganza at Kochi Muziris Biennale
For lovers of the arts, planning your Costa Cruise excursion around the Kochi Muziris Biennale is a must. This contemporary art event, which takes place every two years and turns the city into an outdoor gallery, draws visitors and artists from all over the world.
Explore a variety of locations, including historical structures, art galleries, and public areas that are decorated with cutting-edge art installations, sculptures, and interactive displays. Take part in workshops and talks with artists to learn about their thought processes and visions.
The Kochi Muziris Biennale is a celebration of cultural interchange rather than merely an exhibition of art. Live performances, music concerts, and dance performances let you witness the blend of classic and modern art forms. For all guests, the biennale provides an engaging experience by fostering a sense of community and creativity.
Festivals and Events Galore
A city like Kochi seldom passes up a chance to honour its rich cultural heritage. Numerous lively festivals and events that display the city's lively energy take place all year round. Kerala's state holiday, Onam, is a big occasion that is enthusiastically commemorated. Observe the magnificent parade of the Nehru Trophy Boat Race, an exciting race on the backwaters where snake boats are decorated with colourful parasols. Enjoy the mouthwatering Onam Sadhya, a traditional feast presented on banana leaves.
A display of lights, music and merriment, the Cochin Carnival takes place on New Year's Eve. As the city comes to life with vibrant processions, traditional dances, and breathtaking fireworks, you won't be able to help but be amazed.
Delightful Cuisine and Culinary Exploration
A trip on a Costa Cruise to Kochi would not be complete without indulging in some of the mouthwatering local cuisine. The exquisite combination of spices and flavours in Keralan food will entice your taste buds.
Enjoy a traditional Kerala Sadhya, a vegetarian feast that is served on a banana leaf and includes a variety of delectable delicacies including avial, olan, and payasam. Taste treats like puttu, appam, and Malabar biryani at the hopping neighbourhood markets and food stands. Participate in a cooking class to learn how to make traditional Keralan cuisine. Learn how to combine spices to create the ideal flavour balance—a technique that has been handed down through the years.
Backwater Serenity and Coastal Charms in Costa Cruise
Both Kochi's cultural wonders and its natural beauties are fascinating. Discover the tranquil backwaters, a system of lakes, lagoons, and canals that provides an insight into the relaxed way of life of the residents. Take a leisurely houseboat tour in the backwaters to see the lovely scenes of lush vegetation, coconut orchards, and rural towns. As you sail along the tranquil waters, take in the peace of the surroundings.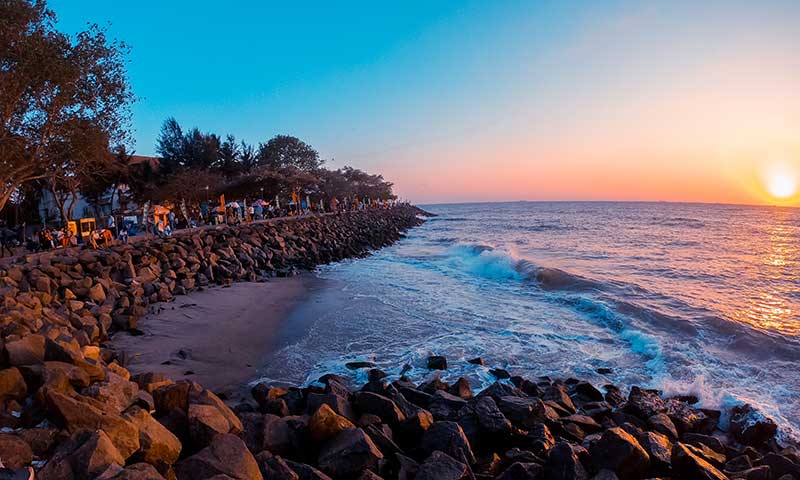 To appreciate Kochi's coastline attractions, visit adjacent beaches like Cherai and Marari. Relax on the sandy beaches, indulge in beach activities, and take in the stunning Arabian Sea sunsets.
A Costa Cruise excursion to Kochi is an educational tour that blends historical wonders, cultural exploration, and scenic beauty. Kochi offers a sensory experience unlike any other, from its lively festivals and contemporary art to its colonial heritage and delicious cuisine. Set sail, then, and explore India's cultural centre, where modernism and tradition coexist together for a journey you won't soon forget. Happy travels!