Make your Maldives holiday experience even more unforgettable with a stay at one of the best water villas. From luxury to affordability, we've got you covered.
The Maldives is the perfect place for a romantic honeymoon because of its immaculate white sand beaches, azure waters, and private islands that are off the beaten path. There are many luxurious resorts available in this tropical paradise, each offering newlyweds a special and wonderful experience. The best 5 luxury resorts in the Maldives that ensure the perfect honeymoon experience will be discussed in this post. These resorts, which range from the opulent Mercure Hotels to the exquisite Pullman Resort, the alluring W Maldives, the tranquil Angsana Ihuru, and the alluring Ayada, are created to help visitors make priceless moments that they will never forget.
Mercure Hotels:
A hidden gem that guarantees a genuinely private and opulent honeymoon experience, Mercure Hotels is located on the peaceful island of Kooddoo in the Gaafu Alifu Atoll. The resort's chic beachfront suites and overwater villas have breathtaking views of the blue lagoon, guaranteeing a romantic and scenic environment. Each villa is tastefully built with contemporary conveniences and private terraces, giving couples the ideal place to relax and make priceless memories.
Couples can engage in various activities at Mercure Hotels, including diving and snorkelling, sunset cruises and reviving spa services. Additionally, the resort allows couples to enjoy delicious food in a romantic atmosphere by hosting beachside dinners under the stars. Mercure Hotels is the perfect option for couples looking for a private and romantic honeymoon getaway because of its serene ambience, magnificent surroundings, and outstanding service.
Pullman Resort Maldives:
Pullman Resort is a magnificent resort that guarantees a memorable honeymoon experience. It is situated in the lively Emboodhoo Lagoon. The resort offers tastefully decorated villas, including beachfront villas with breathtaking ocean views and overwater villas with direct access to the blue lagoon. Each villa is tastefully decorated and furnished with contemporary conveniences to provide honeymooning couples a pleasant and opulent stay.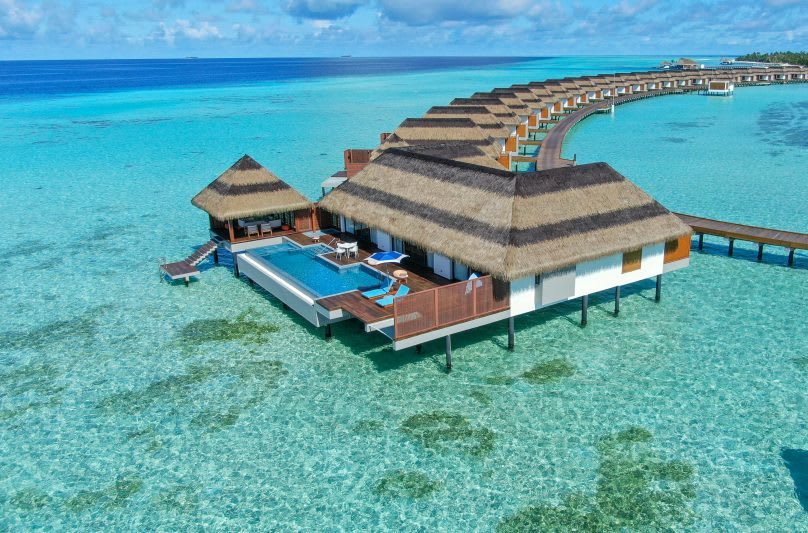 The Pullman Resort offers a variety of activities to suit every taste, from thrilling water sports like jet skiing and parasailing to snorkelling and diving in colourful coral reefs. Couples can enjoy restorative spa treatments that calm the body and soul or repose by the infinity pool while admiring the spectacular views. The resort's world-class dining experiences will satisfy even the most sophisticated palates, which offer a gastronomic adventure with various international and local flavours. Pullman Resort offers an opulent and unforgettable honeymoon experience thanks to its combination of natural beauty, cutting-edge amenities, and first-rate service.
W Maldives:
The W Maldives is ideal for couples looking for a hip and exciting honeymoon experience. The North Ari Atoll is home to this opulent resort with cutting-edge design and magnificent natural beauty. The resort offers beachfront and overwater villas, each with a private plunge pool and easy access to the turquoise lagoon.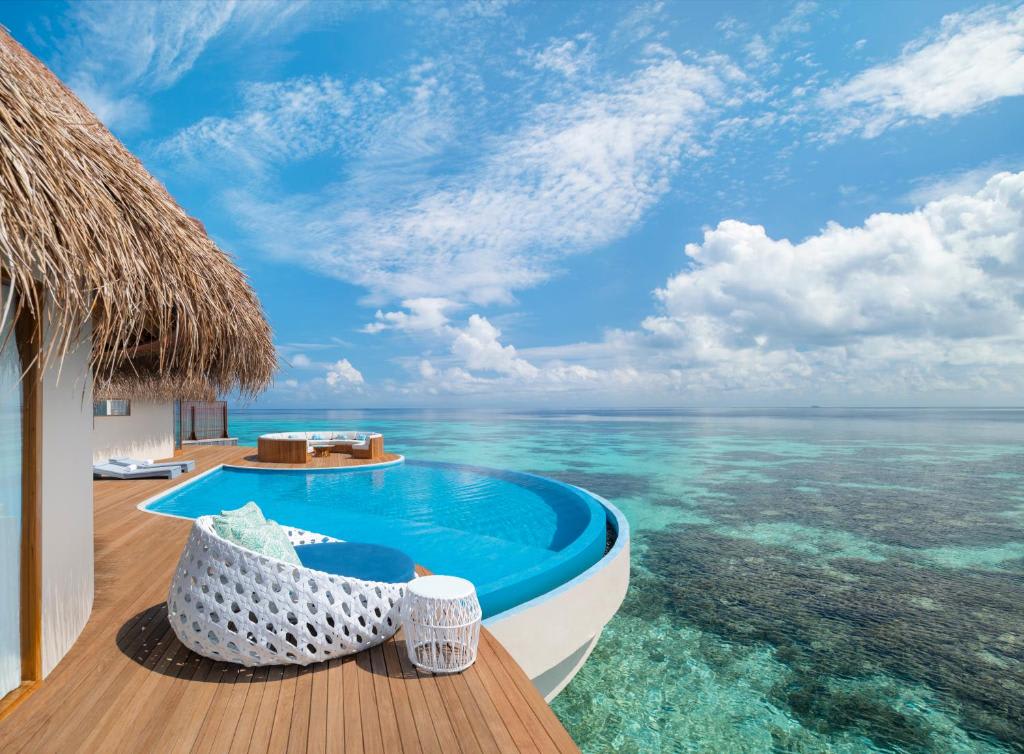 Experience the exhilaration of diving or snorkelling in the colourful house reef, or take a luxurious yacht out for a sunset sail. Enjoy fine cuisine at the resort's well-known restaurants, and relax with restorative therapies at the award-winning spa. Luxury, adventure, and elegance unite at W Maldives to create an unforgettable honeymoon experience.
Angsana Ihuru:
Angsana Ihuru offers a peaceful and private honeymoon experience, surrounded by a vivid coral reef and immaculate white sand beaches. In the North Male Atoll, this small resort offers opulent beachfront villas with open-air jet pools and easy access to the shore.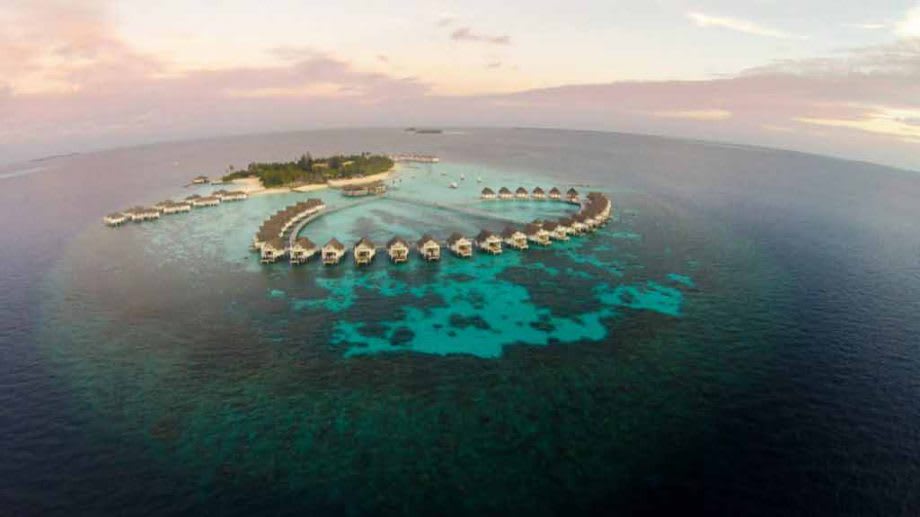 Explore the colourful marine life by diving into the blue waters, or take it easy on the isolated beaches and take in the peace and quiet. Private beach dinners and sunset cruises are just some of the romantic dining options available at the resort. Couples seeking a tranquil and eco-friendly honeymoon will love Angsana Ihuru's personalised service, magnificent natural beauty, and sustainable focus.
Ayada Maldives:
Ayada Maldives, located in the Gaafu Dhaalu Atoll, provides a romantic and opulent honeymoon experience. The resort offers roomy, luxurious villas with private pools, hot tubs, and breathtaking ocean views.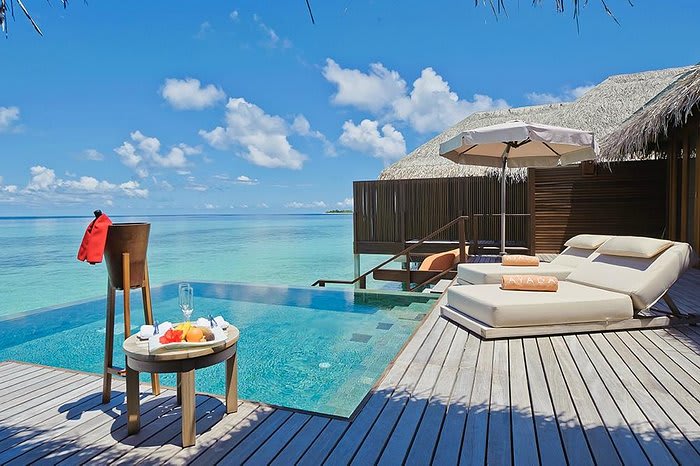 Couples have a variety of romantic activities to choose from, including sunset cruises, spa treatments, and exploring the alive house reef. Along with various great dining alternatives, Ayada also provides exclusive beachfront meals and stunning underwater dining excursions. The lavish setting, excellent service, and variety of activities at Ayada Maldives provide a romantic honeymoon.
The Maldives are ideal for a fantastic honeymoon since they are a paradise where luxury and romance coexist. Each of these five-star resorts promises an unrivalled honeymoon experience, whether you choose Mercure Hotels for its cosy atmosphere, Pullman Resort for its lively atmosphere, W Maldives for its hip style, Angsana Ihuru for its secluded beauty, or Ayada Maldives for its lavish amenities.
These resorts provide newlyweds with the chance to make priceless memories in an environment of unmatched beauty, complete with immaculate beaches, turquoise oceans, world-class amenities and individualised service. So plan your next trip to Maldives with us.