Discover the top 10 reasons why Maldives is the ultimate destination for a luxury holiday. Experience the beauty of the sea, sun and sand.
An archipelago of pristine islands in the middle of the Indian Ocean, the Maldives, has long been associated with splendour and luxury. This tropical paradise offers the ideal luxury getaway with its crystalline blue waters, fluffy white sand beaches, and breathtaking coral reefs. This essay outlines ten strong arguments for why the Maldives are the ideal location for a luxurious vacation.
Exquisite Overwater Villas:
A selection of beautiful overwater villas redefining luxury lodging can only be found in the Maldives. Guests can enjoy an unmatched sense of tranquilly and privacy at these architectural wonders located above the turquoise lagoons.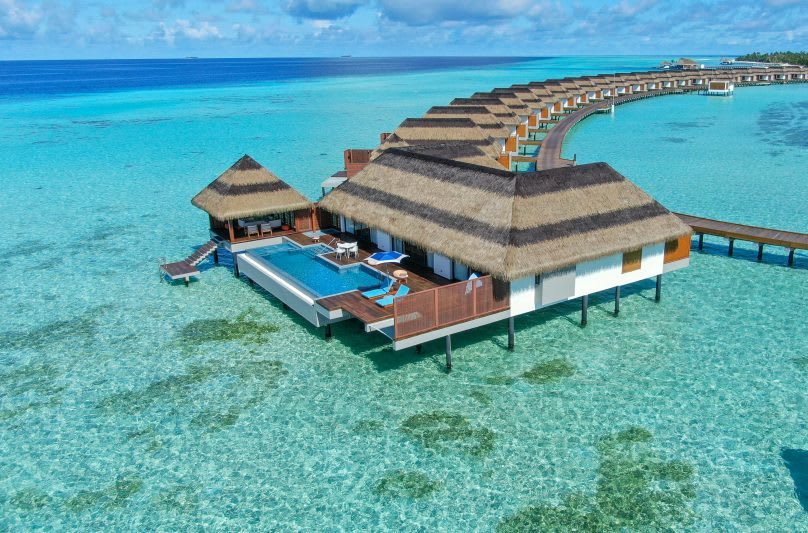 These villas offer a perfect fusion of comfort, style, and unmatched natural beauty thanks to their beautiful and roomy interiors, contemporary conveniences, and private decks with easy access to crystal-clear waters. Imagine waking up to expansive ocean views, relaxing on your patio, or taking a peaceful dip in your infinity pool. The Maldives' overwater villas are an excellent example of the finer points of luxurious life.
Pristine Beaches:
The Maldives' immaculate beaches are a tribute to nature's unrivalled splendour. Picture soft waves of transparent blue waters caressing the pure white beach. You will be amazed by the untouched beauty surrounding you as you stroll along the shoreline and feel the smooth sand beneath your feet.
The pristine beaches of the Maldives provide the ideal backdrop for total relaxation and rejuvenation, whether you unwind on a sun lounger, enjoy a massage right on the sand, or take a stroll. The picture-perfect setting and the soothing sound of the waves create a meditative atmosphere that carries you away to an enchanting place.
Unparalleled Marine Life and Diving:
For lovers of the sea and diving, the Maldives is a paradise. Its crystal-clear waters are home to an astounding variety of marine life, including manta rays, sea turtles, and even whale sharks, as well as vivid coral reefs filled with colourful fish. Divers may easily explore the depths of this underwater wonderland thanks to its exceptional visibility.
The Maldives provide a superb opportunity to experience the ocean's magnificence up close, regardless of whether you are an expert diver or a beginner. You can embark on exhilarating underwater excursions, find hidden caves, explore coral gardens, and come across marine life in its native habitat, thanks to the abundance of diving sites and qualified dive shops. The diving in the Maldives is exceptional, leaving you in awe of the natural beauty.
Private Dining Experiences:
The Maldives raises the bar for elegance and exclusivity in dining. Imagine sitting down to a candlelit supper under a starlit sky, with your table placed on a deserted beach and the sound of the waves lapping nearby.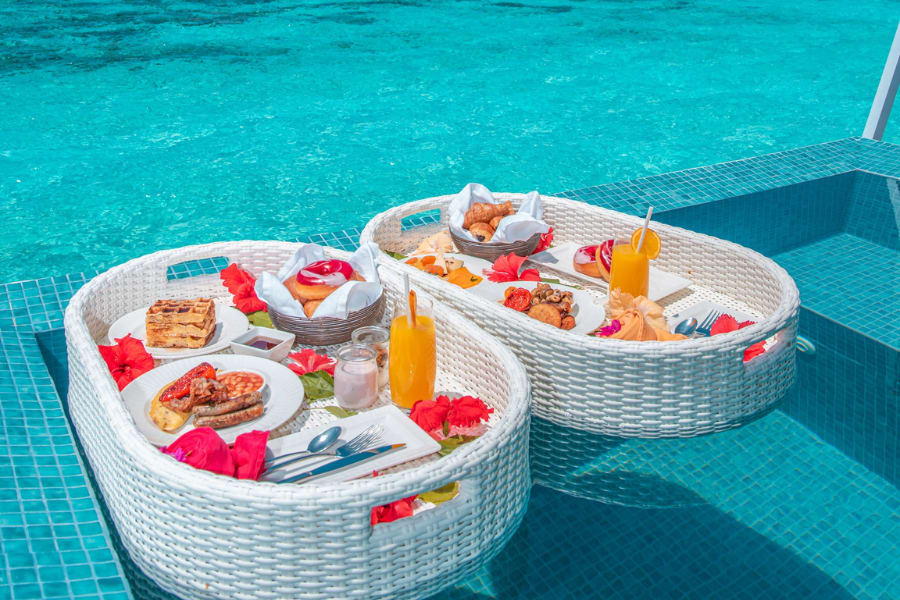 Alternatively, you can enjoy a delectable lunch while cruising through the calm waters on a private yacht as the sun sets. Many resorts offer the option of in-villa dining for those seeking the utmost solitude, where a personal chef can create a gourmet feast for you to enjoy in the luxury of your opulent villa.
Spa and Wellness Retreats:
Regarding spa and wellness vacations, the Maldives set new standards for pampering and renewal. These top-notch spas provide a haven of peace and relaxation while surrounded by the islands' beautiful beauty. Enjoy a selection of opulent therapies created to balance your mind, body, and soul and inspired by age-old therapeutic techniques.
The locations are a feast for the senses, ranging from overwater baths with expansive ocean views to open-air pavilions tucked away in beautiful tropical gardens. Your trip through delightful therapies will be conducted by trained therapists using organic materials and methods to nourish and revitalise you.
Secluded Luxury:
The Maldives' sense of solitude and exclusivity is one of its major draws. Since many resorts are on their own islands, visitors may expect an exclusive, private experience. You can escape the stresses of the outside world and lose yourself in a world of luxury and tranquilly in these remote getaways.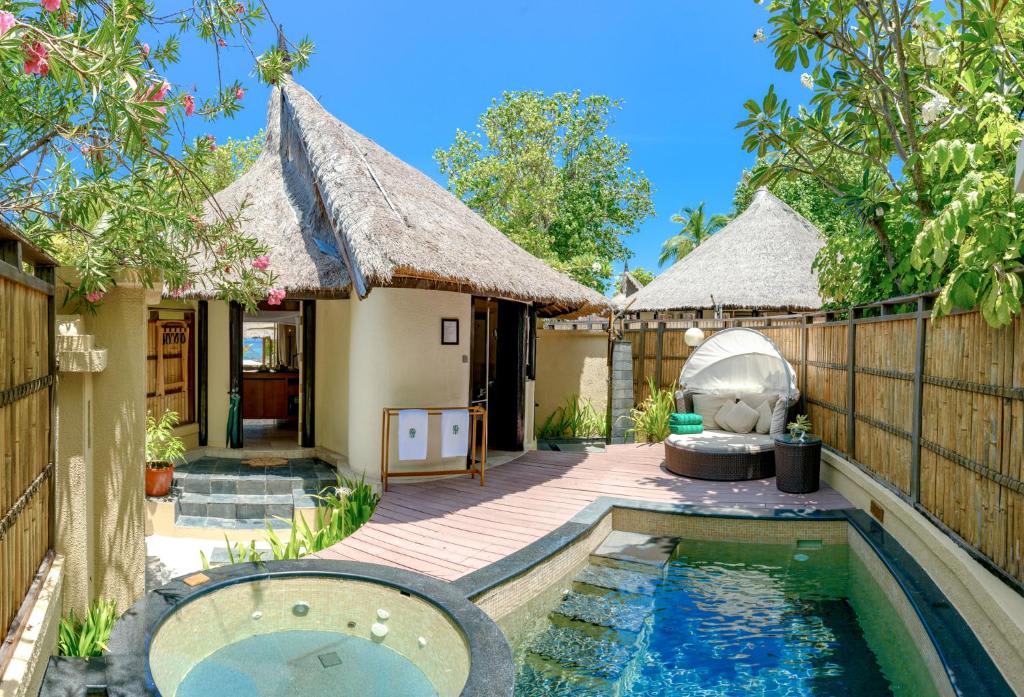 Enjoy the independence of having pristine beaches, relax in your villa, or take in the serene beauty of nature. The Maldives offer the ideal setting for detaching from the stress of daily life and reuniting with yourself or your loved ones in an environment of isolation and luxury.
Unforgettable Sunsets:
The Maldives are well known for their breathtaking sunsets that provide an enthralling display of colours across the sky. Orange, pink, and gold colours build a stunning image that is unforgettable as the sun begins to set.
The Maldives offers the ideal vantage points to view this natural spectacle, whether you prefer to do it from the comfort of your private villa, while strolling along the beach, or while on a romantic cruise. You will have lifelong memories thanks to the quiet beauty of the setting sun, which casts its golden glow over the serene waters and creates a magical atmosphere.
Water Sports and Activities:
The Maldives provides a wide range of thrilling water sports and activities for those looking for adventure and excitement. Explore colourful coral reefs filled with marine life by diving into the clear waters.
Swim or snorkel next to beautiful sea turtles or calm manta rays. Explore the tranquil lagoons while paddling a kayak or paddleboard. Jet skiing, parasailing, and windsurfing are thrilling options for adrenaline addicts. The Maldives is a haven for water sports enthusiasts, with various activities to suit all skill levels and thrill-seeking desires.
Unparalleled Service and Hospitality:
The Maldives are well known for their gracious hospitality and first-rate service. Genuine smiles and unparalleled care and attention will meet you as soon as you set foot on the island. The resort staff goes above and beyond to ensure your stay is nothing less than impressive.
The hospitality of the Maldives is distinguished by its attention to detail and a commitment to exceeding expectations, from personalised greeting rituals to customised experiences.
Exclusive Island Hopping:
Island hopping is a unique and exclusive way to enjoy the Maldives' distinct natural beauty because of the archipelago's more than 1,000 islands. Each island has its beauty and personality that are just waiting to be found, from uninhabited islands with pristine beaches to lively local settlements.
Embark on a tour that takes you from one breathtaking paradise to another by seaplane or speedboat. Discover the unspoilt natural beauty that makes each island a hidden gem while experiencing the local culture and cuisine.
The Maldives are the pinnacle of indulgence and luxury, providing a surreal getaway for anyone looking for the ideal luxury vacation. The Maldives offers an unrivalled location for a genuinely great escape with its gorgeous overwater villas, immaculate beaches, abundant marine life, unique dining experiences, and world-class hospitality. The Maldives is an ideal location for affluent travellers worldwide looking for adventure, relaxation, or a romantic getaway. So plan your next getaway to Maldives with us.