Plan the perfect honeymoon in the Maldives with our top 5 luxury resorts list. Enjoy the sun, sea and sand with a touch of luxury.
Dreaming of a holiday with your special someone in a tropical haven? There is no need to look further than the Maldives, a group of picturesque islands renowned for their spotless beaches, crystalline oceans, and opulent resorts. If you're looking for the perfect honeymoon getaway, check out these top 5 luxury resorts in the Maldives. Every resort, from the spectacular splendour of Kandima, Maldives to the luxurious refuge of Ellaidhoo Maldives, promises a romantic getaway to remember.
Kandima- Luxury Resorts
For couples looking for a mix of luxury and entertainment, Kandima, located on a beautiful island in the Maldives, offers a bright and energetic hideaway. The resort offers a variety of lodging choices, including chic villas and studios, each created with contemporary aesthetic and cutting-edge conveniences. Couples can relax in their pools or on the expansive terraces while enjoying the stunning views of the blue lagoon. The wide variety of activities and entertainment opportunities at Kandima is a point of pride for the resort.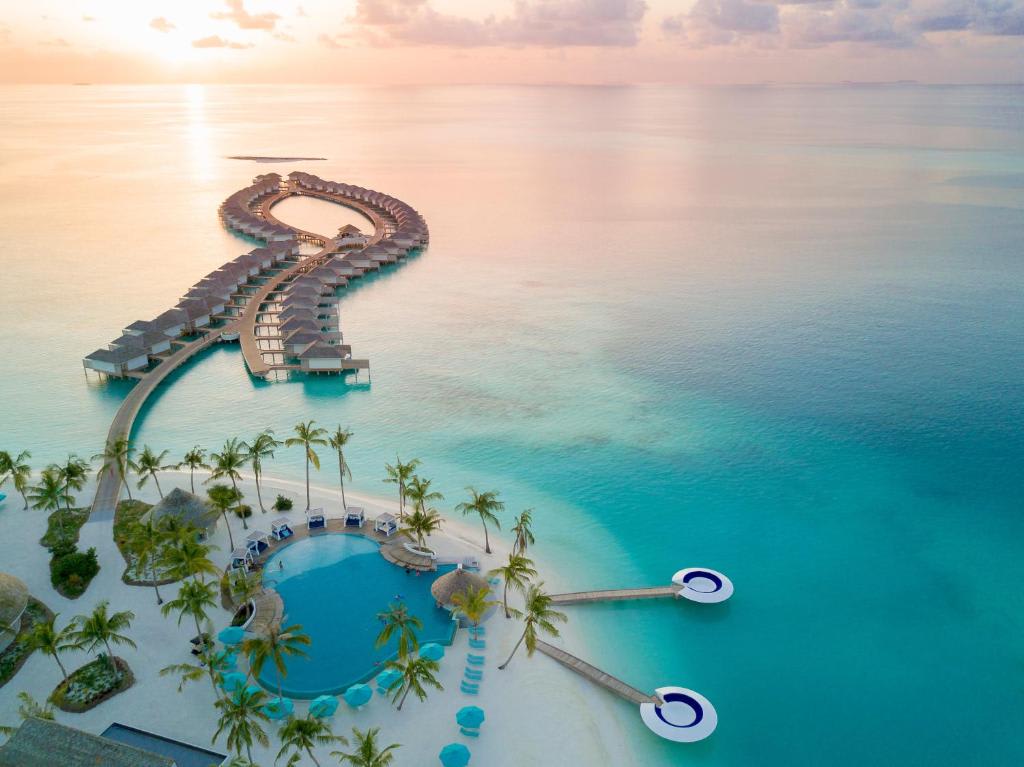 There is something for every pair to delight in, from yoga classes and spa treatments to water sports activities like snorkelling and kayaking. The resort also offers a variety of dining options, from fine dining establishments to seaside barbecues, so you can always find something delicious to eat. Kandima delivers a unique honeymoon experience of adventure and relaxation thanks to its vibrant atmosphere and opulent amenities.
Sheraton
Sheraton, situated on a private island in the Maldives, offers a tranquil and opulent location for couples looking for a lavish getaway. The resort provides a variety of tastefully decorated villas, each conveying a sense of peace and seclusion. Couples can relax in their private pool or jacuzzi while enjoying the breathtaking ocean views and lush tropical vegetation. The Sheraton is well known for its top-notch amenities, which include an opulent spa where couples may indulge in restorative therapies and treatments.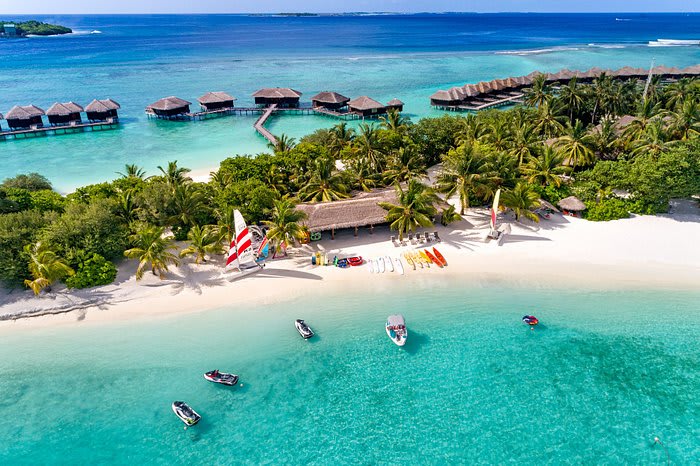 The resort also provides a range of dining alternatives, including elegant foreign cuisine offered at its restaurants and romantic candlelit meals on the beach. For those looking for adventure, snorkelling, diving, and other water sports are available at Sheraton. Couples can find a haven of romance and leisure in the heart of paradise at Sheraton, thanks to its tranquil atmosphere, opulent amenities, and unmatched hospitality.
Taj Exotica
Couples looking for the height of luxury in the Maldives can find it at Taj Exotica, tucked away on the pristine Emboodhu Finolhu Island. The resort offers opulent, roomy villas with a modern interiors, a private pool, and easy access to the blue lagoon. From the terrace of your villa, take in the tranquilly of the surroundings while taking in the expansive views of the Indian Ocean.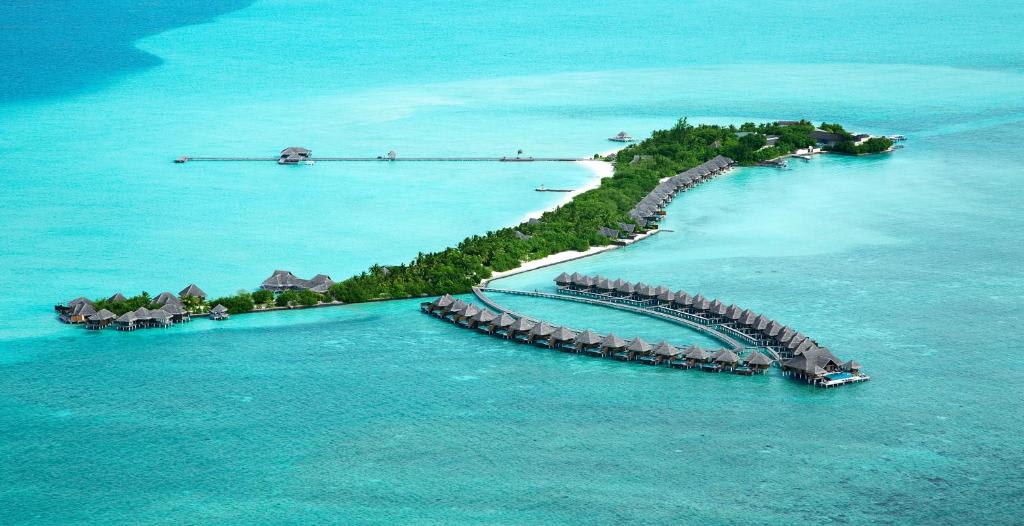 The Taj Exotica takes excellent pleasure in offering unmatched customer care and ensuring that every detail of your stay is correct. Enjoy a rejuvenating spa treatment from knowledgeable therapists inspired by age-old Ayurvedic practices. Taj Exotica promises an exceptional honeymoon experience in a picturesque environment of luxury and natural beauty, from private beach candlelit dinners to custom excursions and water sports activities.
St Regis
St. Regis is a haven of luxury and refinement located on the exclusive island of Vommuli in the Dhaalu Atoll. This five-star resort offers stylishly constructed beachfront and over-water villas, each with a private pool, easy access to the sand, and mesmerising ocean views. With a dedicated butler for each villa, The St. Regis Maldives elevates personalised service to new levels, ensuring that every need is handled promptly and without fuss. Enjoy a variety of fine dining choices, from cutting-edge foreign cuisine to exquisite seafood specialities.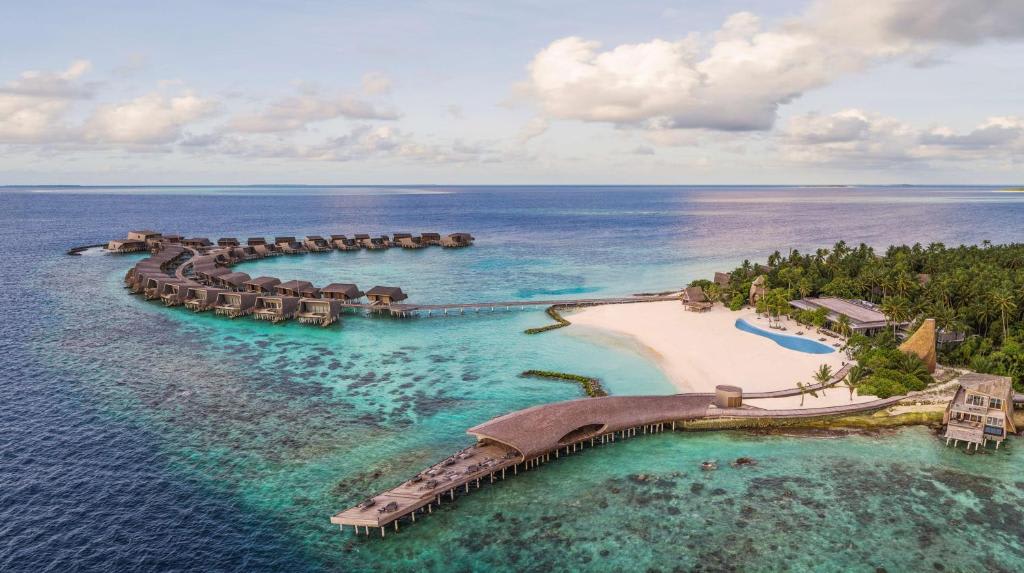 Couples can unwind at the resort's Iridium Spa, a haven of tranquilly where they can indulge in restorative therapies and wellness treatments in a peaceful setting. St. Regis offers a unique honeymoon experience where every aspect is painstakingly created to create priceless memories, whether you're seeking excitement through snorkelling, diving, or water sports or wish to unwind in the lap of luxury.
Ellaidhoo
The gorgeous North Ari Atoll, home to Ellaidhoo, is known for its brilliant coral reefs and abundant marine life. The resort provides generously sized and exquisitely furnished villas, each created to offer the ultimate luxury and solitude. From your private patio, take in the mesmerising views of the Indian Ocean, or cool off in the resort's dazzling pool.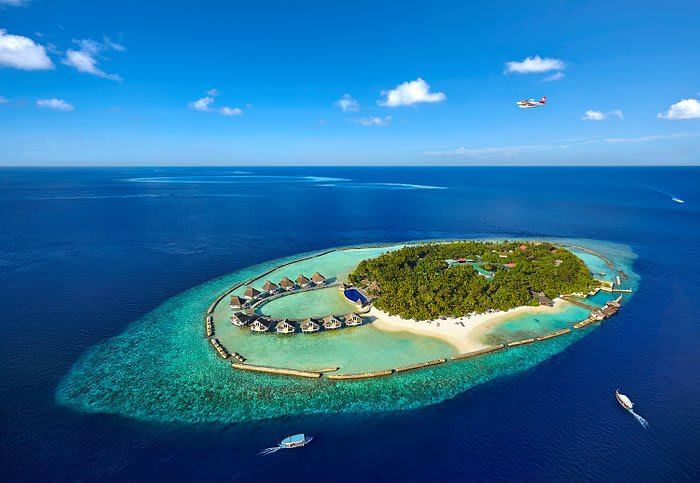 Ellaidhoo provides various eating alternatives, including traditional and foreign food, guaranteeing a superb gastronomic experience. Explore the vibrant aquatic world around the resort by snorkelling or diving, or unwind with a relaxing spa treatment. Ellaidhoo presents an exquisite setting for couples looking for a magnificent and unique honeymoon experience in the Maldives with its serene ambience, superb service, and natural beauty.
The Maldives is a paradise for honeymooners, offering a seductive fusion of unspoiled landscapes and opulent resorts. These top 5 luxury resorts, which range from the alluring Kandima to the lavish Ellaidhoo, ensure a fantastic honeymoon experience. Experience the romanticism of remote beaches, azure oceans, and luxurious amenities. As you set off on a journey of love to Maldives, intimacy, and treasured experiences that will last a lifetime, allow the beauty of the Maldives to cast its spell over you.