Enjoy the magic of Dubai in January, when there are plenty of outdoor activities, fascinating events, and pleasant weather. Enjoy thrilling desert safaris, unwind on stunning beaches, and explore the renowned Burj Khalifa. Experience the vivacious culture, revel in culinary treats, and take in the Dubai Shopping Festival. Reserve your opulent lodging and visit Dubai in January for a memorable winter getaway.
A place that truly captures the imagination is Dubai, the crown jewel of the United Arab Emirates. This city is a playground for the wealthy and an oasis of luxury thanks to its recognisable skyline, gorgeous architecture, and opulent way of life. Dubai is a popular travel destination all year round, but going there in January has a special magic. Dubai in January offers a beautiful winter getaway with good weather, exciting events, and many activities. So prepare for an unforgettable adventure by packing your baggage.
Weather:
The weather is one of the key reasons January is a great time to visit Dubai. The city experiences moderate and enjoyable winter days with average temperatures ranging from 15°C (59°F) to 24°C (75°F).
Visitors can now enjoy the lovely blue skies and pleasant temperatures as the sweltering summer heat has abated. The weather is ideal for enjoying outdoor attractions and participating in various activities without being too hot.
Outdoor Activities:
Dubai is recognised for its outstanding outdoor attractions, and January is a great time to visit them. Visit the Burj Khalifa, the highest structure in the world, to kick off your adventure. Astonishing panoramic views of the city and the Arabian Gulf may be seen from its observation deck on the 148th floor. Take a desert safari and drive a 4×4 across the golden dunes for a fantastic experience. Experience the mesmerising desert sunset, ride a camel, and try your hand at sandboarding.
If you enjoy the beach, Dubai has many lovely coasts. Go to Jumeirah Beach and unwind on its golden sands while soaking up the sun. Visit the exclusive Palm Jumeirah, a man-made island fashioned like a palm tree, for a more serene experience. Here, you can take advantage of opulent beachfront resorts and beautiful vistas.
Events and Festivals:
January is a month of celebration and festivity in Dubai, with various events that will add extra excitement to your trip. One of the highlights is the Dubai Shopping Festival (DSF), a retail extravaganza that attracts visitors worldwide. Enjoy incredible discounts on luxury brands, watch spectacular fireworks, and witness dazzling fashion shows. The DSF also features live entertainment, food festivals, and raffles with the chance to win amazing prizes.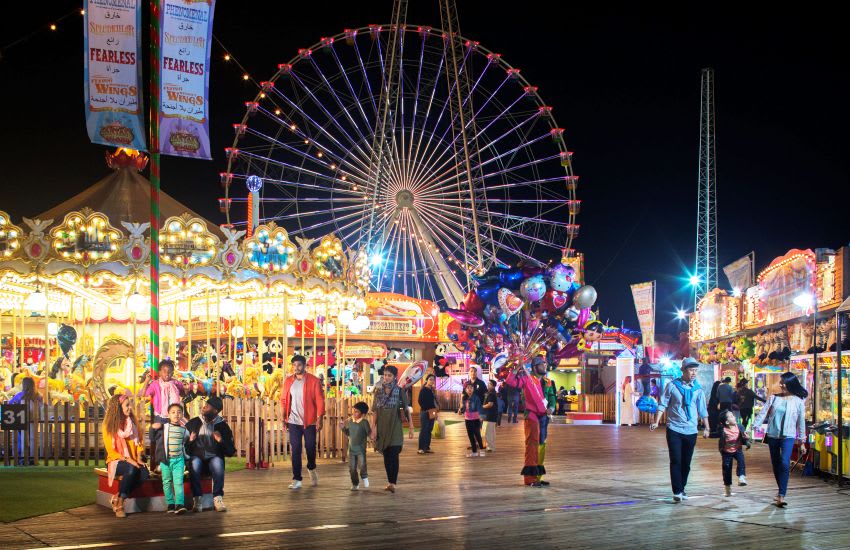 The Dubai Art Season, which features the city's thriving art scene, is held in January and caters to art fans. Attend gallery openings, take in contemporary art exhibits, and participate in talks and workshops offered by regional and international artists.
Gastronomic Delights:
With various cuisines worldwide, Dubai is a food lover's heaven. Experience culinary masterpieces prepared by famous chefs at the city's top-notch eateries. Dubai has something for every palette and price range, from Michelin-starred fine dining to street food escapades in hopping neighbourhoods.
Don't pass up the chance to try authentic Emirati cuisine. You may enjoy genuine fare like machboos (spiced rice with pork) and luqaimat (sweet dumplings) at Al Fanar Restaurant and Café. Accept the savoury spices and rich flavours that make Emirati food so distinctive.
An alluring location, Dubai in January offers the ideal fusion of outdoor pursuits, cultural immersion, intriguing events, and opulent experiences. Dubai has everything you're looking for, whether you want to unwind, explore, or escape to a bustling city. So begin planning your winter holiday to Dubai and prepare for an exceptional journey through this extraordinary city.