Discover the vivid charm of Dubai in July, when the city offers a wide range of activities to escape the hot heat. Enjoy mouthwatering cuisine, thrilling water sports, historical landmarks that showcase cultural history, world-class mall shopping, indoor entertainment, and delicious water activities. Learn about the top activities that make Dubai a memorable place in July.
Despite being recognised for its spectacular architecture and opulent way of life, Dubai continues to enchant visitors with its charm and attractiveness. Despite the summer heat, July offers a special chance to discover Dubai's diverse options. This article will explore the best events and adventures contributing to Dubai's vibrancy and reputation as a must-see city in July.
Thrilling Water Sports:
Dubai's picturesque coastline and warm waters provide the ideal location for exhilarating water sports. Dive into the turquoise water and engage in heart-pounding activities like wakeboarding, parasailing, or jet skiing. Experience the ocean's delights below while snorkelling or scuba diving, where bright coral reefs and unusual marine life await.
Set sail on a yacht or take a leisurely boat trip for a more laid-back water activity while taking in panoramic views of Dubai's skyline and famous sites from the calm seas of the Arabian Gulf.
Cultural Exploration at Iconic Landmarks:
Dubai is rich in culture and history, and July is a great time to visit some of the city's most well-known sites. Start your adventure at the spectacular Burj Khalifa, the tallest structure in the world, where you can climb to the observation deck and take in the metropolis from a beautiful 360-degree perspective.
Visit the Dubai Museum at the famed Al Fahidi Fort to learn about the city's rich history and how it developed from a small fishing community to a major international city. Stroll around the historic Al Bastakiya neighbourhood, known for its wind towers, small streets, and attractive courtyard homes.
World-Class Shopping:
In July, Dubai continues to be known as a shopper's paradise. Explore the city's air-conditioned giant malls to escape the heat and indulge in retail therapy while shopping for the newest luxury goods, gadgets, and fashion.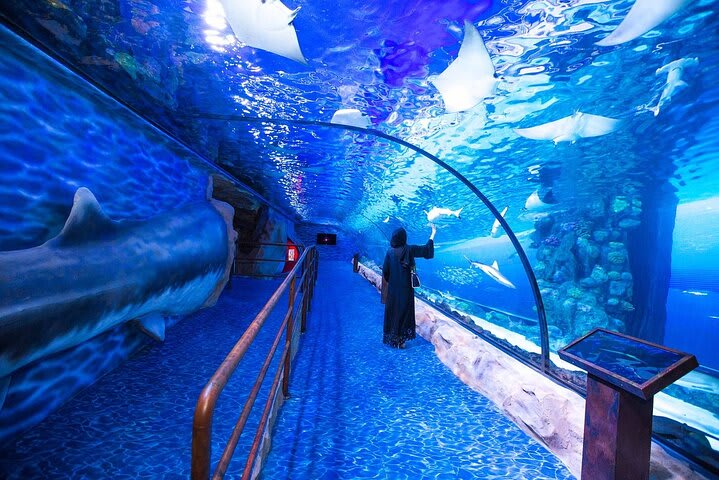 One of the biggest malls in the world, the Dubai Mall, offers a comprehensive shopping experience with hundreds of shops, entertainment choices, and attractions like the Dubai Aquarium and Underwater Zoo. Visit the lively souks for a traditional shopping experience where you may barter for spices, fabrics, jewellery, and one-of-a-kind mementoes.
Indoor Entertainment:
Discover Dubai's indoor entertainment choices to beat the summer heat. At VR Park, cutting-edge technology will whisk you away to exhilarating adventures and engaging experiences. Immerse yourself in a virtual reality world. At one of the city's entertainment venues, challenge your buddies to a game of laser tag or enjoy a game of bowling.
Visit the Dubai Opera for a fun, engaging experience where you can take in a variety of musical, theatrical, and dance performances. Enjoy the splendour and acoustics of this magnificent building.
Indulge in Delectable Cuisine:
Dubai's culinary scene is a mash-up of flavours worldwide, and July is the ideal time to indulge in delicious food. Enjoy traditional Emirati fares like flavorful biryanis, grilled kebabs, and warm bread. Try international cuisines at fine dining establishments, street food stands, and festivals to discover the city's rich culinary scene.
The culinary scene of Dubai is famous all over the world.
Thrilling water sports, cultural discovery, top-notch shopping, indoor entertainment, and delectable cuisine can all be found in Dubai in July. Take part in the activities and adventures that this alluring city has to offer. Dubai in July promises an extraordinary adventure full of excitement and pleasure, whether you're looking for heart-pounding activities or cultural immersion.