Looking for romantic getaways to stay in Maldives? Check out our list of the most romantic resorts in the Maldives.
The Maldives is a beautiful location for couples looking for a romantic trip because of its immaculate beaches, clean waters, and remote islands. It can be difficult to choose the ideal spot to stay because there are so many opulent resorts, each of which offers its own distinctive charm and decadent experiences.
Mercure Hotels
Couples looking for a lavish getaway will find a romantic refuge at Mercure Hotels Maldives, which is tucked away in the serene Gaafu Alifu Atoll. Elegant villas with private pools are available at the resort, giving couples the ideal secluded environment. Enjoy breathtaking views of the turquoise lagoon as you wake up, relax on your private balcony, and swim in your own private pool.
For a really wonderful experience, indulge in a couple's massage at the spa, indulge in delectable cuisine at the resort's restaurants, or board a sunset cruise. The romantic trip you've been dreaming of is waiting for you at Mercure Hotels Maldives with its stunning settings, gracious hospitality, and attention to detail.
Adaaran Club Rannalhi
Adaaran Club Rannalhi, located on the South Malé Atoll, provides a tropical haven for couples looking for a balance of adventure and relaxation. The resort offers exquisite beachfront villas and over-water bungalows with spectacular views of the turquoise lagoon. Take a swim in the pristine waters and snorkel or dive to learn more about the abundant marine life.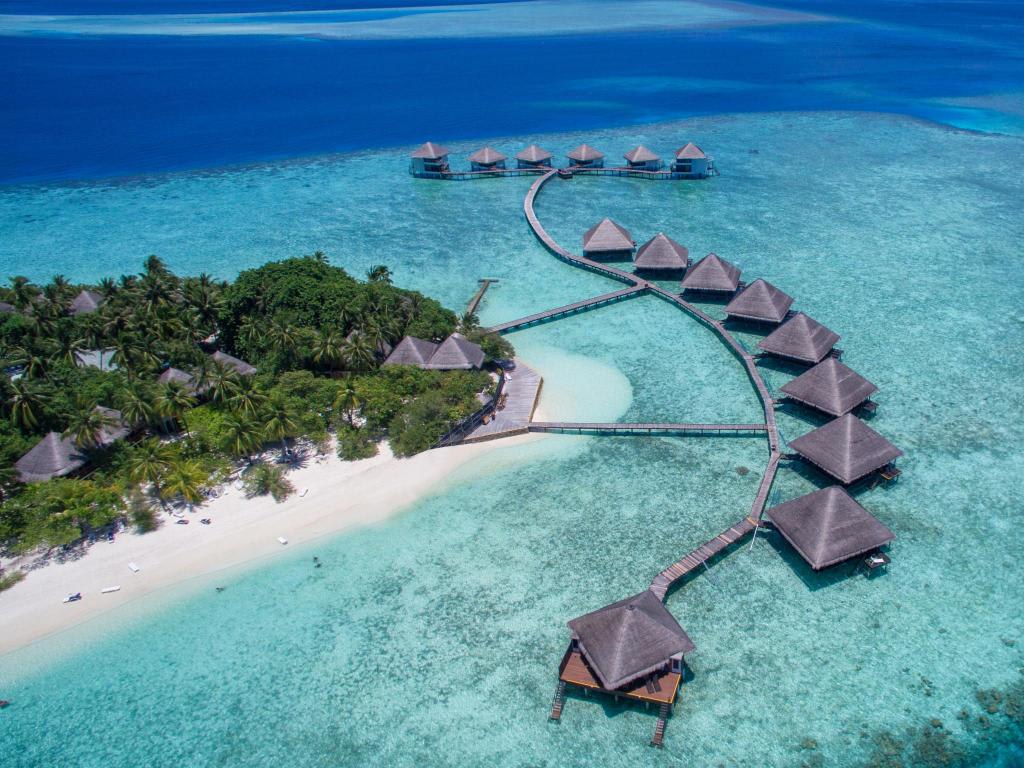 Relax on the pristine white sand beach or offer your partner to a spa treatment to revive your senses. Enjoy a romantic beachside supper by candlelight while listening to the soothing sound of the ocean. Adaaran Club Rannalhi combines tranquilly, thrilling activities, and natural beauty to provide the ideal atmosphere for a romantic getaway in the Maldives.
Pullman Resort
The Pullman Resort offers a wonderfully opulent and romantic experience and is situated in the lovely Noonu Atoll. The villas at the resort, whether they are beachfront or overwater, are elegantly modern and provide couples the ultimate seclusion. Enjoy direct access to the white sand beach, unwind in your own private plunge pool, or indulge in a spa treatment for two in the wellness centre.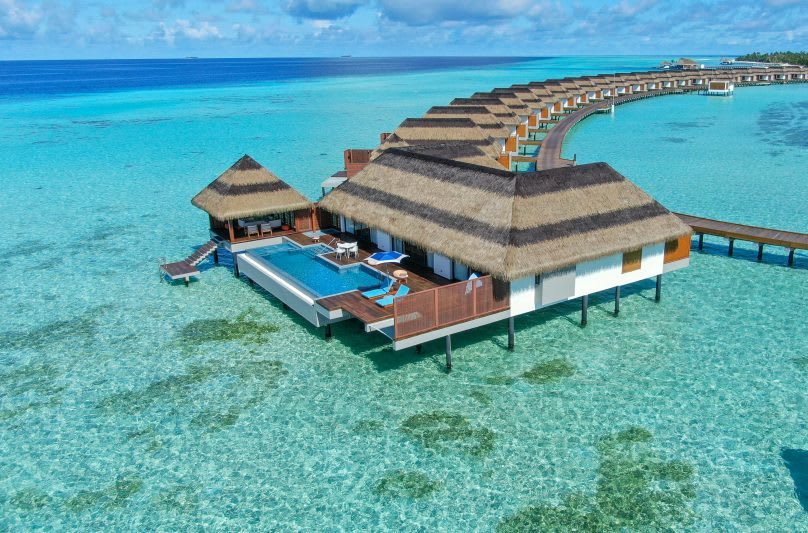 At the resort's restaurants, indulge in fine dining or have a romantic candlelit dinner under the stars. Pullman Resort Maldives offers a variety of activities to help you and your significant other make priceless memories, from snorkelling and diving to sunset cruises and beach picnics. Pullman Resort Maldives guarantees a genuinely opulent and romantic getaway in the Maldives with its first-rate service, stunning surroundings, and top-notch amenities.
Ayada Maldives: Romantic getaways
The luxurious Ayada retreat is located in the pristine Gaafu Dhaalu Atoll and epitomises romance and natural beauty. Couples can find peace and tranquilly at the resort's roomy villas, which are either perched over the blue lagoon or tucked away among lush tropical gardens.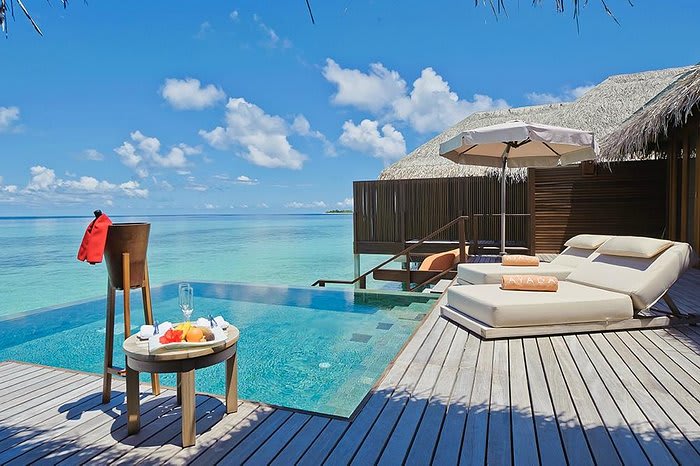 Enjoy a romantic spa treatment for two, savour a candlelit supper on a private sandbar, or go snorkelling to discover the colourful coral reefs. Couples may enjoy the golden tones of the Maldivian sunset while making priceless memories on the resort's romantic sunset boats. Couples looking for a romantic getaway in the Maldives will find Ayada Maldives to be the ideal choice thanks to its attention to detail, flawless service, and stunning surroundings.
Banyan Tree Vabbinfaru
Banyan Tree Vabbinfaru, which is situated in the North Malé Atoll, is a haven of romance and unspoiled beauty. Elegant villas at the resort offer a quiet and romantic setting for couples, whether they are tucked away in lush tropical gardens or situated above the turquoise lagoon.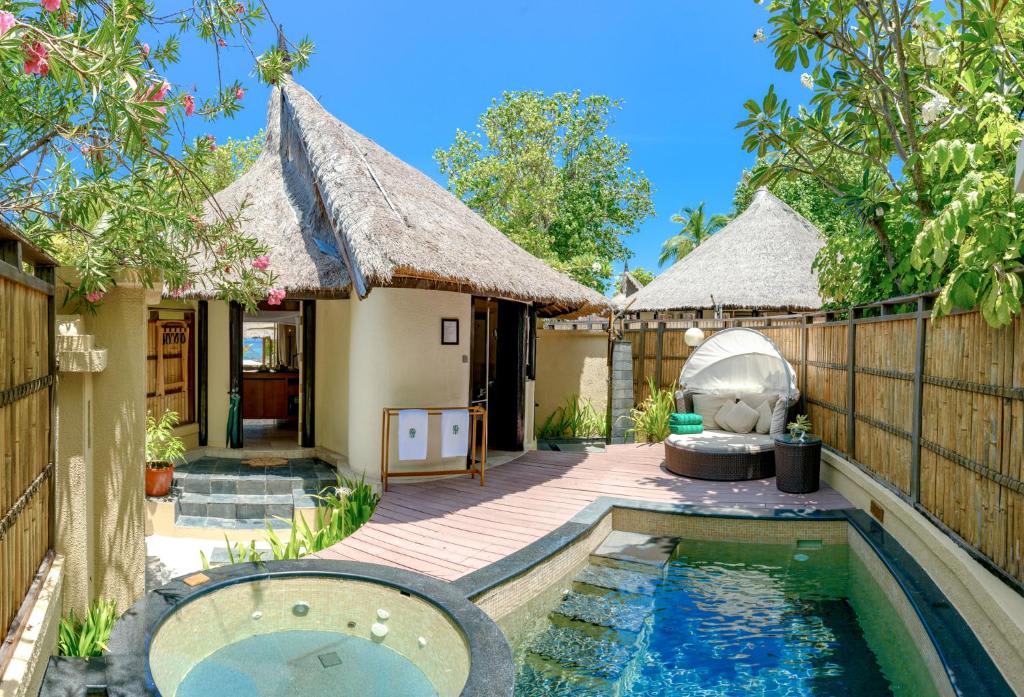 Enjoy a romantic beachside supper, unwind with a spa treatment for two, or go on a dolphin-watching adventure to see these wonderful animals in their natural environment. Couples can make priceless memories at Banyan Tree Vabbinfaru through a variety of activities like sunset cruises, snorkelling, and yoga sessions. Banyan Tree Vabbinfaru is the pinnacle of a romantic getaway in the Maldives with its immaculate beaches, excellent service, and superb dining selections.
Heritance Aarah
Heritance Aarah is an opulent refuge for couples looking for a romantic getaway and is tucked away in the picturesque Raa Atoll. The resort offers roomy villas and suites, each with stunning ocean views and easy access to the beach.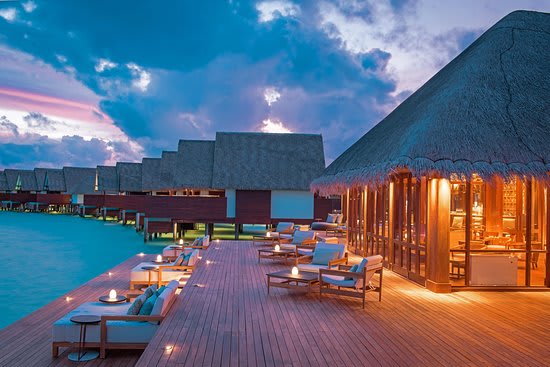 Couples can unwind with a couple's massage at the over-water spa, embark on a sunset sailing adventure, or have a romantic supper beneath the stars at one of the resort's magnificent restaurants. The resort provides a variety of water sports activities, such as snorkelling, diving, and jet skiing, for adventurous couples. Heritance Aarah offers a wonderful romantic break with its breathtaking natural settings, top-notch amenities, and individualised service.
For couples looking for a romantic trip, the Maldives has a variety of charming resorts to choose from. Resorts in Maldives have everything you could possibly want for an absolutely amazing romantic encounter in the Maldives, from immaculate beaches and crystal-clear waters to top-notch amenities and first-rate service. So be ready to pack your bags, travel with your special someone, and make priceless memories in this breathtaking location.