Explore the alluring wonders of Vietnam in April. Immerse yourself in a voyage that will captivate you, from the energetic festivals and cultural celebrations to the stunning natural scenery.
Vietnam comes to life in April with an astonishing display of cultural celebrations, pleasant weather, and flowering scenery. This magical nation provides a variety of experiences that will fascinate your senses, from the busy streets of Hanoi to the serene seas of Ha Long Bay. April is the ideal time to visit Vietnam to discover this Southeast Asian gem, whether looking for historical treasures, tranquil retreats, or exhilarating activities. Let's get started with the engaging activities you have in store.
Festive Delights in Hanoi:
Vietnam's central city, Hanoi, is a hive of bustling festivals and cultural celebrations throughout April. One such occasion is the yearly Perfume Pagoda Festival, which draws visitors to the Perfume Pagoda, which is set amidst lovely karst scenery. Join the locals as they ascend the hill to the pagoda and savour the sense of sanctity as they set off on a spiritual trip. During this lovely celebration, take part in the traditional ceremonies, awe at the breathtaking views, and indulge in regional cuisine.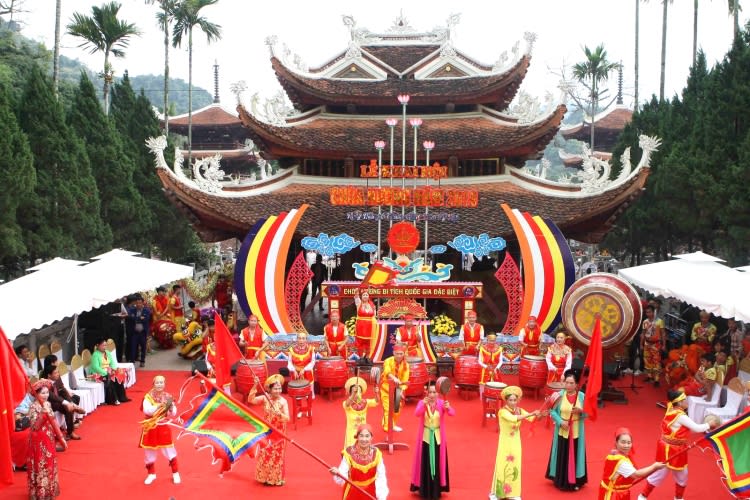 Visit the ancient Old Quarter to experience some of the regional cultures. Discover the winding lanes crowded with street merchants, savour the genuine Vietnamese cuisine, and take in the folktales brought to life by traditional water puppetry performances. Don't miss the opportunity to see the Ho Chi Minh Mausoleum and the Temple of Literature, two binding sites highlighting Vietnam's lengthy history.
Serene Retreats in Hoi An:
Hoi An, a lovely UNESCO World Heritage site decorated with historic architecture and lantern-lit alleyways, is a great place to escape busy cities and discover peace. The weather in April is favourable, making it the perfect moment to find this cultural treasure. Take a leisurely bicycle ride around the town's winding alleyways, filled with structures with yellow walls and eye-catching storefronts. Visit the Japanese Covered Bridge, Hoi An's most recognisable landmark, then explore the Hoi An Museum to learn more about the town's past.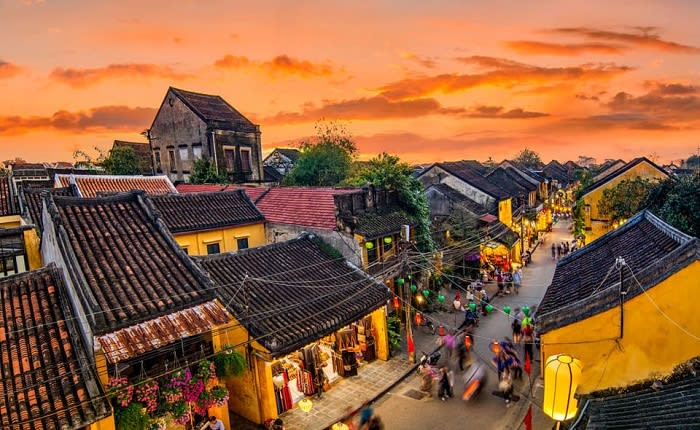 Participate in a lantern-making session to fully experience the culture of the area. As night strikes, please make your good luck lantern and release it onto the Thu Bon River to create a stunning scene. Enjoy mouthwatering regional cuisines like Cao Lau and White Rose dumplings, and don't forget to stroll around the bustling night markets to uncover unique handcrafted goods, clothing, and trinkets.
Natural Marvels in Ha Long Bay:
A trip to Vietnam is not complete without taking in Ha Long Bay's majesty. This UNESCO World Heritage site is a haven for nature lovers with its soaring limestone karsts, green lakes, and undiscovered caves. The weather in April is perfect for taking a boat out on the bay and cruising while taking in the gorgeous scenery.
Set off to discover the many islands and islets that make up the bay as you board a typical junk boat. Find hidden caverns with exquisite stalactite formations, like the Thien Cung Cave. Take part in sports like kayaking, swimming, and fishing, or unwind on the deck and take it all in.
Coastal Retreat in Nha Trang:
Escape to Nha Trang, a Vietnamese coastal paradise with pristine beaches and blue waters. The ideal conditions for beach lovers exist in Nha Trang in April when the city has pleasant temperatures and clear skies.
Nha Trang provides a variety of aquatic activities for thrill seekers. Plunge into the ocean's depths to discover colourful coral reefs alive with marine life. Popular options for those looking for an adrenaline rush include snorkelling, scuba diving, and jet skiing. Take a boat journey to surround islands like Hon Mun and Hon Tam to see their hidden beaches and stunning scenery, which will wow you.
With its excellent weather, exciting events, and magnificent natural beauty, April is a great month to travel through Vietnam. Experience the vivid events that highlight the nation's rich history, indulge in the mouthwatering flavours of Vietnamese food, and become immersed in the local culture. Vietnam in April invites you on a riveting voyage that will arouse your senses and forge enduring memories, whether you're looking for historical riches, calm landscapes, or beach delights.